Agree to disagree: Mark Goodman and Alan Light talk music on VOLUME's Debatable
For as long as music has been shared, it has also been debated. Alan Light, veteran music writer and co-host of VOLUME's new program, Debatable, certainly thinks so. "I don't think you can put two music fans in a room and come up … Continued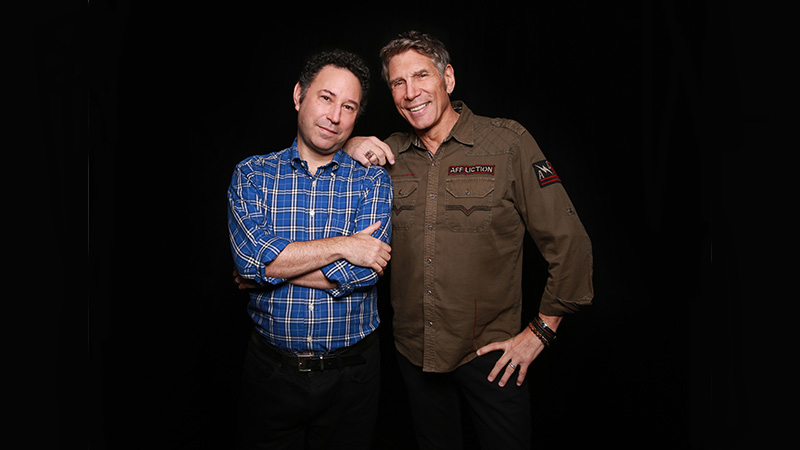 For as long as music has been shared, it has also been debated. Alan Light, veteran music writer and co-host of VOLUME's new program, Debatable, certainly thinks so.
"I don't think you can put two music fans in a room and come up with a universally agreed upon anything," he says, gesturing toward Mark Goodman, his Debatable co-host and fellow music industry vet, who nodded in agreement.
They are standing in a radio studio turned photo studio, about one month out from the launch of SiriusXM's latest channel, VOLUME, the first-ever talk radio station dedicated to music.
Light is relaxed in front of the camera, rhythmically shifting his weight from left to right as if to music. Considering his accomplishments in the music industry – writer for Rolling Stone, founding music editor and editor-in-chief of Vibe Magazine, editor-in-chief of Spin Magazine, contributor to the New Yorker, author of an oral history of the Beastie Boys and a biography of Prince – it's no surprise that he might have a tune or two in the back of his mind.
Goodman, who had been finishing up his other duties for the day at SiriusXM as a longtime host on channels like 80s on 8, Classic Rewind and The Spectrum, confidently makes his way next to Light onto the set. He, too, grew up in the music industry, serving as one of the first MTV VJs, then a VH-1 host and media personality. Despite his own accomplishments, he clearly reveres Light's position as a journalist in the industry.
"I want to learn a lot from this guy, who knows so much about music," Goodman said, pointing to Light. "I've read his books, I've been reading his articles for years. He's a fascinating guy.
"But," he continues, "I don't always agree with everything he says."
Disagreement isn't necessarily a bad thing for these two. In fact, it might be ideal as they're set to launch a new show that's all about debating the musical merits of songs, albums and bands.
Don't worry, it won't be two talking heads going it at it for three hours every day (although the Talking Heads are certainly fair game). The two will be joined by celebrity guests along with listeners, who will also have a chance to weigh in.
Goodman puts it succinctly: "This show is going to be me and Alan Light and artists and influencers and fans talking about probably the most important thing in my life: music."
Yes, that means music of all genres. Anything is up for debate on Debatable.
"The music industry is in a state of flux and it affects all of us. There's a lot to talk about," Goodman explains. "The way people are getting music these days is completely different than it was even five years ago and continues to evolve."
Despite their often different takes on music and the people who make it, Light and Goodman see their show as promoting a common goal, not just an opportunity to rant and rave about the industry.
"Any kind of criticism done right is about advancing a conversation," Light says. "It's about helping people find another way to think about somebody's work, whether that's [through] the artist himself or the audience listening. They can agree or disagree in the end with whether they like it or not. Our job should be to elevate the conversation."
Debatable airs on VOUME (Ch. 106) weekdays from 4 pm to 7 pm ET.
For a free 30-day trial, check out http://www.siriusxm.com/freetrial/blog.
---
---
---