How-to with Hoda Kotb: 3 exercises you can do at your work desk
As a TODAY show anchor, SiriusXM host and best-selling author, Hoda Kotb is one busy woman — which means she spends many hours working away at a desk. But she still makes time for fitness with the help of her … Continued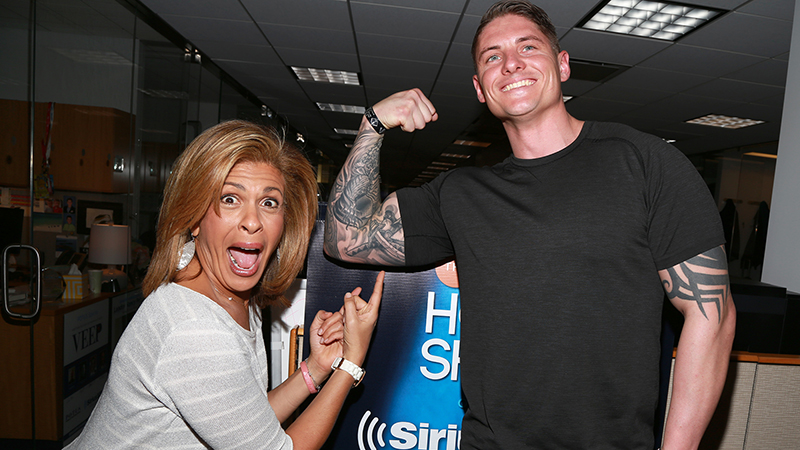 As a TODAY show anchor, SiriusXM host and best-selling author, Hoda Kotb is one busy woman — which means she spends many hours working away at a desk.
But she still makes time for fitness with the help of her (super hot) trainer Chris Finn, who demonstrates three easy exercises to do in your office.
"This is the man who's done something for me that has never, ever, ever been done in my life," she says. "I've never gone to a trainer, never been to a trainer, but Chris is my trainer from Equinox. Look how cute he is!"
1.Stretch your hip flexors. 
"The problem is that when people sit down for extended periods of time, those muscles shorten," Finn explains.
This leads to slouching in your chair to crouch over a computer, causing lower back pain. The solution? Drop to the floor in the lunge position, press your hips down and stretch.
2. Do squats. 
Not feeling experienced enough to drop it low all the way? Finn suggests hovering over your chair and touching the seat before coming back up for more to feel the burn in your thighs.
3. Work your upper body.  
No weights in your cubicle? No problem! You can use any heavy object on your desk — in Kotb's case, two of her own books — for bicep curls with one arm while typing away with the other.
Bonus: Get moving. 
"Get up every 30 minutes and just spend one minute out of the chair," Finn says.
As Kotb proves, a little innocent flirtation can keep a workout interesting too.
"Which muscle in your back gets sore, this one?" she asks, laughing at the camera as Finn touches her lower back. "Which one? I'm kidding!"
Don't miss The Hoda Show every Monday and Wednesday at 2pm ET on TODAY Show Radio (Ch. 108)
---
---
---