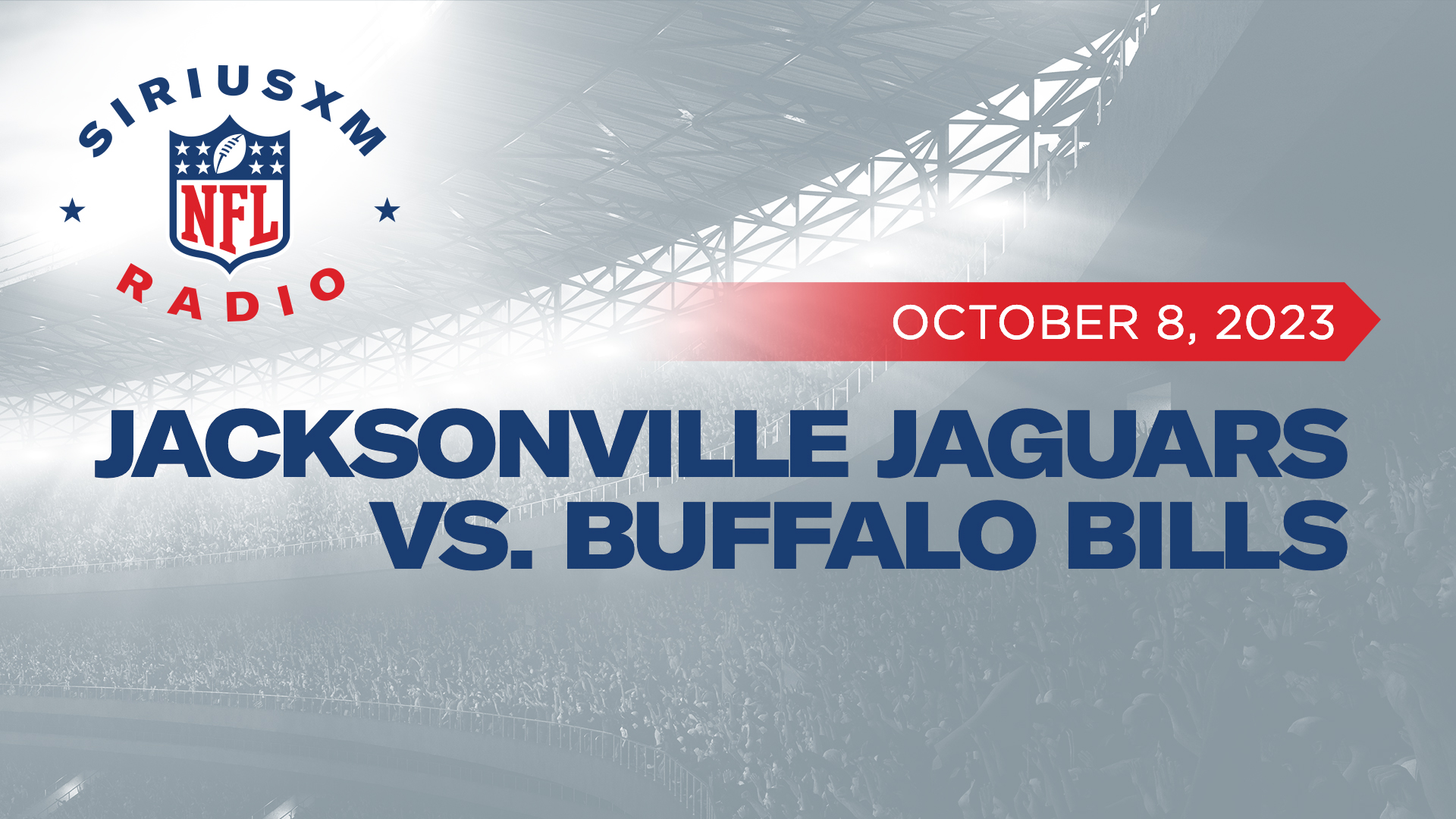 The stage is set for an electrifying showdown as the Jacksonville Jaguars take on the Buffalo Bills at the iconic Tottenham Hotspur Stadium in London for Week 5 of the NFL season. Tune in to SiriusXM to catch all the action.
Listen live to your choice of the home, away, or national feed on the SiriusXM App. Kickoff is October 8 at 9:30am ET.
---
Stream the Buffalo Bills broadcast (Ch. 803)
Stream the Jacksonville Jaguars broadcast (Ch. 814)
Stream the National broadcast (Ch. 964)
---
Home: Buffalo Bills
The Buffalo Bills are back in London for their second-ever London game, their previous appearance dating back to 2015 when they faced Jacksonville.
Quarterback Josh Allen has been on fire, setting records and making history. Last week he became the second player ever to achieve 300+ passing yards, four touchdown passes, a rushing touchdown, and a perfect 158.3 passer rating in a single game. He leads the NFL with a 74.8 completion percentage and is tied for second with nine touchdown passes this season.
Running back James Cook has been a versatile asset with 77 scrimmage yards in the last game, including a career-high 48 receiving yards and his first rushing touchdown of the season.
Wide receiver Stefon Diggs put on a show with six catches for 120 yards and three touchdowns in the last game, making it his fourth game with 3+ receiving touchdowns since 2019, the most in the NFL.
---
Buffalo Bills Home Feed
SiriusXM channel 225 in your vehicle
Channel 803 on the SiriusXM App
Jacksonville Jaguars Away Feed
SiriusXM channel 384 in your vehicle
Channel 814 on the SiriusXM App
National Feed
SiriusXM channel 229 in your vehicle
Channel 964 via on the SiriusXM App
---
Away: Jacksonville Jaguars
The Jacksonville Jaguars are no strangers to London, having played 11 games in the British capital over the years, the most among all NFL teams. In fact, they have the chance to make history by becoming the first team ever to win two international games in a single season.
Quarterback Trevor Lawrence has been turning heads with his performances. In the last game, he completed an impressive 76.7 percent of his passes, amassing 249 yards, with 207 of those through the air and a season-high 42 rushing yards, all while throwing a touchdown and no interceptions.
Running back Travis Etienne aims to continue his stellar form, seeking his third consecutive game with 70+ scrimmage yards. He has previously recorded 234 scrimmage yards, averaging 117 per game, in his two career games in London.
Wide receiver Christian Kirk has been a reliable target for Lawrence, leading the team with eight catches for 84 yards in the last game. He aims to secure his fourth consecutive game with 50+ receiving yards. Meanwhile, Calvin Ridley reached a career milestone with his 30th career touchdown catch in Week 4.
Tight end Evan Engram has been a force to be reckoned with, being the only tight end in the NFL with five or more catches in each of the first four weeks of the season.
---
For more on SiriusXM's NFL programming, visit SiriusXM.com/NFL.
---
---
---