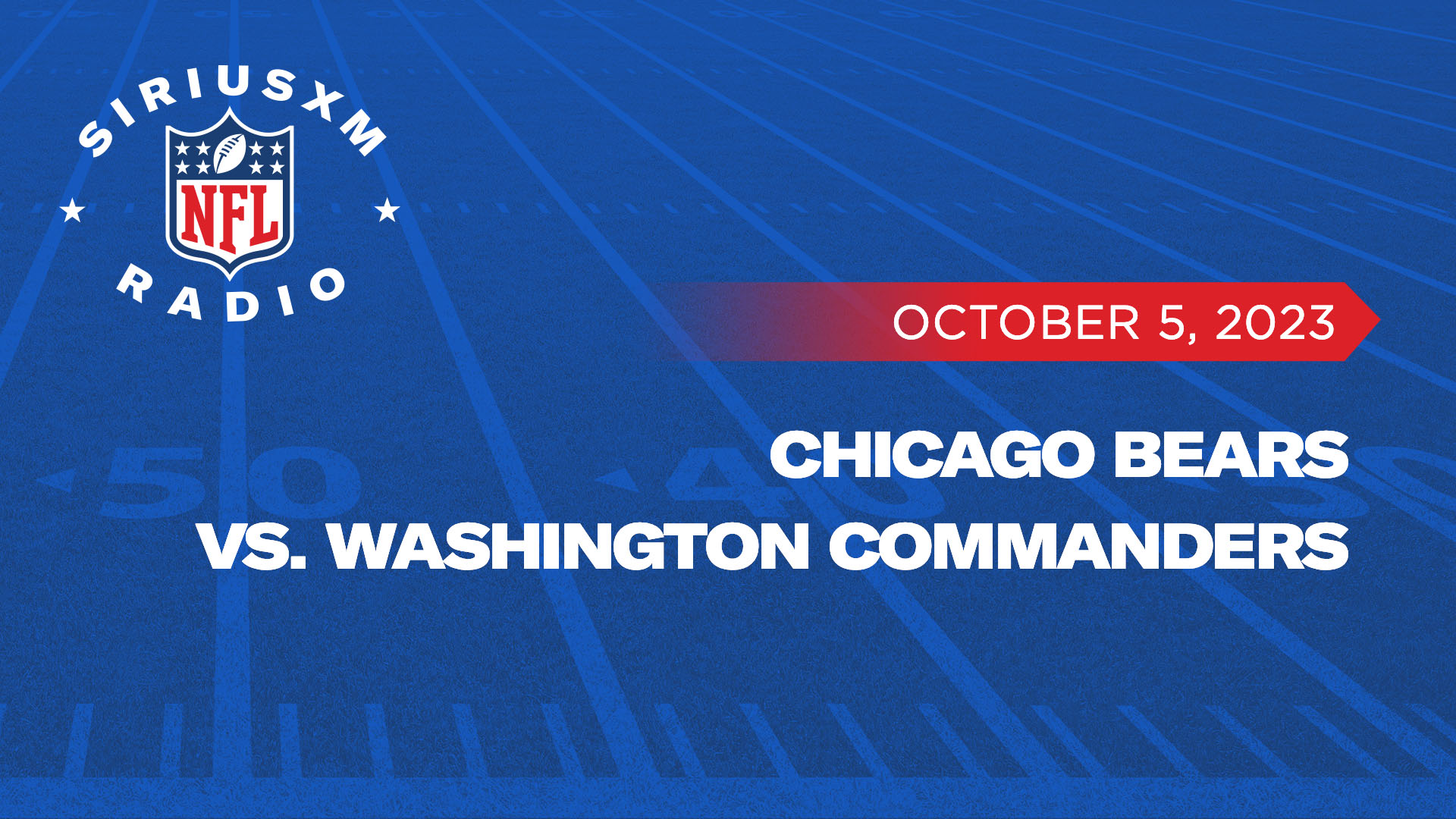 In what promises to be a thrilling NFL Thursday Night Football clash, the Chicago Bears will face off against the Washington Commanders in Week 5. Both teams resulted in losses last week and hope to bounce back with a win.
Listen live to your choice of the home, away, or national feed on the SiriusXM App. Kickoff is October 5 at 8:15pm ET.
---
Stream the Chicago Bears broadcast (Ch. 805)
Stream the Washington Commanders broadcast (Ch. 831)
Stream the National broadcast (Ch. 88)
---
Home: Washington Commanders
The Commanders are fielding an equally competitive lineup, with quarterback Sam Howell coming off a career-high performance in Week 4. Howell completed 70.7% of his passes for 330 yards and a touchdown. He's a dual-threat quarterback as well, making him a challenging opponent for any defense.
Running back Brian Robinson has been a touchdown machine, with his third rushing touchdown of the season in Week 4. He's consistently putting up over 50 scrimmage yards in each game, making him a reliable offensive weapon.
Terry McLaurin, one of the league's top receivers, is coming off an 8-catch, 86-yard performance. Curtis Samuel and Jahan Dotson add depth to the receiving corps, making the Commanders' passing attack a formidable force.
Defensively, the Commanders have a strong presence in the trenches with Jonathan Allen, Daron Payne, Montez Sweat, and Chase Young. These defensive linemen have the ability to disrupt plays and get to the quarterback.
Linebacker Cody Barton has been consistently racking up tackles, while cornerback Emmanuel Forbes leads all rookies with five passes defended. Safety Kamren Curl is a tackling machine, tallying a career-high 12 tackles in the previous game.
---
Washington Commanders Home Feed
SiriusXM channel 225 in your vehicle
Channel 831 on the SiriusXM App
Chicago Bears Away Feed
SiriusXM channel 226 in your vehicle
Channel 805 on the SiriusXM App
National Feed
SiriusXM channel 88 in your vehicle
Channel 88 via on SiriusXM App
---
Away: Chicago Bears
In Week 4, Justin Fields completed 80% of his passes, throwing for a career-high 335 yards and four touchdowns, earning a remarkable 132.7 rating. Fields is a dual-threat quarterback, having showcased his rushing prowess as well. In his last meeting with the Commanders, he had a total of 278 yards and a touchdown.
Khalil Herbert, the Bears' running back, is making a name for himself with a season-high 122 scrimmage yards in Week 4. With his powerful rushing game, Herbert is aiming to replicate his success against Washington, rushing for 74 yards in their last encounter.
Wide receiver DJ Moore has been a standout player for the Bears, leading the team with 8 catches for 131 yards in Week 4. He has a history of success against Washington, scoring a touchdown in his previous game against them.
Darnell Mooney, another talented receiver, will also be a key factor, with a history of successful outings against Washington having 7 catches fr 68 yards in their last meeting.
Linebackers T.J. Edwards and Tremaine Edmunds have been making their presence felt with their tackle counts, while Jack Sanborn had a season-high five tackles in the last game. The secondary, led by Jaquan Brisker and rookie Terell Smith, is expected to bring the heat with their tackling skills and pass defense.
---
For more on SiriusXM's NFL programming, visit SiriusXM.com/NFL.
---
---
---