How Louis C.K. convinced Steve Buscemi, Edie Falco and Jessica Lange to star in his web series
Actor and comedian Louis C.K. stopped by The Howard Stern Show on Monday to discuss his new web series Horace and Pete. C.K. enlisted some Hollywood A-listers to co-star in the show and revealed it took some finagling to convince … Continued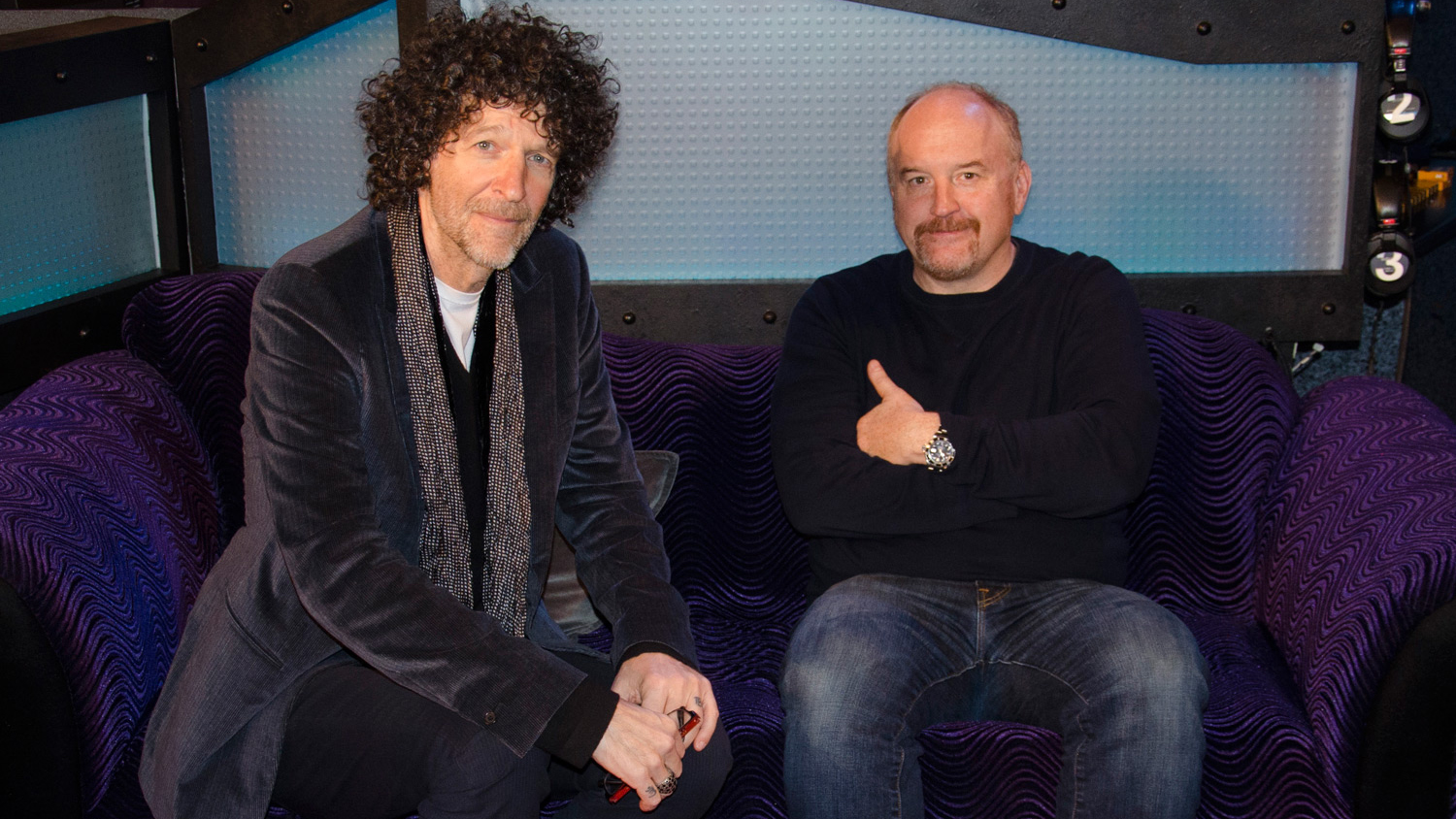 Howard Stern and Louis C.K.
Actor and comedian Louis C.K. stopped by The Howard Stern Show on Monday to discuss his new web series Horace and Pete. C.K. enlisted some Hollywood A-listers to co-star in the show and revealed it took some finagling to convince the actors to sign on.
When C.K. met Steve Buscemi, the two of them discussed the charities Buscemi is involved in. C.K. told the former firefighter to let him know how he can contribute, and when he got that call, he also jumped at the opportunity to recruit the Boardwalk Empire star.
"Steve Buscemi calls me and said, 'There's this 9/11 charity, do you want to help?' and I said sure and we hung up," C.K. said. "Then I called him right back and said, 'Hey, do you want to be on a show I'm writing?' He just came off Boardwalk Empire and he said, 'Yeah, I guess, let's talk about it.' So I met him, told him what I was thinking and he said, 'It sounds really cool.'"
Buscemi plays the titular character Pete Wittel, cousin of C.K.'s Horace Wittel. C.K. financed the web series on his own and didn't have a means of paying Buscemi, so the two had to come to an agreement.
"I said, 'I won't be able to really pay you anything, but I'll split with you the money if I make it,'" he said. "If it ever makes a profit, he'll see a piece of it."
C.K. formed that same agreement with Alan Alda, who plays Uncle Pete Wittel. In the middle of writing the show, C.K. stumbled across his top choice of lead actresses, and a chance encounter at the Emmys led him to another off-the-cuff recruiting pitch.
"I'm reading an article about Edie Falco, who I love," he recalled. "I look at her face in the article and I go, 'You're gonna be in my show, I just know it.' Then I go to the Emmys and she's sitting by herself with a seat next to her–I don't know Edie, I ran into her a few times and said hello–I saw that chair and I sat down. I said to her, 'I have a show I'm writing, Steve Buscemi and I are in it together and I wrote a part for you.' She said she'd love to read it."
A day after reading the script, Falco texted him and said she was in to play Horace's sister Sylvia. But she wasn't the only actress he pitched at the award show: He also ran into Jessica Lange, whom he's known for years.
"Here's the thing, I had also written a part for Jessica Lange," he explained. "So I walk away from Edie Falco and Jessica Lange is standing right there. So I go over to her and I go, 'Hey, I have a new show, I want you to be in it, I wrote a part for you.' Then I turn around and see Edie Falco looking at me, because she just got the exact same pitch!"
C.K. released the episodes on his personal website without doing any promotion, simply emailing subscribers to his mailing list a notice of its availability. Instead of having FX finance and distribute his new venture, C.K. charged consumers $5 for the first episode, $2 for the second and $3 for every subsequent episode and used the money he made to produce the following episodes.
"It's just so goddamn exciting, it's so exciting," C.K. said. "What happened was, I told FX I didn't want to come back for a sixth season of Louie after I did season five. I said I don't want to put it off, I just want to say I'm not doing it anymore, for now. I might come back and do it again someday, but I don't want to owe it to you ever. I just want a clean slate in my head."
With the TV show off his plate, C.K. also decided to forego a movie he was planning because he had a desire to completely start fresh.
"I walked away from Louie and I had a month where I didn't know what I was gonna do next, and that's where good ideas come from," he said. "Just total open, nothing, unemployment. … I had a movie ready to shoot and I had my TV show going, so I said I'm not doing either and I just threw everything away. It was a very terrifying and scary thing to do."
C.K. conceived the idea for Horace and Grant while watching a play by English filmmaker Michael Lee called Abigail's Party.
"They did a little TV version and it looks like All In The Family, it looks like a sitcom, it's multi-camera, but there's no audience," he explained. "It's just talking for two hours, it's one scene of four people having dinner for two hours and it's riveting. It's hilarious and it's beautiful, and I thought, 'Goddamnit I've never seen anything like this, I want to make a show that operates on this frequency.'"
The first episode of Horace and Pete is two scenes over the course of one hour. C.K. described the series as his best work to date.
For more coverage of The Howard Stern Show, follow @sternshow on Twitter.
For a free 30-day trial, check out siriusxm.com/freetrial.
---
---
---