Cowboys' Prescott making Campo 'a believer'
Dave Campo knows that the Dallas Cowboys' fortunes mainly rest on the ability to keep Tony Romo healthy. The former Cowboys coach, who does some work for the team's website, could see the organization holding its collective breath Romo when he left Thursday … Continued
Dave Campo knows that the Dallas Cowboys' fortunes mainly rest on the ability to keep Tony Romo healthy.
The former Cowboys coach, who does some work for the team's website, could see the organization holding its collective breath Romo when he left Thursday night's preseason game against the Seattle Seahawks with a back injury after taking a hard hit from behind.
Campo went as far as to say that if there were any lingering concerns about Romo, the Cowboys would be wise to acquire a veteran backup quarterback if one were to become available.
'Did some really good things'
In the meantime, however, he is highly impressed with what he has seen from rookie QB Dak Prescott.
"He's kind of making me a believer," Campo told Jeff Rickard and Kirk Morrison on Movin' The Chains. "The guy was 15 of 19, and that's hard to do throwing against air. And especially against the front that Seattle has and the secondary that they have. He did some really good things, and I think probably the biggest telltale for me was watching him in the two-minute drill at the end of the half. They were coming after him. He's a big guy. He can take a punishment and he just hung in there and threw the ball and did an excellent job.
'Didn't panic'
"And even at the end, when he walked up to the line of scrimmage, he didn't panic. He just sat there, waited until everybody was set. He knew he had enough time and he put the ball on the ground to set up the field goal. So I think they had to be really happy with that."
Jaguars' Beachum on Bortles: 'He's a very special player, could be elite'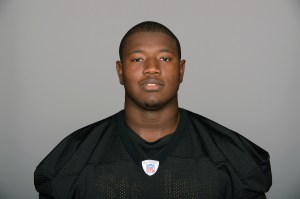 Jacksonville Jaguars left tackle Kelvin Beachum won't play his first game for the team until Sunday night's preseason encounter with the Cincinnati Bengals, but he's looking forward to the chance to protect quarterback Blake Bortles.
Waiting on comparison with Roethlisberger
Beachum, who hasn't played since suffering a torn ACL with the Pittsburgh last season, won't go as far as to make the popular comparison between Bortles and former Steelers teammate Ben Roethlisberger. But he likes what he has seen of the young quarterback.
'Excited to be blocking for him'
"He's done some great things," Beachum told Zig Fracassi and Brad Hopkins on the SiriusXM Blitz. "He's getting the ball out, which is great. As far as those comparisons, I've got to block for him in the game. When that happens, I can give you a better assessment.
"But I know that he's a very special player. He's a player that's up and coming and I feel could be one of those elite quarterbacks, if not this year, coming up into the next couple of years. So excited to be blocking for him, excited as his development is continuing to progress and excited to go protect his blind side."
Hopkins: Ezekiel Elliott needs to be 'cognizant and careful'
Brad Hopkins' view of Ezekiel Elliott's ability to help the Dallas Cowboys get back to the sort of rushing dominance they enjoyed in 2014 hasn't changed in light of the rookie running back visiting a marijuana dispensary in Seattle before his team faced the Seahawks in a preseason game.
Ushering in new era for Cowboys
"He's basically supposed to usher in a new era for the Cowboys, or at least getting back to the most recent success when DeMarco Murray was running behind that big offensive line that they've invested so highly in," Hopkins told co-host Zig Fracassi on the SiriusXM Blitz. "And I think that they'll be OK."
So, too, will Elliott — at least where this incident is concerned — according to Hopkins. Cowboys owner Jerry Jones said the visit, which didn't break any laws in a state where marijuana is legal, was "just not good" in a league whose players are forbidden to use marijuana.
Hopkins sees it as something from which Elliott can learn.
'You've got to be cognizant and careful'
"I don't know about his off-the-field issues, so I can't comment about that," Hopkins said. "I mean, a dude walks by a shop. Sure, it's not a good look, but obviously it's a shop that's there, existing for a reason. Other people were in it, so it wasn't illegal, what he was doing.
"But I just think it's just one of those things. You've got to be cognizant and careful where you are, especially when you're a guy that's in a position that he's in."
---
---