50 Years of Hip-Hop: For The Love of Fashion
Take a look through 50 years of hip-hop fashion and learn more about the artists that defined it.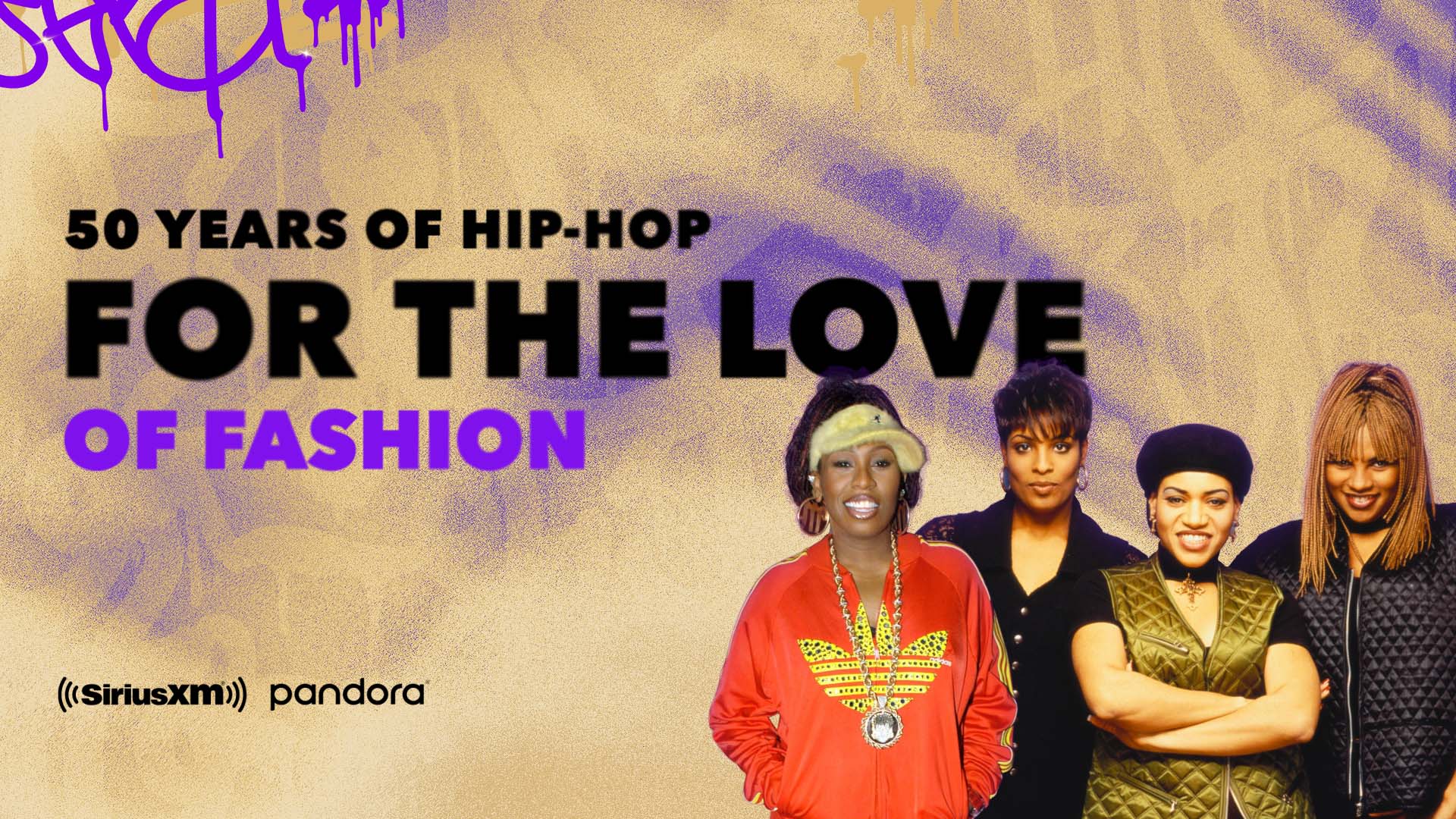 Hip-hop was born in 1973 and has since grown to become one of the most prominent genres in modern music. There are many stand-out figures, from stellar beatmakers to incredible lyricists and fashion trailblazers.
In hip-hop, fashion is more than just clothing — it's a means of self-expression and an integral part of the culture. Starting on the streets of the Bronx and ending up on the global stage, countless style icons have emerged from the hip-hop community. From the street-inspired style of Run-DMC to the vibrant colors of Salt-N-Pepa, hip-hop's rich history has been influencing the fashion industry for 50 years.
Join SiriusXM as we look at some of the most legendary hip-hop looks throughout the years.
---
Listen to the biggest hip-hop hits on Hip-Hop Nation (Ch. 44)
---
The Sugarhill Gang
Seven years after the founding of hip-hop, the Sugarhill Gang burst onto the scene in 1980 with "Rapper's Delight," one of the genre's first mainstream hits. Their musical style was fresh and bold, and so were their outfits. With their trademark oversized gold chains and colorful tracksuits, their strong fashion choices set the stage for future trendsetters within the genre.
Check out the music video for their 1981 single "Funk Box," where the group dressed up in outfits popular in other genres. Drawing mainly from funk and jazz, the Sugarhill Gang's ensemble is complete with fringe vests and lots of tassels!
Dapper Dan
Known as the "fashion outlaw," designer Dapper Dan expertly blurred the lines between luxury fashion and streetwear. His first boutique store, Dapper Dan's of Harlem, sold designer-inspired clothes to the biggest hip-hop stars and helped him to take his place as hip-hop royalty. The iconic designer has styled outfits for LL COOL J, Salt-N-Pepa, and duo Eric B. & Rakim. He also created custom outfits for boxers — Mike Tyson and Floyd Mayweather Jr. — and Olympic gold medallist Diane Dixon. Dapper Dan is known for using flashy materials, like leather and fur, and has collaborated with major brands such as Gucci and Puma.
Watch Dapper Dan showcasing his flair for fashion — and his comedy chops — during this hilarious segment with Conan O'Brien. And, for more of Conan's comedic content, listen to Team Coco Radio (Ch. 106).
Run-DMC
Run-DMC revolutionized hip-hop fashion with their street-inspired look. Often spotted wearing branded clothing, fedora hats, and unlaced sneakers, the collective popularized the "b-boy" aesthetic that came to define much of hip-hop fashion. Run-DMC's sharp sense of style seeped into their music — the prime example being "My Adidas," written about Adidas clothing. The song led to the first-ever endorsement deal between a music group and an athletic company, a type of collaboration ubiquitous in today's industry.
Record executive Steve Stoute spoke on Shade45 (Ch. 45) about the groundbreaking cultural and commercial significance of "My Adidas:"
Salt-N-Pepa
GRAMMY-winning group Salt-N-Pepa has rocked the male-dominated hip-hop world since arriving on the scene in 1986. Their debut album, Hot, Cool & Vicious, made history as the first album by a female rap act to attain gold and platinum status in the US. Salt-N-Pepa's ability to integrate their fashion sense with their music solidified their position as hip-hop icons. Their original style put a punchy modern spin on traditional Jamaican dress; over the years, they have continued to use their outfits to express their bold personalities.
Listen to this iconic group's music and more like it on SiriusXM FLY (Ch. 47).
Missy Elliot
Not only is Missy Elliot a musical trailblazer, she's a fashion trendsetter, too. Her experimental style has embraced bold colors, futuristic shapes, and edgy streetwear. These eccentric fashion choices complement her boundary-pushing music videos, which always entertain! Her 2019 bop, "Throw It Back," exemplifies everything about a Missy Elliot music video — it's striking, innovative, and memorable. Plus, the music video throws back to some of hip-hop's most notable fashion trends and dance moves from some of her previous projects, too, so look out for some Easter eggs!
The Diplomats
The Diplomats, also known as Dipset, brought their East Coast style to the forefront of hip-hop fashion in the late '90s. They wear oversized clothing, larger-than-life accessories, flashy logos, and a collection of luxury brands. This striking style and their lyrical expertise fuse together to create a unique brand of hip-hop loved by many. Dipset are so well-known for their style that when Drake brought them onstage during his performance at the Apollo Theater, he paid homage to Cam'ron's excellent fashion sense with his famous pink mink coat and matching headband! 
---
Join SiriusXM in celebrating 50 Years of Hip-Hop here, and check out exclusive programming, performances, and interviews featuring your favorite artists! 
---
---
---