Hillary Clinton: Vote to 'stop the kind of divisive and dangerous politics of Donald Trump'
"Honestly, every day that goes by it becomes clearer and clearer how unfit [Donald Trump] is," Clinton told Mark Thompson.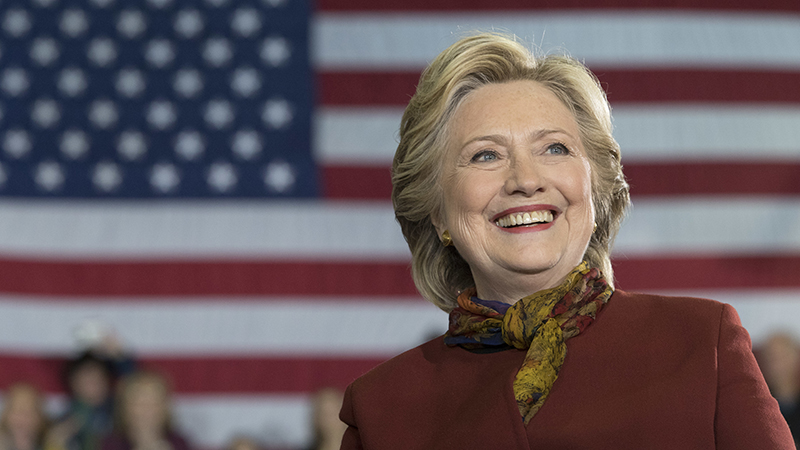 Democratic presidential candidate Hillary Clinton smiles as Democratic vice presidential candidate Sen. Tim Kaine, D-Va., speaks during a campaign event at the Taylor Allderdice High School, Saturday, Oct. 22, 2016, in Pittsburgh, Pa. (AP Photo/Mary Altaffer)
With less than two weeks to go until election day, Hillary Clinton has her eyes on the prize. The former Secretary of State and First Lady spoke with Mark Thompson on SiriusXM Progress Wednesday – on her birthday – while campaigning in the important swing state of Florida.
"Honestly, every day that goes by it becomes clearer and clearer how unfit [Donald Trump] is," Clinton said of her presidential opponent. "I'm just concerned about the damage he's already done, the divides that he has exacerbated, the feelings people have here in our own country toward each other. And the feelings people have around the world toward us, I think if I'm fortunate enough to be elected president, which I'm working hard to be – I'm going to have to address this. It may be the most important part of my job in the beginning is to try and heal the deep, bigoted, discriminatory feelings that [Trump] has created."
When asked about Trump's recent remarks about the state of the military strikes in Mosul, Clinton added, "Imagine if you were one of our five thousand military personnel there who are enabling the Iraqi army, who are helping with intelligence, helping with surveillance, calling in airstrikes, being on the ground with special forces … you may be moving toward Mosul in a convoy of Iraqi military or advising the Kurdish Peshmerga forces and this guy is saying 'you're already defeated.' I mean, that is insulting also. And of course why be surprised? He has called the American military a disaster. He said he knows more about ISIS than the generals."
With premiums rising for those insured under the Affordable Care Act, Clinton expressed concern about the state of the system, but argues that a total "repeal and replace" policy proposed by her opponent is damaging.
"If Donald Trump got his way and the Affordable Care Act were repealed, that would affect everybody. It would put insurance companies back in charge because right now insurance companies are prohibited for preventing somebody with a preexisting condition from having insurance or being able to afford insurance. This is about primarily stripping away the healthcare of 20 million."
She chimed in about rising costs, adding, "I think it's a problem. I have been talking about it for months. I've said that I'm going to get premium costs down, co-pays and deductibles for the 20 million people – predominantly working people, working African-American, Latino, white people across America who could never afford insurance before because they made too much money so they weren't eligible for medicaid and they didn't have an employer who provided it – that's who we're talking about."
What does Clinton want to leave people thinking about as they head to the polls?
"I've asked in this campaign that people give me a chance to build on the progress that we've made under President Obama. I want to be held accountable because I've laid out specific plans on everything from education and more good jobs to reforming criminal justice and ending the epidemic of gun violence. I want to be held accountable. I want to get to work fighting and working for you, but I need your continued support and your prayers in the final stretch of the election because the stakes are so high."
She added, "It's going to be close, and in the states that have already started voting we are seeing spikes in turn out."
"Throughout this campaign I have talked about the need for more love and kindness, my vision for America is Stronger Together. I will be your partner, we'll make investments in communities that have been left out and left behind… we're going to face systemic racism and we're going to lift people up and not tear them down."
Clinton made one concluding plea: "So, please, join millions of Americans on Nov. 8, or vote early before then, so we can protect President Obama's legacy and stop the kind of divisive and dangerous politics of Donald Trump."
Make It Plain airs weekdays at 6 pm ET on SiriusXM Progress (Ch. 127)
Photo Credit: AP Photo/Mary Altaffer
For a free 30-day trial, check out siriusxm.com/freetrial/blog
---
---
---