Hear Met Opera Radio's week-long tribute to opera great Jessye Norman
SiriusXM's Met Opera Radio celebrates the life and legacy of American soprano, Jessye Norman, with broadcasts of memorable performances such as Tannhauser, Bluebeard's Castle & more.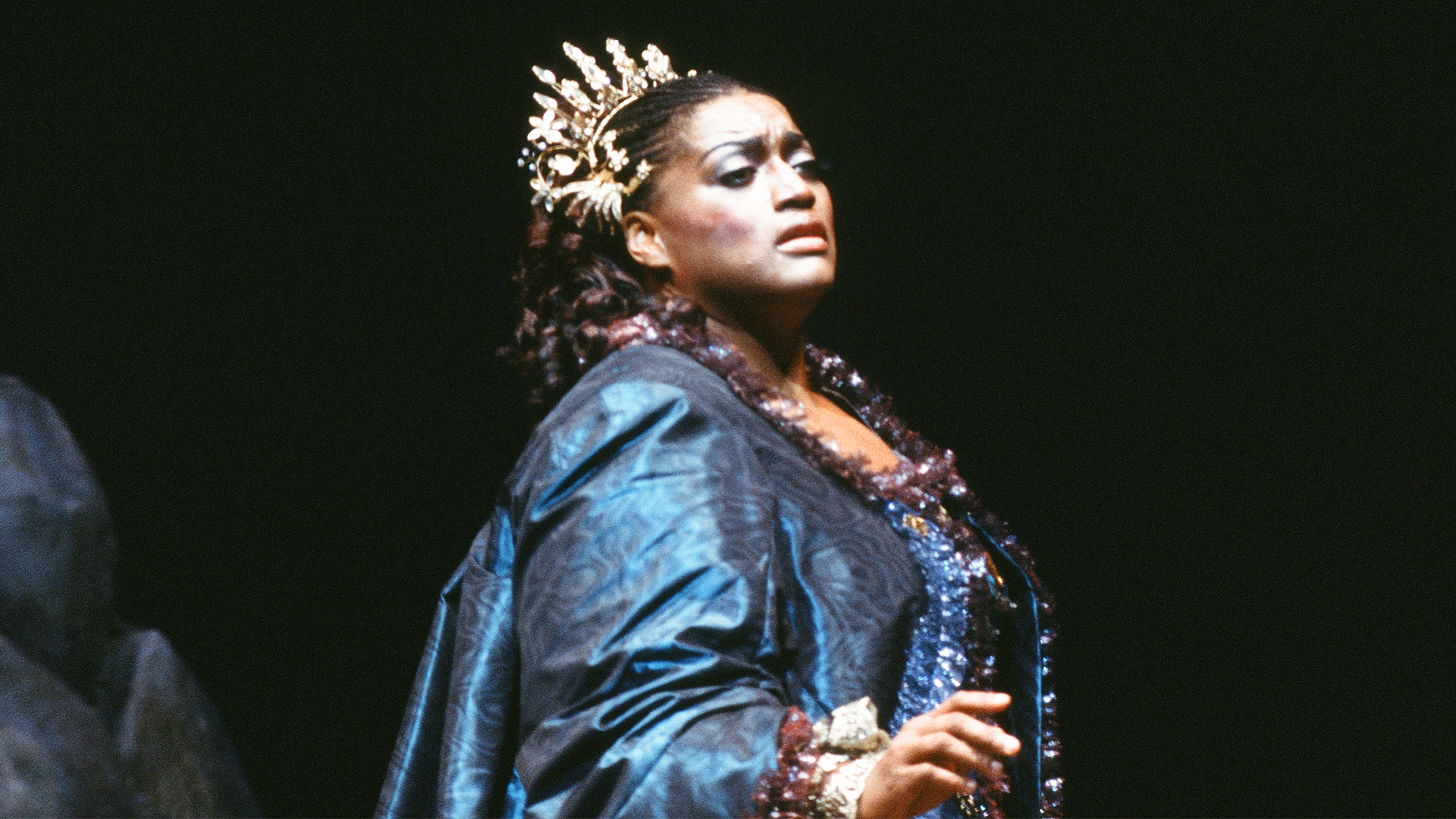 Jessye Norman. (Photo Credit: Metropolitan Opera)
With the passing of Jessye Norman, the Metropolitan Opera family has lost one of its most treasured artists. This week, SiriusXM's Met Opera Radio (Ch. 75) is paying tribute to the celebrated American soprano by airing five of her memorable performances.
Check out the full broadcast schedule below, and click to listen to Met Opera Radio now.

Norman gave nearly 90 performances with the company in 11 roles, beginning with her breakout debut as Cassandra in Berlioz's Les Troyens on the opening night of the Met's centennial 1983–84 season. Just a few months later, she would make Met history by singing both Cassandra and Didon in Berlioz's towering grand opera, on a Saturday matinee radio broadcast in February 1984.
Over the course of her career, Norman thrilled audiences with soaring performances and moving characterizations across a range of repertoire, but she is best remembered for her portrayals of the great heroines of German opera. She appeared in three operas by Richard Wagner, including as Elisabeth in Tannhäuser in 1987, and to this day, she holds the company record for the most performances in the commanding title role of Richard Strauss's Ariadne auf Naxos. She also helped expand the Met repertory by appearing in a number of lesser-known masterpieces, as in 1996, when she sang Emilia Marty in the company premiere of Janáček's The Makropulos Case.
---
Broadcast schedule
---
Tannhauser
Recorded Jan. 24, 1987
Airtimes:
Friday, Oct 4 at 3pm ET
Sunday, Oct 6 at 12pm ET
Les Troyens
Recorded Feb. 18, 1984
Airtimes:
Monday, Oct 7 at 3pm ET
Wednesday, Oct 9 at 9am ET
Sunday, Oct 13 at 9pm ET
Bluebeard's Castle
Recorded Jan. 28, 1989
Airtimes:
Tuesday, Oct 8 at 12am ET
Thursday, Oct 10 at 9am ET
Sunday, Oct 13 at 3pm ET
The Makropulos Case
Recorded Jan. 20, 1996
Airtimes:
Tuesday, Oct 8 at 9am ET
Thursday, Oct 10 at 3pm ET
Saturday, Oct 12 at 6pm ET
Ariadne auf Naxos
Recorded Mar. 12, 1988
Airdates:
Tuesday, Oct 8 at 6pm ET
Thursday, Oct 10 at 9pm ET
Friday, Oct 11 at 12pm ET
Sunday, Oct 13 at 9am ET


---

Watch some of Norman's Met Opera performances

---
---
---