Hear historic Memorial Day stories from the front with Bob Hope & more classic hosts
Honor the true meaning of the holiday with classic wartime tales featuring Bob Hope, James Stewart, Norman Corwin, and more on Radio Classics (Ch. 148).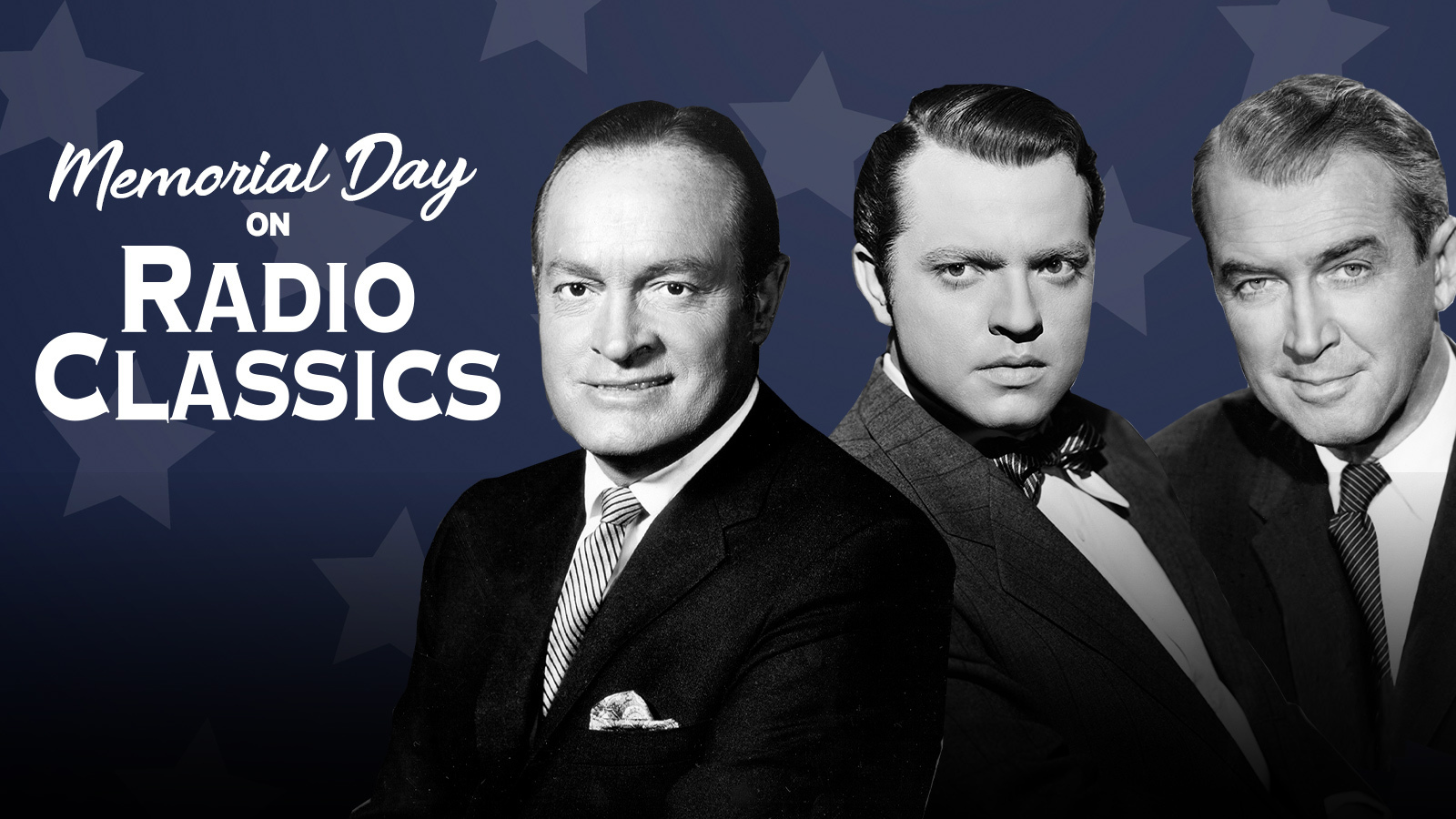 Celebrate the true meaning of Memorial Day by honoring those who have served with a full day of classic shows from veterans and broadcasts from the front on Radio Classics (Ch. 148). Tune in all day on Monday, May 25 for traditional programming paying tribute to the historical impact of the holiday.

Broadcast Schedule
6am to 8am ET
Listen to Bob Hope's reports from the front on Cavalcade of America's "Bob Hope Reports," followed by a wartime broadcast of the Bob Hope Show featuring guest Orson Wells, and Suspense's 1949 episode "Death has a Shadow," featuring Hope.
8am to 10am ET
Enjoy four classic shows starring Hollywood performers who fought in the military in World War II — James Stewart (Bomber Pilot), William Conrad (Fighter Pilot), Lew Ayres (Combat Medic), and Howard Duff (Voice on the Armed Forces Radio Service).
10am to 12pm ET
Immerse yourself in an hour-long radio version of WWII picture Salute to the Marines, U.S. Revolutionary War story "Reveille" (from American Portraits), and Norman Corwin's production To Tim At Twenty (from the perspective of a dying soldier writing a future letter to his son).
1pm to 2pm ET
Listen to Words at War's "They Call it Pacific," which details the U.S. Troops under attack in the Philippines at the onset of WWII, and Columbia Workshop's "Cromer," the story of the British village in war time.
2pm ET to 4pm ET
Hear WWII action stories from The Cavalcade Of America (including "Continue Unloading" and "Walk in the Sun") and Big Town ("Made in America" and "Rescue from France").
4pm to 6pm ET
Engage with an hour-long radio version of WWII-era picture The Navy Comes Through, plus war-themed episodes of The Cavalcade Of America.
6pm to 8pm ET
Take in a radio version of WWII picture Wake Island, Words at War's "The Ship," and Behind the Mike's "War News and Mistakes."
8pm to 10pm ET
Dive into Norman Corwin's famed "On a Note of Triumph" special, as well as his powerful war story "Untitled" and Greg Bell's past interviews with Corwin and actor Cliff Carpenter (WWII Vet who frequently worked in Corwin's productions).
10pm to 12am ET
Finish out the day with America at War's "This Is War!", Suspense's Korean War story "Flight of the Bumblebee," and a WWII tale from the foxholes as presented on CBS Radio Workshop.
Both SiriusXM subscribers and non-subscribers can hear this day-long special and tune in to Radio Classics for free as part of our extended streaming access period through May 31. For more information and to start listening, visit SiriusXM.com/streamfree.
---
---