Hear Ed Sheeran's Secret Show exclusively on Hits 1 + The Pulse
Ed Sheeran's set airs Tuesday at 5 and 10 pm ET on Hits 1 (Ch. 2) and 5:30 ET/PT on The Pulse (Ch. 15).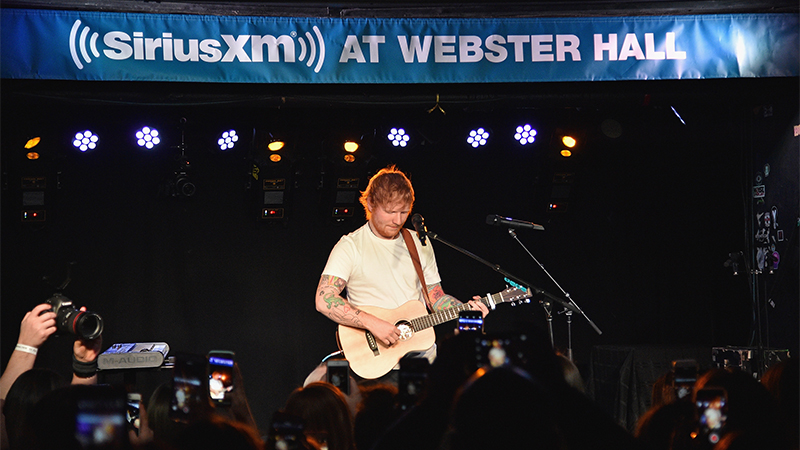 NEW YORK, NY – MARCH 06: Ed Sheeran performs for SiriusXM's "Secret Show" Series at The Studio at Webster Hall on March 6, 2017 in New York City. Performance to air on SiriusXM Hits 1 and The Pulse Channels (Photo by Kevin Mazur/Getty Images for SiriusXM)
Forget a Castle on the Hill — Webster Hall was the place to be in N.Y.C. on Monday night to watch Ed Sheeran sing cuts fresh from his brand-new album, ÷, and classics from his career.
Catch a sneak peek below and hear the set when it replays on Hits 1 (Ch. 2) and on The Pulse (Ch. 15).
The Hits 1 rebroadcasts can be heard on: Thursday at 6:30 pm ET, Friday at 3 pm and 11 pm ET, Saturday at 3 am and 10:30 am ET, Sunday at 12 am and 7 pm ET, and Monday at 5 am ET.
The Pulse replays are: Thursday at 10 pm ET, Friday at 12 pm and 8 pm ET, Saturday at 3 pm, and Sunday 7 pm ET.
It's also available On Demand.
The British singer-songwriter performed Shape of You, A-Team, a mashup of Don't and New Man and more for an exclusive group of SiriusXM subscribers who won tickets to the concert, plus V.I.P celebrities including Kong: Skull Island actor Tom Hiddleston and journalist Katie Couric.
Here's what you won't hear on the radio: Mid-performance, Sheeran decided he wanted to get closer to his fans and hopped off the stage spontaneously, requesting a chair to stand on amid the crowd as he crooned acoustic, off-mic versions of songs like Supermarket Flowers.
Click here to listen online from anywhere.
For a free 30-day trial, check out siriusxm.com/freetrial/blog
---
---
---