Happy Birthday, President Barack Obama: Relive the best musical moments of his presidency
President Barack Obama turns 55 years old today (8/4)! To celebrate, we went back through the best musical moments of his presidency thus far. From heartwarming tributes to funny pop culture references to moments of solemnity, relive them all below. January … Continued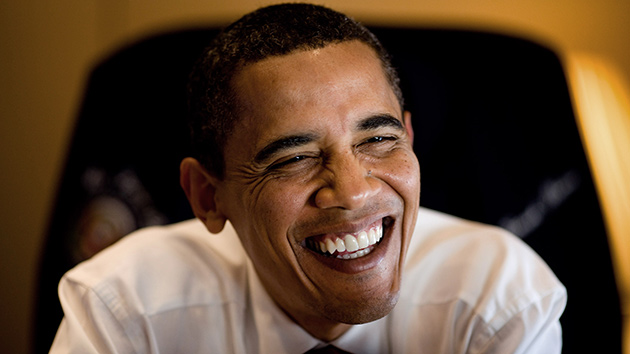 President Barack Obama turns 55 years old today (8/4)! To celebrate, we went back through the best musical moments of his presidency thus far. From heartwarming tributes to funny pop culture references to moments of solemnity, relive them all below.
January 2012: President Obama sang a portion of Al Green's Let's Stay Together during a fundraising event at the Apollo Theater. "I…I'm so in love with you," he sang to Green, who performed earlier that night. "Don't worry Rev, I cannot sing like you, but I just wanted to show my appreciation."
February 2012: After thanking the performers for a wonderful night of music at the White House Blues Festival, Buddy Guy convinced the Commander in Chief to sing Sweet Home Chicago with B.B. King, who has since passed away.
April 2012: President Obama stopped by Late Night with Jimmy Fallon to promote his message to Congress about not increasing student loan rates by "slow-jamming" the news alongside the Roots and Fallon.
[hulu id=x-of9exa0nkbhfzkurdjzw width=512 height=288]
September 2012: President Obama made a virtual appearance during Jay Z's headlining set at the inaugural Made In America Festival. In the form of an actual PSA during the song of the same name, he urged audience members to vote and explained the real meaning of "Made in America," saying: "No matter who you are, what you look like or where you come from, you can make it if you try. Jay Z did. He didn't come from power of privilege. He got ahead because he worked hard, learned from his mistakes, and just plain refused to quit. That's what Made In America means."
April 2013: During his speech at the annual White House Correspondent's Dinner, President Obama referenced musical power couple Jay Z and Beyonce's controversial trip to Cuba and quoted the rapper's hit 99 Problems, saying, "Some things are beyond my control. For example, this whole controversy about Jay Z going to Cuba — it's unbelievable. I've got 99 problems and now Jay Z is one."
November 2014: During a special salute to the troops, filmed for the PBS series In Performance at the White House, country icon Willie Nelson brought President Obama on stage to join him for his encore performance of On the Road Again.
June 2015: As the finale to his eulogy for the Rev. Clementa Pickney in Charleston, S.C., President Obama broke into a surprise a cappella version of Amazing Grace and was quickly joined by those in attendance.
February 2016: The President paid a little tribute to Ray Charles in a PBS special, leading a White House audience in a rendition of Charles' What'd I Say.
June 2016: President Obama once again slow-jams the news with Jimmy Fallon, this time on The Tonight Show. During the segment, he and Fallon discussed Obama's legacy, accomplishments and thoughts on the 2016 election (with a good dose of sexual innuendo).
July 2016: On Independence Day, the Commander-in-chief pulled the dad card and sang Happy Birthday to his daughter Malia for her 18th birthday alongside none other than Kendrick Lamar and Janelle Monae, who had performed at the White House earlier at the Fourth of July party.
For a free 30-day trial, check out http://www.siriusxm.com/freetrial/blog
---
---
---