Happy birthday, Jerry Seinfeld! Relive his best Howard Stern moments
Jerry Seinfeld turns 62 on Friday, and we can only imagine the comedian is celebrating by repeating his famous bit: "You know you're getting old when you get that one candle on the cake. It's like, 'See if you can … Continued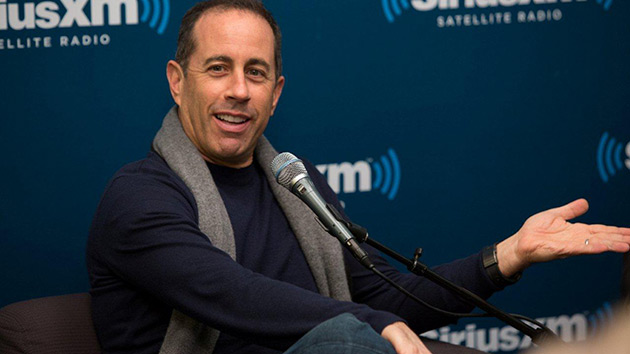 Jerry Seinfeld at SiriusXM
Jerry Seinfeld turns 62 on Friday, and we can only imagine the comedian is celebrating by repeating his famous bit: "You know you're getting old when you get that one candle on the cake. It's like, 'See if you can blow this out.'"
Over at SiriusXM, we're honoring the man who created the show about nothing by looking back on his 2013 interview with Howard Stern. A longtime caller, the visit marked Seinfeld's first time actually in the studio.
"I had no idea if I was funny. I just wanted to be," he said of his start as a stand-up comic. "And the first time I got a laugh from an audience, I just froze up and I went, 'Oh my god. I got a laugh.'"
Here are four more of Seinfeld's best quotes from his chat with Stern, and watch highlights in the video below:
On disliking Stern's couch: "I'm extremely irritable … and in comedy, the worst thing is when you get comfortable. That's why success is the enemy of comedy."
On finding material: "Every second of my existence, I'm thinking, 'Could I do something with that?' … I'm looking for a joke right now, and guess what? There's nothing here."
On if he'd ever want to stop looking for humor in everything: "I'd shoot myself in the mouth with a bullet. What fun is life if I'm not making jokes all the time?"
On his personality: "If I wasn't angry, I would be so bored."
For a free 30-day trial, check out http://www.siriusxm.com/freeTrial.
---
---
---