What the Hamilton cast hopes audiences take away from the hit musical
Alexander Hamilton became the coolest founding father thanks to Lin-Manuel Miranda's hip-hop musical. Hamilton is the hottest ticket on Broadway, but for fans still obsessively entering the lottery every day, SiriusXM brings you a Town Hall event hosted by Anderson … Continued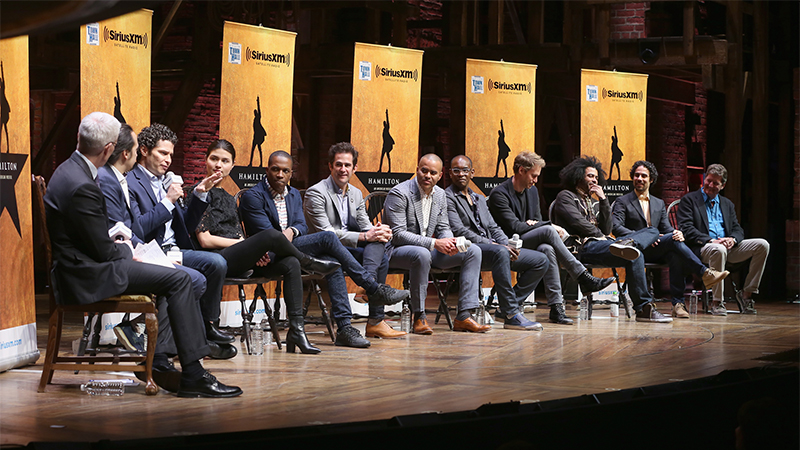 NEW YORK, NY – MAY 16: (L-R): Anderson Cooper speaks with HAMILTON Tony Award nominees:
Lin-Manuel Miranda, Thomas Kail, Phillipa Soo, Leslie Odom Jr., Andy Blankenbuehler, Christopher Jackson, Paul Tazewell, David Korins, Daveed Diggs
Alex Lacamoire, and Howell Binkley speak onstage at SiriusXM Town Hall with HAMILTON 2016 Tony Award Nominees on May 16, 2016 in New York City. (Photo by Cindy Ord/Getty Images for SiriusXM) *** Local Caption *** Anderson Cooper;Lin-Manuel Miranda;Thomas Kail;Phillipa Soo;Leslie Odom Jr.;Andy Blankenbuehler;Christopher Jackson;Paul Tazewell;David Korins;Daveed Diggs;Alex Lacamoire;Howell Binkley
Alexander Hamilton became the coolest founding father thanks to Lin-Manuel Miranda's hip-hop musical.
Hamilton is the hottest ticket on Broadway, but for fans still obsessively entering the lottery every day, SiriusXM brings you a Town Hall event hosted by Anderson Cooper.
Recorded live at New York City's Richard Rodgers Theatre, the special premieres Friday. In the meantime, here are some insights from Miranda (Hamilton), Leslie Odom Jr. (Aaron Burr) and Daveed Diggs (Marquis de Lafayatte/Thomas Jefferson), who all scored Tony nods for their performances. (Hamilton broke the award show's record with 16 total nominations.)
Leslie Odom Jr. on his favorite number: "The song that really wrecked me was The Story of Tonight, because there were four men of color on a stage singing a song about friendship and love and brotherhood. I had never seen anything like that. That was the revolution."
Daveed Diggs on the first time he heard Hamilton: "As soon as you heard it, it made perfect sense, and you realized that no part of this was forced, and that's why it's brilliant — that everything was not only necessary to tell the story, but also so personal to Lin. It was like hearing my friend at his best, being totally brilliant all over these songs. I couldn't not be a part of it. I just begged and pleaded, like 'Please let me just hang out with you guys. Let me be in the room. I just want to be there. Tell me what to do, and I'll do it.'"
Lin-Manuel Miranda on student matinees: "They are the best part of our job, without question. They're the best audiences. And that's not on some idealistic, 'I believe the children are our future' type thing. I mean they are literally the best audiences. They don't know how to do anything but be honest, so they give us more energy than any other show, they give us more inspiration, and what I think they take away, because they are so extraordinary and vocal: They're not all gonna become theater majors. They're not all gonna write musicals. But I think what audiences are taking away is, 'Man, Hamilton lived three lifetimes worth in his short time on this Earth.' And whether you want to do theater or you want to do something else, this show leaves you thinking, 'What am I gonna do in my short time on this planet? Because look what they did, and look what Eliza did.'"
Hamilton: The Town Hall Event is airing 5/27 at 5 pm ET on SiriusXM On Broadway (Ch. 72).
For a free 30-day trial, check out http://www.siriusxm.com/freeTrial.
---
---
---