Trick or Treat Yourself to These 17 Halloween Music Specials
From countdowns of the scariest songs to kid-friendly dance parties and more!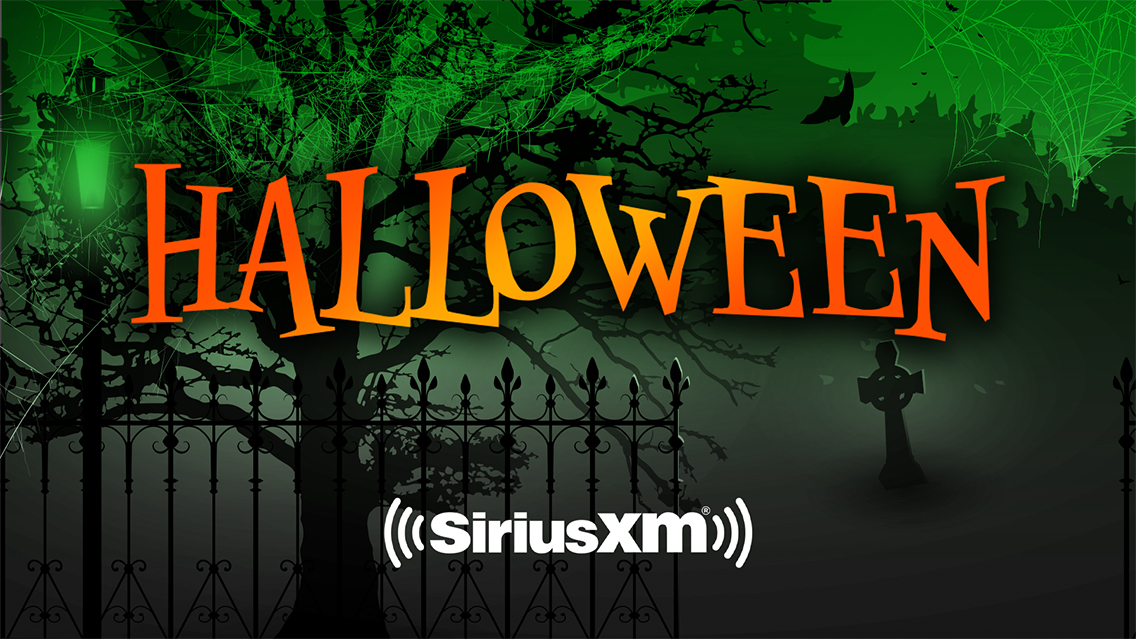 Find everything you need for Halloween this year on SiriusXM, with specials perfect for soundtracking your fright-filled celebrations (or just wolfing down candy at home).
From now through October 31, listen to nonstop Halloween music: everything from countdowns of the scariest songs to kid-friendly dance parties to decade-specific music mixes — and, of course, SCREAM Radio.
Check out 17 of the most spine-tinglingly exciting offerings below, and find even more scares on the SiriusXM App.
---
RELATED: Turn Up More Hard-Rock & Alternative Halloween Specials 
---
Scream Radio
An annual tradition for Halloween enthusiasts, this channel provides the perfect backdrop for the holiday. Hear a mix of scary sound effects and chilling music, setting the tone for fans looking for that Haunted House vibe.
Listen to Scream Radio (Ch. 107)
---
The Freaky 50
Start the spirits swirling with our ghoul-friendly countdown featuring everyone from Billie Eilish to The Doors. It's pop, rock, and R&B treats to add to your Halloween bag!
---
Ghost Ride: A Road Trip Radio Mixtape
Start up this mix of driving jams and singalongs so good, they're scary! You never know what frights are right around the corner.
Listen to Ghost Ride: A Road Trip Radio Mixtape
---
SiriusXM Hits 1's Halloween13
Haunted HITS 1 celebrates Halloween with tricks, treats, and beats from today's biggest stars — hosted by "Lil BOO Thang" artist Paul Russell!
Listen to Halloween13 with Paul Russell
---
Carrie's Scary Countdown
Carrie Underwood shares her favorite spooky music and celebrates one of her favorite holidays, Halloween, in this special episode of Carrie's Countdown on CARRIE'S COUNTRY (Ch. 60).
Listen to Carrie's Scary Countdown
---
Kids Place Live's Haunted House Party
Stream this kid-friendly Halloween family dance party anytime, featuring kid callers, trick-or-treating, Halloween jokes and facts, and high-energy music.
Listen to the Haunted House Party
---
Disney Hits' Halloween Extra Magic Hour
Enjoy a special Extra Magic Hour mix dedicated for the Not So Scary Disney celebration of Halloween! Featuring spooky, magical songs from your favorite Disney movies like The Nightmare Before Christmas, Hocus Pocus 2, and more.
Listen to the Halloween Extra Magic Hour 
---
Folk Forest After Dark
Hear the spookiest indie folk from The Village artists like Adia Victoria, Penny & Sparrow, The Punch Brothers, Gregory Alan Isakov, and more.
Listen to Folk Forest After Dark
---
Hottieween with Swaggy Sie
Host Swaggy Sie highlights the outfits all the ladies wore at celebrity parties this past weekend and plays thee latest tracks from artists who are known to party on Halloween like Cardi B., Latto, Megan Thee Stallion, Saweetie, and more.
Listen to Hip Hop Nation (Ch. 44)
Schedule:
October 31 at 9pm ET
---
Day of the deadmau5
Hear deadmau5 take over the channel all Halloween day with exclusive mixes from some of his friends, plus some spooky dance hits.
Schedule:
October 31
---
Pop2K's Boy Bands Boo-Nanza!
Grab your best throwback costume, practice your boy band choreo, and join us for a spine-tingling trip down the terror-tune lane. The only thing scarier than the high notes is how much you still remember the lyrics! Hosted by Rich Davis, Kim Ashley, and Michael Yo.
Schedule:
October 28 at 11am ET
---
Nice & Creepy Blend
Gather 'round as we fill our cauldron with a ghostly blend of nice and creepy music for your Halloween festivities. Casting spells from Santana, Cher, Michael Jackson, and others.
Schedule:
October 30 at 11pmET
October 31 at 9am, 1pm, 6pm, and 10pm ET
---
SiriusXMU's Cover-All Costume Party
It's an annual event where the music is in disguise! Listen to hear indie bands covering all types of songs and other artists covering indie songs. 5a-10p ET (except between 8 and 9am where there's a specialty show)
Schedule:
October 31, 5–8am and 9am–10pm ET
---
Águila's Day of the Dead
"Day of the Dead" is a Mexican family tradition and renowned holiday to remember deceased family and friends by creating an altar and offerings to guide their spiritual journey. In this special, Águila is highlighting the biggest influences who have passed on in the Regional Mexican music culture, featuring artists like José Alfredo Jiménez and Pedro Infante, along with the traditional "calaveras" rhymes.
Schedule:
October 31 at 12pm ET
November 1 at 10pm ET
November 2 at 2pm ET
---
True Crime Halloween Marathon
Listen to some of the scariest true-crime dramas as produced by HLN from shows like The Dead Wives Club, Very Scary People, Inside Evil, Hell in the Heartland, Vengeance: Killer Lovers, and Killer Neighbors.
Listen to CNN Originals (Ch. 121)
Schedule:
October 31 at 7am through November 1 at 2am ET
---
BOO-topia Decades of Dance Countdown
It's the Decades of Dance Countdown with Lucas Prata, featuring a Halloween twist! Enjoy a countdown of spooky dance songs for Halloween weekend.
Schedule:
October 27 at 5pm and 8pm ET
October 28 at 10am ET
October 29 at 12pm ET
---
10s Spot Emo-Ween
Brace yourself for a spooktacular hour of 2010s punk hits that will send a chill down your spine. Join Fall Out Boy, Demi Lovato, and Paramore as they play the most haunted tracks from the ghouls of the decade!
Listen to The 10s Spot (Ch. 11)
Schedule:
October 27 at 6pm ET
---
---
---