Hairspray Live star Maddie Baillio: Harvey Fierstein is 'always right!'
Entertainment Weekly Radio's Julia Cunningham and Kyle Anderson hosted a Town Hall with the cast of Hairspray Live on the NBC lot.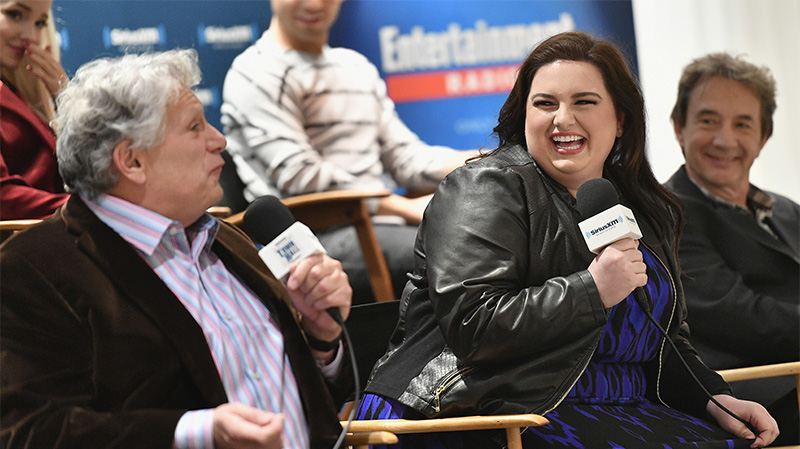 UNIVERSAL CITY, CA – NOVEMBER 21: Actors Harvey Fierstein, Maddie Baillio and Martin Short speak onstage during SiriusXM's Town Hall with the cast of 'Hairspray Live!' at Universal Studios Hollywood on November 21, 2016 in Universal City, California. (Photo by Mike Windle/Getty Images for SiriusXM)
When Harvey Fierstein puts on his familiar Edna Turnblad drag (a wig ratted into a bulbous beehive and sparkly dress) for Hairspray Live, his maternal instincts kick in for star Maddie Baillio … on and off set.
"He texts me every night just making sure my journey is going smoothly," Baillio, who plays heroine Tracy Turnblad, said during an Entertainment Weekly Town Hall with the cast in Los Angeles.
The raspy-voiced Broadway legend is reprising his Tony-winning role for NBC's live TV musical, and newcomer Baillio sought advice from Marissa Jaret Winokur, who played Tracy alongside Fierstein on stage.
"She told me that even though I may not want it to be this way, Harvey is always right. And she was correct about that," she said as the actors and audience laughed.
Martin Short, who plays Tracy's dad Wilbur, confirmed this sage wisdom.
"Well Harvey is the writer and Harvey did the show. He does know. He is usually right. Not anything about what I'm doing …" he joked.
"Because the first thing that happened was you got me in so much trouble!" Fierstein cried.
Rehearsing for the Dec. 7 show, Baillio finds herself surrounded by show biz heavy-hitters like Fierstein, Short, Jennifer Hudson and Ariana Grande. She famously landed the part as a college sophomore answering a Facebook ad for NBC's open call.
"This was one of my dream roles because Tracy is the ultimate underdog for everyone and the ultimate optimist, and I relate to her in so many ways," she said. "But it was going to be my first professional audition, my first audition outside of school, so I almost didn't audition because I was so nervous."
Number 343 in a line of more than 1,000 Tracy hopefuls, she joined the cast after four callbacks — and one hilarious hiccup.
The Facebook ad instructed the actresses to prepare a "short portion" of opening number Good Morning Baltimore, so Baillio prepared a section.
"I sang it, I was really confident, I thought I killed it, and then the casting director asked me to sing the last part of the song, which I did not know," she said as the crowd laughed. "And so I made up so many words."
She thought on her feet, and now she can't stop the beat.
Hear the Town Hall, hosted by LA Daily's Julia Cunningham and Kyle Anderson, at 5 p.m. ET on EW Radio (Ch. 105). Hairspray Live airs Dec. 7 at 8 p.m. ET on NBC.
For a free 30-day trial, check out http://www.siriusxm.com/freetrial/blog
---
---
---