Green Day celebrates 30 years together + new album 'Revolution Radio' in Town Hall
Hear Green Day's Town Hall with Jenny Eliscu!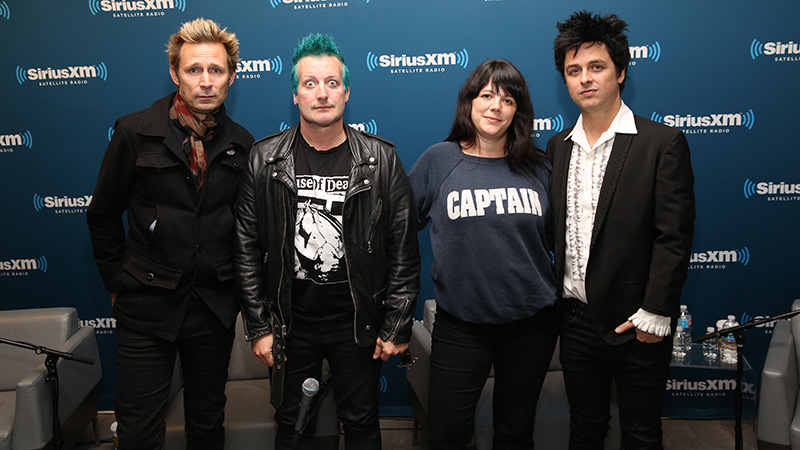 Twelve albums in, Green Day still celebrates together on the eve of their studio releases. They stayed up until midnight last night to ring in their new album, Revolution Radio. Hours later, they came by the SiriusXM studios in New York to talk with Jenny Eliscu and an intimate group of fans about their 30-year career together, the recording process for the new record and more.
Much of the music on Revolution Radio was created in wake of multiple mass shootings in America. The lead single, Bang Bang, was written from the perspective of a mass murderer and addresses the recent tragedies.
"Everyone has these critiques of society and sort of lives their lives through it, and I thought from that perspective of a madman, I guess, was interesting. It was just very twisted," lead vocalist and guitarist Billie Joe Armstrong said. "Trying to connect that with mass shootings and terrorism and how we live in a really violent world, that's sort of what the song is about."
Even with their historic career, highlighted by an induction into the Rock and Roll Hall of Fame in 2015, Green Day doesn't plan on slowing down anytime soon. In fact, they might be more inspired now than ever.
"It gets better the longer that we keep doing it in a lot of ways," Armstrong said. "Today, just putting out a record and we've been around for almost 30 years, and that alone, to me, that's an accomplishment that we've stayed tight through that many years, and we're making music that we love and we get to share it with people."
"The Rock and Roll Hall of Fame thing was great, but the other side of me is going, 'I'm not anywhere near done,'" bassist Mike Dirnt added. "So I don't know where this falls in line with my aspirations, but I knew I wanted to get to work. That's the thing, I feel really vital, maybe now more so than ever."
You can hear the full Town Hall followed by a live performance on Faction (Ch. 41) tonight 10/7 at 7 pm and 10 pm ET. It will rebroadcast Saturday 10/8 at 8 am and Noon ET; Sunday 10/9 at 5 pm ET; Monday 10/10 at 1 pm ET and Tuesday 10/11 at 7 am and 9 pm ET.
It will also air on Lithium (Ch. 34) Tuesday 10/11 at 12 pm ET; Wednesday 10/12 at 3 pm ET; Thursday 10/13 at 7 pm ET and Friday 10/14 at 9 am ET.
For a free 30-day trial, check out http://www.siriusxm.com/freetrial/blog
---
---
---