Top 10 Greatest Collabs Between Women
From Ariana Grande and Lady Gaga to Beyoncé and Shakira, see them all.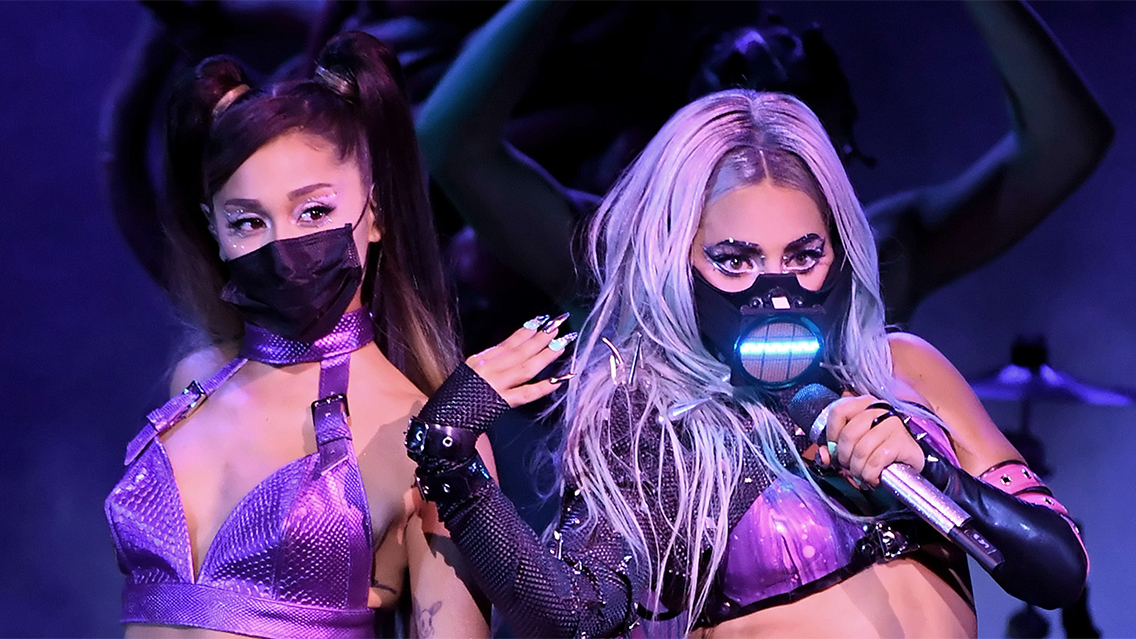 There's nothing better than women supporting and uplifting each other, and when that happens in the music industry it can create truly iconic songs. Let's look back through some of the greatest collaborations of all time and celebrate just how good these tracks were, are, and always will be. After all, who run the world? Girls.
10. Taylor Swift ft. HAIM — "No Body, No Crime" (2021)
The sixth track from Taylor Swift's Evermore, "No Body, No Crime" is a murder ballad that HAIM provided support on. The lyrics use the name of one of the Haim sisters — Este — albeit for a fictional character, and Swift was later featured on HAIM's track, "Gasoline". There's clearly a lot of love and support between these women, and we love to see it!
9. Doja Cat ft. SZA — "Kiss Me More" (2021)
"Kiss Me More" won Doja Cat and SZA their first Grammys, with both picking up the award for Best Pop Duo/Group Performance for the song. The dreamy rap-pop hit also includes a replayed sample from Olivia Newton-John's 1981 hit "Physical," adding yet another iconic woman into the mix.
8. Jessie J, Ariana Grande, Nicki Minaj — "Bang Bang" (2014)
This stomping pop hit took over the airwaves back in 2014, with the official video racking up 1.8 billion views to date. Jessie J described the feeling behind the song as "a real females, come together, empowering, supportive [vibe], and then Nicki jumping on it was like the icing on the cake." Talk about an iconic trio!
7. Cardi B ft. Megan Thee Stallion — "WAP" (2020)
The song itself is undoubtedly an incredible collab — it won a BET Award for Best Collaboration — but the music video helps take it even further. With cameo appearances from Normani, Rosalía, Latto, Sukihana, Rubi Rose, and Kylie Jenner, the all-female all-star lineup helped secure "WAP" a BET Award for Best Hip Hop Video and cement its status as a certified hit.
6. Beyoncé & Shakira — "Beautiful Liar" (2007)
With an MTV Video Music Award for Most Earthshattering Collaboration under its belt, how could we possibly not include this collab? Beyoncé and Shakira recorded their parts separately and first met in person to film the video. Unfortunately, the two have never performed the song live together, so this iconic video is all we have.
5. Brandy & Monica — "The Boy Is Mine" (1998)
With 2.6 million copies sold, "The Boy Is Mine" was the best-selling song of the year in 1998 in the US — talk about success! Taking inspiration from "The Girl Is Mine" by Michael Jackson and Paul McCartney, Brandy and Monica's throwback hit title also served as the name of Monica's second album. Despite the rumors of bad blood between the two, the song itself has endured and proven its longevity.
4. Lady Gaga, Ariana Grande — "Rain On Me" (2020)
Yet another Best Pop Duo/Group Performance Grammy winner! This particular hit saw two of the biggest stars in pop join forces to create an absolute tour de force. In speaking about the collab, Gaga said: "It's two women having a conversation about how to keep going and how to be grateful for what you do."
3. Lady Gaga ft. Beyoncé — "Telephone" (2010)
Gaga sure knows how to do a collab! A whole decade before her track with Ariana Grande, she and Beyoncé decided to team up and take on the world. With a lengthy cinematic video that made the song feel even bigger than it is, some killer choreography, and truly on-point fashion choices, "Telephone" is as iconic today as it was 12 years ago.
2. Britney Spears ft. Madonna — "Me Against The Music" (2003)
During rehearsals for the 2003 MTV Video Music Awards, Spears played the track for Madonna and asked her to feature on it. What she didn't expect was Madonna going above and beyond for the song — Spears had expected just "a little thing" from her, but she was all-in on the collaboration and made some magic happen instead.
1. Christina Aguilera, Lil' Kim, Mýa, Pink — "Lady Marmalade" (2001)
Christina Aguilera, Mýa, Pink, and Lil' Kim weren't the first to release the provocative track, but they might have created its most iconic rendition. Part of the soundtrack for Moulin Rouge, the song was also produced by Missy Elliott and features an intro and outro by her, just in case it wasn't star-studded enough!
---
To check out some of these collabs and hear even more iconic tracks, check out our Queens of Pop channel to get your fix of the hottest pop around.
---
---
---