Gloria Vanderbilt on her disappointing fling with Marlon Brando: 'He was a great actor, so …'
Hear the full Town Hall on demand now on SiriusXM Radio Andy (Ch. 102).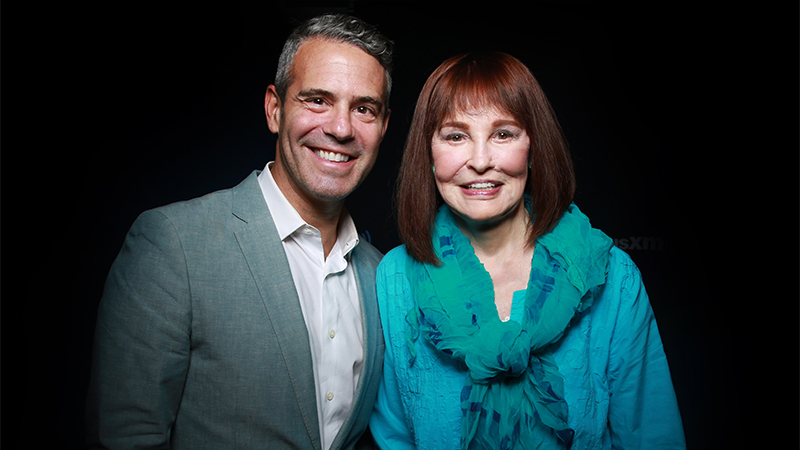 Hollywood heartthrob Marlon Brando had a bad boy reputation in the 1950s — and Gloria Vanderbilt says he was also bad in bed.
Asked by Andy Cohen if the star was a good lover during a SiriusXM Town Hall, the socialite, artist and author replied simply, "No."
"This is a very personal thing. To someone else he would have been called, or was, I'm sure, called a great lover. It depends on the person and how you chemically react to them," explained Vanderbilt, 92, of their one-night stand. "I saw his movie On the Waterfront and I had formed this fantasy about him, that he was this sensitive, extraordinary human being that was just waiting for me to meet him, and that it was going to be fantastic. And then when I did, he wasn't of course at all like I expected him to be. He was just totally different. Well, he was a great actor, so … "
Vanderbilt — the mother of Cohen's friend, journalist Anderson Cooper — also touched on the tragic death of son Carter Cooper, who in 1988 committed suicide at just 23 years old on the terrace of her New York apartment.
"He kept looking down, and I went to grab him and he said 'No no no no.' Then I thought if I go and pull him, I might go over with him, and then I thought of Anderson, and I couldn't do that," she said. "But then a plane came over, and he looked up at the plane and it was like a signal. I mean, he was not himself. It was like he was sleepwalking. And he looked at the plane as if it was a signal. He didn't jump, he just went and hung on the ledge of the wall, hanging down 13 stories, and I said 'Carter, come back!' and he just let go."
"I cried and cried," she added, "and I haven't cried since."
Hear the full Town Hall on demand now on SiriusXM Radio Andy (Ch. 102).
For a free 30-day trial, check out http://www.siriusxm.com/freetrial/blog.
---
---
---