Giannis Antetokounmpo: "I can dominate in this league one day"
Milwaukee Bucks star Giannis Antetokounmpo knows he has a long way to go, but he has his sights on being remembered alongside NBA legends. Antetokounmpo joined teammate Jason "The Jet" Terry on The Runway to talk about his stellar season … Continued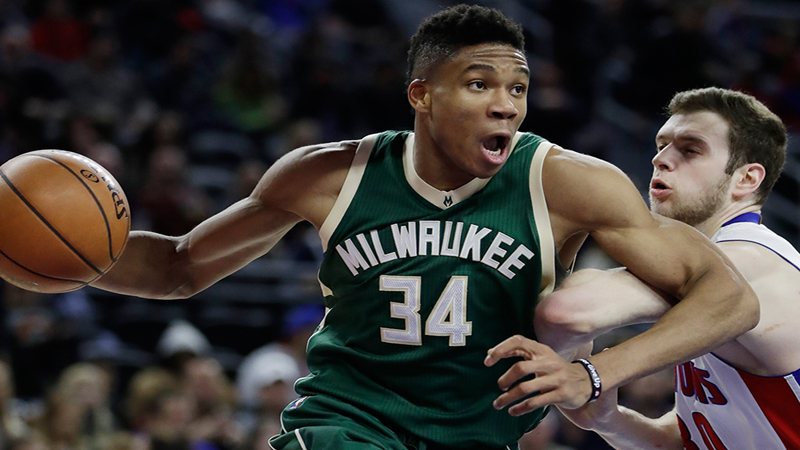 Milwaukee Bucks forward Giannis Antetokounmpo (34) drives around Detroit Pistons forward Jon Leuer during the second half of an NBA basketball game, Wednesday, Dec. 28, 2016, in Auburn Hills, Mich. (AP Photo/Carlos Osorio)
Milwaukee Bucks star Giannis Antetokounmpo knows he has a long way to go, but he has his sights on being remembered alongside NBA legends.
Antetokounmpo joined teammate Jason "The Jet" Terry on The Runway to talk about his stellar season so far, as well as his aspirations moving forward.
"I think I can make my team a lot better…I can dominate in this league one day," Antetokounmpo said.
When asked about being compared to some of the game's greats such as Kobe Bryant, Magic Johnson and Michael Jordan, Antetokounmpo said he doesn't want to be arrogant but it's certainly a goal.
"I got to work hard, I've got a long way to go but that's the only goal I can set for myself," he said. "I'm 22, and I think I can get a lot, lot better."
Catch the latest NBA news on SiriusXM NBA Radio on ch. 86, Sirius 207.
Photo: AP Photo/Carlos Osorio
---
---