Get festive with the 12 Specials of Christmas on Hallmark Channel Radio
Hear the stars from your favorite Hallmark Channel movies share holiday stories, festive jams, and more in their Christmas takeovers on Hallmark Channel Radio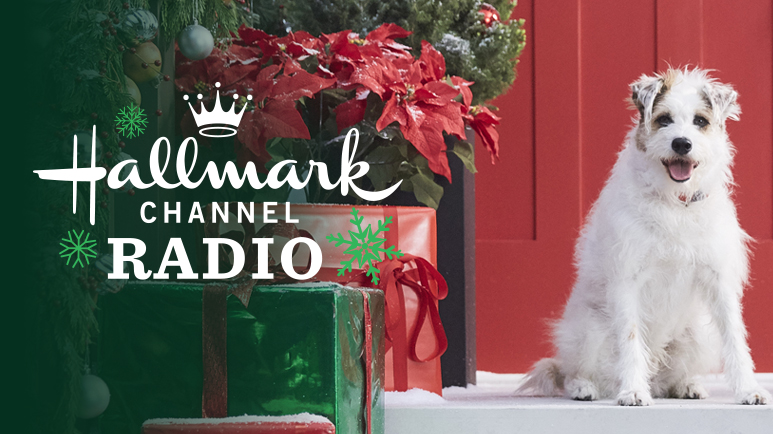 Christmas is right around the corner and, by now, stockings should be hung, eggnog glasses should be full, and the Hallmark Channel's Countdown to Christmas should be on a continuous loop. For those of us not able to stay posted in front of the TV all day, Hallmark Channel Radio (Ch. 70) is here to make spirits bright even when you have to get off the couch.

In honor of the most wonderful time of the year, your true true loves (aka SiriusXM and Hallmark Channel Radio) are giving you the 12 specials of Christmas — featuring some of the stars from your favorite holiday movies — as part of the continued Countdown to Christmas Countdown festivities. See the rundown below.
Jill Wagner
With the Christmas countdown well into the single-digits, Christmas Wishes & Mistletoe Kisses star Jill Wagner's Hallmark Channel Radio takeover will be broadcast at 12pm and 3pm ET on Saturday, December 21 and 9am ET on Sunday, December 22. Wagner plays single mother and talented interior decorator, Abbey, who is tasked with designing a nearby estate in advance of a mega-important Christmas Eve charity fundraiser. Another thing that needs some sprucing up for the holidays? Brooding workaholic Nick (played by Matthew Davis), son of the matriarch of the estate. While the movie will have you wondering if Abbey can pull it off — both the design job and melting Nick's icy exterior — Wagner's Countdown to Christmas special on Hallmark Channel Radio will take you through her favorite holiday memories, songs, and more.
Andrew Walker
To keep the holiday ball rolling, Andrew Walker — who stars opposite Full House alum Jodie Sweetin in the Hallmark Channel movie Merry & Bright — is hosting his own Countdown to Christmas Countdown on Hallmark Channel Radio. In the movie, Gabe (Walker) comes to town as a consultant assigned to Cate's (Sweetin) struggling candy cane business. Though they butt heads at first, the two are forced to put their different working styles aside to come to a sweet and satisfying conclusion. Walker's special will air on Sunday, December 22 at 12pm and 3pm ET and again on Monday, December 23 at 9am ET.
Kellie Pickler
The Mistletoe Secret tells the age-old love story of a small town woman, Aria (played by Kellie Pickler), stuck between a travel journalist and his ghostwriter during a desperate attempt to drive holiday tourism. When forced to choose between the two, Aria leans on her dad (Patrick Duffy) to guide her on matters of the heart. Pickler, who has previously described Hallmark Channel movies as "a breath of fresh air," will be on Hallmark Channel Radio offering her own insight on making the movie while also sharing some of her favorite holiday music and memories at 12pm and 3pm ET on Monday, December 23 and 9am ET on Tuesday, December 24.
Lacey Chabert
As Lacey Chabert learns that Rome is where the heart is on screen, Hallmark Channel Radio is where the heart is on air, and she recently stopped by to show some love of her own. In Christmas in Rome, Angela (Lacey Chabert) and Oliver (Sam Page), cross paths as unlikely allies in Rome when Angela loses her job as a tour guide and no-nonsense businessman Oliver is desperate for someone to help him understand the heart of the city. In her on-air Countdown to Christmas Countdown special, Chabert will tell holiday stories, introduce her favorite Christmas songs, and more on Tuesday, December 24 at 12pm and 3pm ET and Wednesday, December 25 at 9am ET.
Candace Cameron Bure
Christmas Town finds Lauren (Candace Cameron Bure) — a skeptical schoolteacher ready for a new start — stumbling into both a charming Christmas town and magical love story at the same time. As Bure embraces the magic of Christmas on film, she'll be doing the same on air with her Countdown to Christmas Countdown as she walks listeners through her fondest holiday traditions and more. Tune in at 12pm and 3pm ET on Christmas Day to add even more festivity to your holiday afternoon.
Chad Michael Murray
It may not be 2004 anymore, but receiving a little more Chad Michael Murray in your life is always a gift. Murray, who plays wedding photographer Luke (who also coincidentally dresses up as Santa at the local orphanage) opposite Torrey DeVitto's Jessica, mistakenly receives a special Christmas card in Write Before Christmas. And in true Hallmark Channel movie fashion, fate has a way of making sparks fly despite the unintended delivery. Tune in to Hallmark Channel Radio at 8pm ET on Christmas Day and 6am ET on Thursday, December 26 to unwrap the gift of Murray's holiday memories.
Torey DeVitto
Torey DeVitto stars opposite Chad Michael Murray in Write Before Christmas as Jessica, the Christmas enthusiast who sends out cards to everyone who inspires her — including the one that Luke (Murray) receives. Despite not exactly feeling the love after a recent breakup (mere weeks before Christmas, no less), the universe has other plans. Much like her character in the movie, DeVitto will be sharing the holiday spirit on Hallmark Channel Radio at 12pm and 3pm ET on Thursday, December 26.
Autumn Reeser
Christmas may be over on the 25th, but the spirit lives on with Autumn Reeser's special on Hallmark Channel Radio in celebration of the movie Christmas Under the Stars. The Hallmark Channel original features Reeser playing an astronomy teacher who crosses paths with Nick (Jesse Metcalfe), a recently fired former investment banker. Despite their different outlooks, together the two find hope in the stars — and in each other — to overcome their respective roadblocks and change for the better. Reeser's radio takeover at 8pm ET on Thursday, December 26 and 6am ET on Friday, December 27 is the perfect thing to cozy up to during your holiday downtime.
Chaley Rose
SiriusXM knows a thing or two about the magical combination of holiday festivity and music. In the Hallmark Channel's A Christmas Duet, Chaley Rose plays Averie, one-half of a retired, beloved pop music duo who has since moved on to own a winter wonderland-worthy lodge. When she unexpectedly crosses paths with her former musical partner, Jesse (played by Rome Flynn), their connection is restored through some Yuletide magic (not to mention a little elbow grease from a matchmaking coworker). Rose will be on Hallmark Channel Radio at 12pm and 3pm ET on Friday, December 27 to spread some Yuletide cheer of her own.
Rome Flynn
The other half of A Christmas Duet, Rome Flynn (who plays Jesse), considers the movie "something I put on my bucket list as an actor." While some may recognize him as Gabriel in How to Get Away With Murder, he'll be trading in the legal jargon to talk holiday cheer and his role as a once-successful musician still trying to chase his dreams. Hear his Christmas special on Hallmark Channel Radio at 8pm ET on Friday, December 27 and 9am ET at Saturday, December 28.
Sam Page
Starring opposite Lacey Chabert in Christmas in Rome, Sam Page will also be joining Hallmark Channel Radio to keep the festivity in high gear as he recalls what it was like playing Oliver, sharing his favorite Christmas songs, and more on 12pm and 3pm ET on Saturday, December 28. A Oliver in Christmas in Rome, Page quite literally experiences the struggle of mixing business with pleasure as Angela (Chabert) serves as his lifeline for both scoring a potential business deal and learning more about matters of the heart.
Danica McKellar
Hallmark Channel Radio is closing out the 12 Specials of Christmas the best way they know how — with a trip to Dollywood. Danica McKellar stars in Christmas at Dollywood as a big city event planner who returning to her Tennessee roots to organize Dollywood's annual Christmas celebration alongside the park's head of operations. As expected, the two unlikely personalities work to find common ground (and then some). McKellar's Countdown to Christmas Countdown will air on Saturday, December 18 at 6pm and 10pm ET.

---
---
---