Celebrate George Harrison's birthday with celebrity Guest DJs, fan tributes & more
Hear from Ann Wilson, Jimmy Fallon, Steve Ferrone and others on The Beatles Channel (Ch. 18).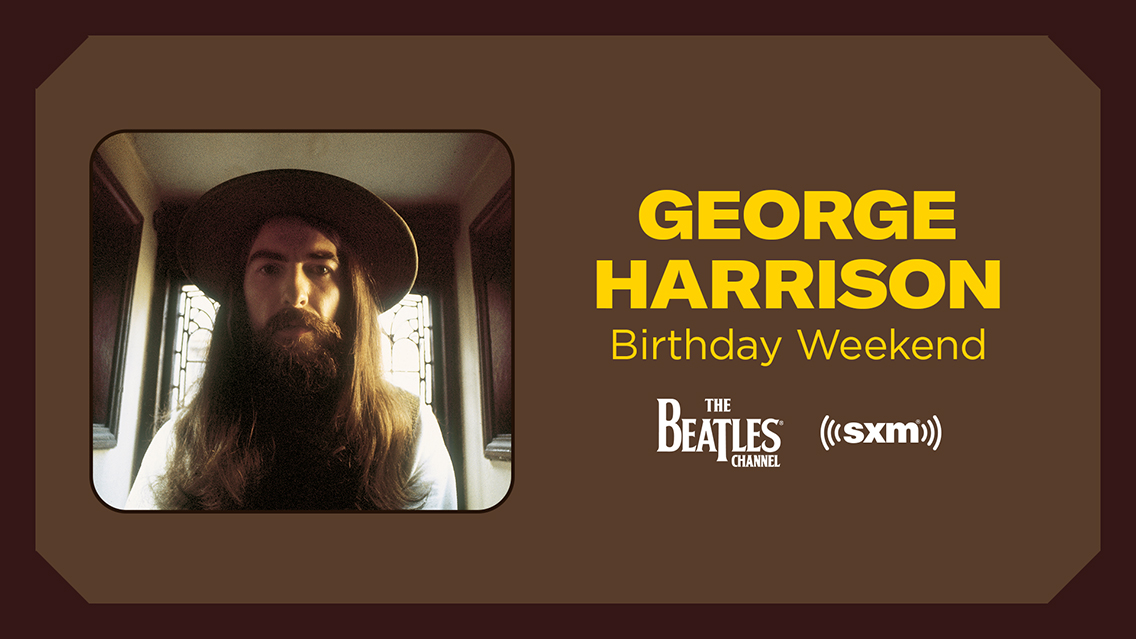 In celebration of what would be George Harrison's 79th birthday on February 25, The Beatles Channel (Ch. 18) is shining a spotlight on the Fab Four's legendary guitarist and singer-songwriter with specials featuring Ann Wilson, George's rarities, celebrities introducing their favorite George songs, and much more. Scroll to check out the full broadcast schedule below (all times ET), and listen to The Beatles Channel now.
For more information on George Harrison, visit georgeharrison.com.

Ann Wilson Guest DJ
Hear an extra-special Guest DJ session with Ann Wilson from Heart. Join Wilson as she plays some of her favorite George Harrison songs in honor of his 79th birthday on February 25 at 7pm, February 26 at 1pm, February 27 at 6am and March 2 at 12am.
---
Dark Horse Radio
Laura Cantrell's weekly show, Dark Horse Radio, is dedicated to the music that George Harrison wrote, produced, sang and loved. This week, remember George on what would have been his 79th birthday with an all-new episode spotlighting "the quiet Beatle." Tune in to hear the celebration featuring songs by him and others, including covers of his songs, songs he covered, and rarely heard material. Don't miss your chance to celebrate George when the birthday special airs on February 24 at 3pm, February 26 at 11pm, February 27 at 4pm and March 2 at 7pm.
---
Fab Fourum
Get your Beatlemania on during an extra-special Fab Fourum celebration. Dennis Elsas, Bill Flanagan, and Tom Frangione are honoring George's birthday by taking calls and letting fans revel in their favorite George moments throughout his illustrious career with special celebrity guests guitarist Joe Satriani, drummer Steve Ferrone and more on February 23 at 9pm, February 26 at 7am and February 27 at 6pm.
---
Way Beyond Compare
Join Beatles expert Tom Frangione as he explores Fab Four alternate takes, live performances and versions of Beatles recordings that you've never heard before! This week, it's all about George rarities in celebration of his 79th birthday on February 22 at 11pm, February 25 at 4pm and February 27 at 10am.
---
All Those Years Ago: George Harrison In His Own Words
During this exclusive tribute, George will be talking about his music with The Beatles, his solo career and much more. Hear George say it all on February 25 at 11am.
---
George Harrison Celebrity Guest DJs
Some of George Harrison's biggest fans are also joining the celebration, including James Taylor, Jimmy Fallon, Mayim Biyalik, Josh Groban and more. Hear them pick some of their favorite Harrisongs on February 25 at 10pm, February 27 at 12pm and March 3 at 1pm.
---
Breakfast with The Beatles
Rise and shine on George's birthday with a new, special Breakfast with the Beatles episode. On February 25 at 8am, catch The Beatles Channel host Chris Carter dedicating his morning show to George Harrison.
---
8 Songs A Week …Times Two!
The only thing better than 8 songs a week is 16 — enjoy double the amount of Harrisongs as host Meg Griffin presents listeners' favorite songs according to theme. And this week is an expanded celebration of all things George during 8 Songs A Week…Times Two! at February 25 at 2pm, February 26 at 10am, February 27 at 3pm and February 28 at 1pm
---
Peter Asher: From Me To You
Legendary recording artist, record producer and impresario Peter Asher shares his deep passion for The Beatles and the music they loved and inspired. As one of the key executives at Apple Records in the '60s and half of the duo Peter & Gordon, Peter has a unique perspective on the music and the stories behind it. This week, Peter plays songs George wrote, sang, played on and produced for the Beatles, Apple Records, solo and more. Hear the special episode on February 24 at 9pm, February 26 at 5pm, and March 1 at 1pm.
---
Northern Songs
Beatles historian and author Bill Flanagan puts together a themed playlist of hits and rarities by the Fab Four for this weekly audio adventure!  This week, it's all Beatles with George Harrison taking the lead on February 25 at 11pm, February 26 at 7pm and February 27 at 8am.
---
---
---