Garth Brooks talks plans for his channel and the first song he'll play at The Ryman
During his weekly Facebook LIVE broadcast on Monday, the Garth Brookss talked about what playing the Ryman Auditorium in Nashville means to him and what he has planned for The Garth Channel.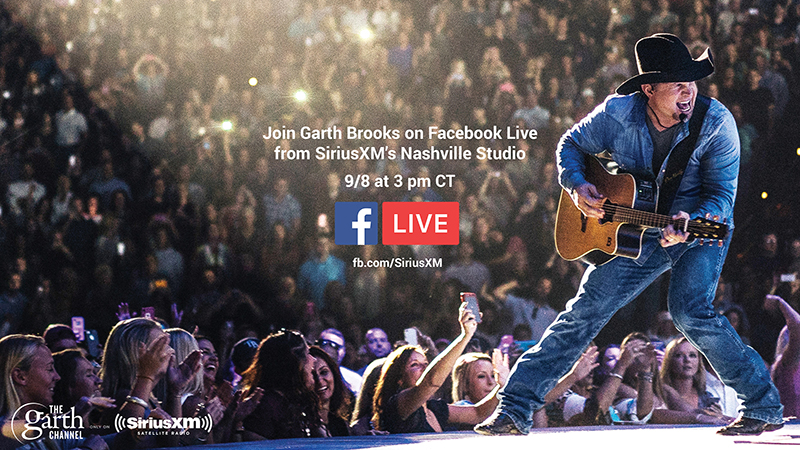 We're counting down the hours until Garth Brooks hits the stage at the Ryman Auditorium in Nashville.
Before the big show, Garth is joining us LIVE on SiriusXM Radio's Facebook page, from our Nashville studios! Be sure to tune in 3 p.m. CT on Thursday!
Garth has shared his excitement about playing "The Mother Church of Country Music." During his weekly Facebook LIVE broadcast "Inside Studio G" on Monday, the country star talked about what playing the revered venue meant for him.
When asked which song he was most excited to play, he humbly suggested that it would be a cover song rather than a Garth Brooks original, and it would open his set that evening.
"I have a feeling that it's going to be something that isn't Garth Brooks for sure just because [you think] there's a reason why you haven't been here [and] you don't think that maybe your stuff is enough, is that fair to say? So I'll probably pick something from some hero of mine."
Among the songs he might choose to play, he mentioned Cal Smith's Country Bumpkin as his "all-time favorite country song" and George Jones' He Stopped Loving Her Today as "the greatest country song ever written."
"I would expect that it might probably come from Straight, Haggard, Jones, and Whitley, something like that maybe," he said. "We'll see."
A few fans, including his friend and Highway host Storme Warren, wanted to know what Garth had planned for his channel. He stressed that it would not be "all Garth all the time" but rather something that grows with the help of his audience.
"I think we have to build it together, he said. "For me, it's just going to be a place to call home. That's it. When you talk about what kind of music are you going to play, we're going to play great music. …If you're having a bad day, come sit with us. If you're having the best day of your life, come sit with us. Hopefully that's what the music is. The music will fit the mood that you are in. And that's kind of our job — because that's the power of music. Music can heal things, it can celebrate things and it can make you remember things that maybe you have forgotten."
One thing we know you won't forget is to tune in for what's sure to be an epic performance Thursday, 9/8 on the brand new The Garth Channel (Ch. 55) and through the SiriusXM app on smartphones and other connected devices, as well as the online player at siriusxm.com.
For a free 30-day trial, check out siriusxm.com/freetrial/blog.
---
---
---