10 of the most hilarious & unusual Kentucky Derby horse names
Soup and Sandwich? Mister Frisky? Some owners don't hold back when it comes to naming their Kentucky Derby racehorses.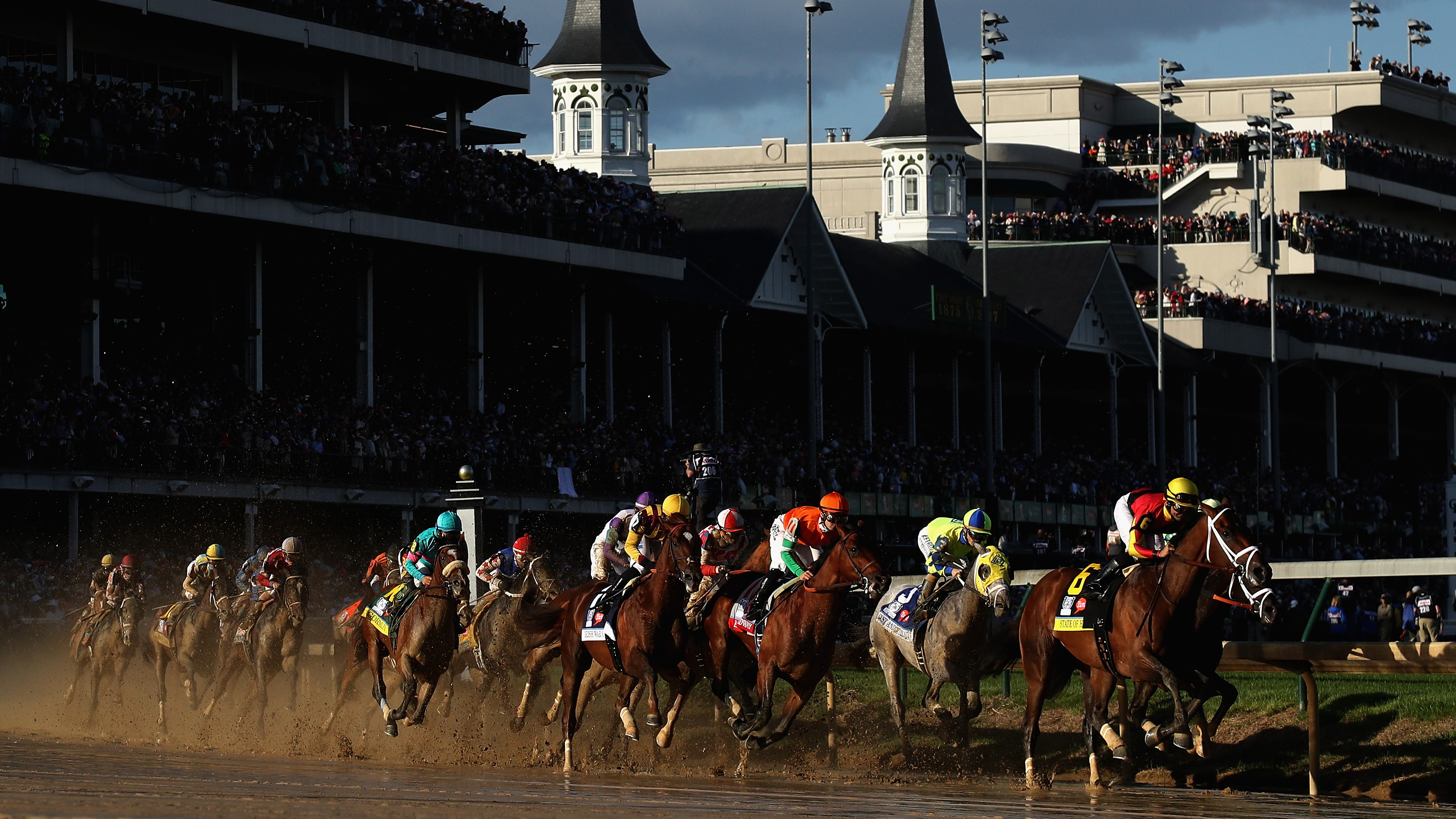 Photo by Patrick Smith/Getty Images
Since 1875, the Kentucky Derby — run annually on the first Saturday in May at the legendary Churchill Downs — has brought us many interesting horse names. Before you listen to the race live on SiriusXM on May 7, check out 10 of the funniest names in Derby history and see if you can spot some of them running this year.
1. Mucho Macho Man
3rd Place, 2011 Kentucky Derby
Every man may want to be a macho, macho man, but every horse wants to be Mucho Macho Man. Born in 2008 and named after the Village People's song "Macho Man," Mucho Macho Man is an American Thoroughbred who won the Breeders' Cup Classic in 2013.
2. Burgoo King
1st Place, 1932 Kentucky Derby
Although it sounds like an homage to Burger King, the name Burgoo King is actually a reference to burgoo meat and vegetable stew, popular in Burgoo King's home state of Kentucky. He won the 1932 Kentucky Derby and Preakness Stakes but did not run the Belmont Stakes to complete a Triple Crown victory.
3. Groovy
Last Place, 1986 Kentucky Derby
What's the best way to celebrate a last-place finish at the Kentucky Derby? By eating jelly donuts, which Groovy the horse was famous for loving as a treat. He's also famous for breaking the 130 Beyer Speed Figure twice, but that's less important.
4. Mister Frisky
8th Place, 1990 Kentucky Derby
A very fitting name, Mister Frisky might have been better known for his work as a stud siring other successful racehorses than his eighth-place win at the 1990 Kentucky Derby with jockey Gary Stevens.
5. Die Hard
16th Place, 1959 Kentucky Derby
Die Hard the horse and Die Hard the movie's star Bruce Willis were both born in 1955, but that's where the similarities end. Die Hard went on to earn over $141 million worldwide at the box office, while Die Hard only managed to scrape one-better-than-last place at the 1959 Derby.
6. Thirty Six Red
9th Place, 1990 Kentucky Derby
If you're a casino fan, maybe you'll recognize Thirty Six Red's name as a nod to the highest number on a roulette wheel. Thirty Six Red just manages to skirt around the Jockey Club's "no names consisting entirely of numbers" rule by being above 30 and spelled out.
7. Messier
No Result, 2022 Kentucky Derby
Sold for $470,000 as a yearling, Messier the racehorse was named after the pro hockey player Mark Messier. Tom Ryan of the ownership group SF Bloodstock's wife is the daughter of Pat Hughes, former Edmonton Oilers player, and met Mark Messier at a 2017 team reunion. He must've made an impression to get a nearly half-a-million-dollar horse named after him.
8. Keepmeinmind
6th Place, 2021 Kentucky Derby
If the name Keepmeinmind rang a lyrical bell to you at last year's Derby, that's because this horse was named by his farm manager after the Zac Brown Band song "Keep Me in Mind." Keep me in mind, somewhere down the road you might get lonely…
9. Soup and Sandwich
18th Place, 2021 Kentucky Derby
Purely due to his unusual name, Soup and Sandwich gained a lot of interested fans during the 2021 Kentucky Derby. But unfortunately, he slipped from an early second place to finish dead last, and fans found out later it was due to an injury sustained during the race. Soup and Sandwich's unusual name comes from owner Charlotte Colket Weber of Live Oak Plantation — who just so happens to be the granddaughter of Campbell Soup founder John T. Dorrance.
10. I'll Have Another
1st Place, 2012 Kentucky Derby
Winner of the 2012 Kentucky Derby, I'll Have Another's name comes from owner J. Paul Reddam's reply to his wife when she offers him freshly-baked cookies. I'll Have Another did indeed have another win, finishing in first place at the 2012 Preakness Stakes as well.
---
---
---