Fmr. VP Al Gore on Trump and climate change
"If you look at [Trump's] public pronouncements, it would give you great concern."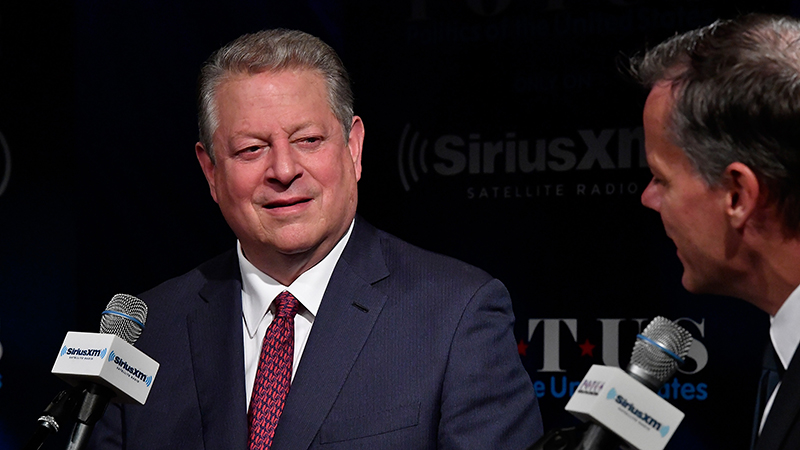 WASHINGTON, DC – JULY 20: Variety's Ted Johnson (R) hosts a SiriusXM Town Hall with fmr. Vice President Al Gore (L), director Jon Shenk and director Bonni Cohen and "An Inconvenient Sequel: Truth To Power" on the POTUS channel on July 20, 2017 in Washington, DC. (Photo by Larry French/Getty Images for SiriusXM)
The Truth remains inconvenient. And former Vice President Al Gore is reminding the public that "Truth is Power" when it comes to solving the issue of climate change.
Gore admitted during a SiriusXM Town Hall hosted by Variety's Ted Johnson that he was wrong about thinking he could influence Pres. Trump's opinion on the Paris Climate Accord.
"[Trump] listened and participated, and I came away with the impression that there was a good chance that he would come to his senses," Gore said of their meeting in Trump Tower. "But yes, I was wrong about that."
Gore added, "I really appreciate the curiosity about the details of my conversations with him. I went through eight years of never violating the confidence of President Clinton and our conversations, and maybe I over-adopted the habit of just being confidential about conversations with the president. It just seems like the most respectful thing to do.
"But if you look at his public pronouncements, it would give you great concern."
Gore, who was a member of both the House and the Senate prior to serving as vice president in the Clinton Administration, told Johnson he's pulling for his former colleague and friend Sen. John McCain who was recently diagnosed with brain cancer.
"We've been friends for decades," Gore said of McCain. "All Americans see John McCain as a genuine American hero. All of us are hoping and praying for his speedy recovery."
Watch full interview:
The Al Gore SiriusXM/Variety Town Hall debut airs on POTUS SiriusXM 124 Friday, July 21 at 5pm ET and replays Saturday, July 22 at 6pm ET and Sunday, July 23 at 12 noon Eastern.
"An Inconvenient Sequel: Truth to Power" is in select theaters starting July 28 and in expanded release starting August 4.
Photo by Larry French/Getty Images for SiriusXM
---
---
---