Fmr. Amb. John Bolton refuses to comment on potential Sec. of State role, but says 'it would be an honor to serve the country again'
"It's inappropriate to try and negotiate with [President-elect Trump] in public or debate the competition."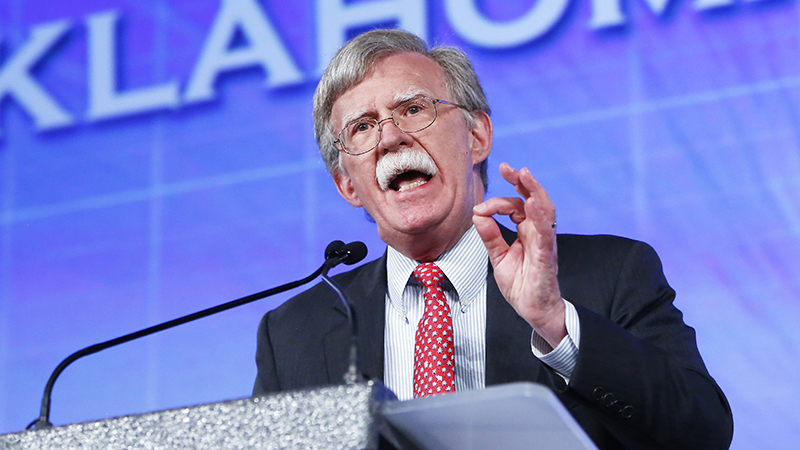 Former United Nations Ambassador John Bolton speaks at the Southern Republican Leadership Conference in Oklahoma City on Friday, May 22, 2015. (AP Photo/Alonzo Adams)
Donald Trump's cabinet is beginning to take form. As of today, the President-elect has tapped Sen. Jeff Sessions to run the Justice Department as Attorney General, announced his pick of Lt. Gen. Mike Flynn as his National Security Adviser and Rep. Mike Pompeo is rumored to be his pick to head the CIA. However, despite the long list of potential names, no official selection has emerged for the new administration's Sec. of State.
It's rumored that the Trump transition team is consdering former presidential candidate Gov. Mitt Romney, Former NYC Mayor Rudy Giuliani as well as Fmr. Amb. John Bolton. Bolton spoke with Breitbart London Editor-in-Chief Raheem Kassam Thursday about the position.
Initially, Bolton dodged a question about it, saying, "it's inappropriate to try and negotiate with [President-elect Trump] in public or debate the competition."
"It would be an honor to serve the country again," he added.
"It's weakness that invites conflict, not strength," Bolton said about Trump's proposed foreign policy. "You do what's appropriate. You don't decide on your tool before you decide on what your policy is."
On the state of global affairs, Bolton said he "think[s] Iran remains the principal threat in the region: both its on-going nuclear weapons program and its continuing financial support for international terrorism."
Bolton then made a dig at the Iran deal negotiated by current Sec. of State John Kerry, adding that "[Iran] shows no hint whatever — even after the nuclear deal — of restraining itself."
"I think the strategy should be to defeat ISIS as rapidly as possible, which is most definitely not the Obama administration's strategy — but to defeat ISIS as rapidly as possible, to protect civilians in America and Europe and elsewhere around the world from terrorist activity, but to do it in a way that minimizes the advantages to Iran and its allies. Whereas Obama's policy seems to be to engage in a way that maximizes the benefits to Iran and its allies. I think that's a big mistake."
Breitbart News Daily airs weekdays at 6 am ET on SiriusXM Patriot (Ch. 125)
Photo Credit: AP Photo/Alonzo Adams
For a free 30-day trial, check out siriusxm.com/freetrial/blog.
---
---
---