Farm Aid 2016 live from Virginia with Willie Nelson, Neil Young, Alabama Shakes + more!
The whole festival will be broadcast exclusively on SiriusXM Willie's Roadhouse (Ch. 59).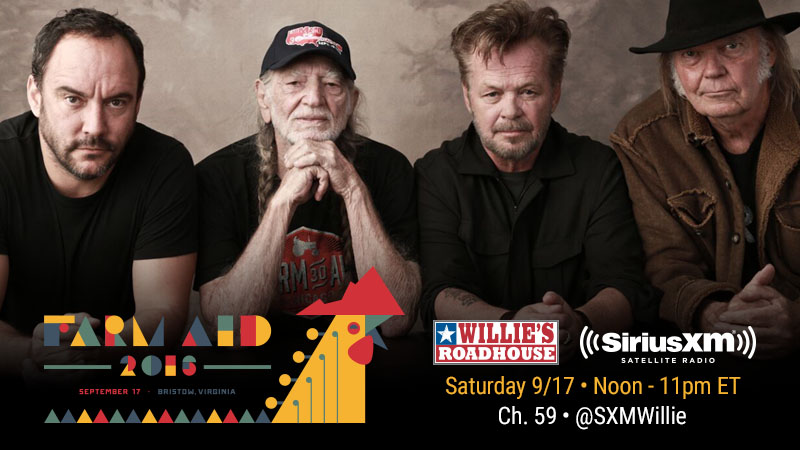 Willie Nelson has once again teamed with Neil Young, John Mellencamp and Dave Matthews, and rounded up some of the best musicians in the land for the 31st annual Farm Aid Concert, a live one-day festival that raises funds for local farmers and will be broadcast live on his exclusive SiriusXM channel.
"Folks are educating themselves about where and how food is grown — they're hungry for the truth," said Nelson, Farm Aid's president and founder. "Family farmers bring us good food, protect our soil and water, and strengthen our country. The Farm Aid concert is a day for us to honor that truth and keep working for family farmers."
Can't make it to the Jiffy Lube Live in Bristow, Virginia, on Saturday? Hear the day-long concert exclusively on SiriusXM Willie's Roadhouse (Ch. 59), featuring performers like Nelson, Neil Young, John Mellencamp, Dave Matthews & Tim Reynolds, Alabama Shakes, Nathaniel Rateliff and the Night Sweats, Sturgill Simpson, Jamey Johnson, Margo Price and more — plus Dallas Wayne's backstage interviews with artists and the farmers they're performing to support.
Check out the broadcast schedule below:
10 p.m. ET – WILLIE NELSON & FAMILY
9 p.m. ET – NEIL YOUNG
8 p.m. ET – JOHN MELLENCAMP
7 p.m. ET – DAVE MATTHEWS & TIM REYNOLDS
6 p.m. ET – ALABAMA SHAKES
5 p.m. ET – STURGILL SIMPSON
4 p.m. ET – NATHANIEL RATELIFF & THE NIGHT SWEATS
3 p.m. ET – JAMEY JOHNSON WITH SPECIAL GUEST APPEARANCE by ALISON KRAUSS
2:15 p.m. ET – MARGO PRICE
1:40 p.m. ET – LUKAS NELSON & PROMISE OF THE REAL
1:15 p.m. ET – INSECTS VS. ROBOTS (W/MICAH NELSON)
12:50 p.m. ET – IAN MELLENCAMP
12:40 p.m. ET – STAR SWAIN
For a free 30-day trial, check out http://www.siriusxm.com/freetrial/blog.
---
---
---