Fantasy Football Stock Report: Whose stock is up in advance of #NationalDraftDay
Catch up with Fantasy Sports Radio's Joe Pisapia to find out which players' stocks are up and down before your fantasy football draft.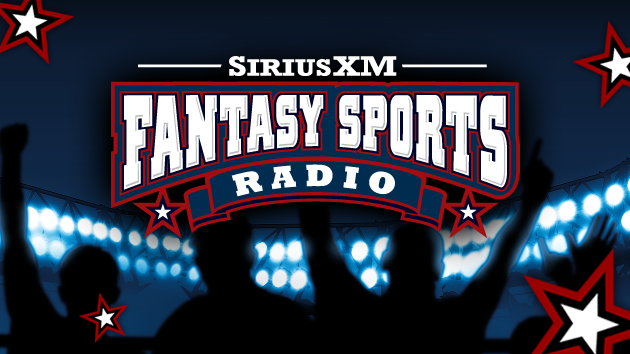 SiriusXM Fantasy Sports Radio.
#NationalDraftDay is coming. Are you ready? You're not? Take a few deep breaths and catch up with Fantasy Sports Radio's Joe Pisapia as he walks you through which players' stocks are up and down in advance of your fantasy football draft.
Stocks Going Up
LeGarrette Blount and James White, running backs, New England: With Dion Lewis having to endure yet another procedure on his surgically repaired left knee, LeGarrette Blount and James White shall reap the benefits. Pisapia's smart to hedge this bet for just the first four weeks of the season, because once Tom Brady comes back from suspension the Pats' aerial assault will be ready to take flight. For more on the in flux RB situation in Foxboro check out Fantasy Sports Radio. 
Tyler Boyd, wideout, Cincinnati: Lined up on the other side from all-galaxy receiver, A.J. Green, and with Andy Dalton under center, Tyler Boyd has everything he needs to succeed in his first season as a pro. Plus, he'll get you those return yards on special teams (if your league does that, you weirdo).
Thomas Rawls, running back, Seattle: Rawls proved last season that he was capable of filling the big shoes of Marshawn Lynch when "Beast Mode" was on the shelf. Now that Lynch has retired? It's the Thomas Rawls show, folks. Count on Pete Carroll to use Rawls to keep defenses honest (and on their toes) and to set up the play-action offense led by Russell Wilson.
Stocks Going Down
Demaryius Thomas, wideout, Denver: No Peyton Manning, no Brock Osweiler portends not-so-good numbers for Denver's No. 1 deep threat. Thomas should get in gear at some point this season, but it's smart to hedge against his otherworldly stats from the past few seasons.
Josh Doctson, wideout, Washington: Currently facing some injury issues and having missed most of training camp with those injury issues, Doctson does not look to be the best for this season as a rookie wide receiver. Look at Jordan Reed, DeSean Jackson, Pierre Garcon instead.
T.J. Yeldon and Chris Ivory, running backs, Jacksonville: Too many cooks in the kitchen on this one. Yeldon and Ivory are both legitimate feature backs, but with no word from Jaguars brass on who will be getting the lion's share of totes, this is a backfield you can stay away from until there's some clarity.
Good luck with your drafts this weekend, folks. Give yourself the insider edge in your fantasy football league by staying tuned into SiriusXM's Fantasy Sports Radio (Ch. 87, Sirius 210) all season long.
---
---
---