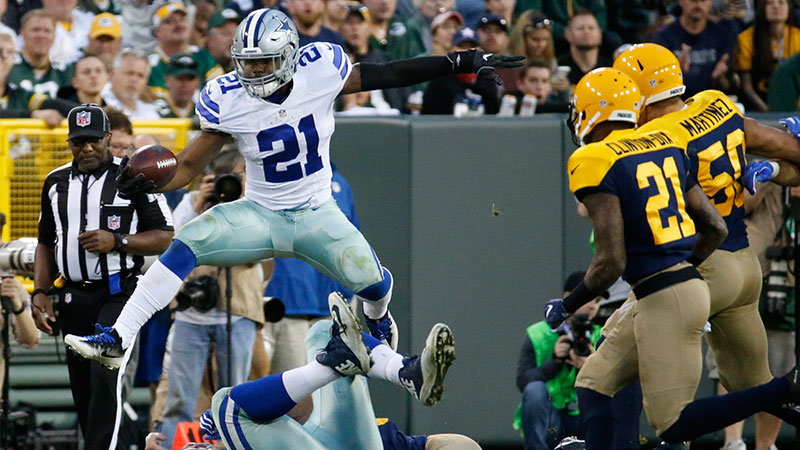 That's SiriusXM's very own Stephen A. Smith discussing the rampaging bull that is Ezekiel Elliott and the 5-1 Dallas Cowboys. As much as it pains SAS to confess it to his nation audience, the Dallas Cowboys are looking "incredibly impressive" thus far in the NFL season. That the 'Boys are doing this sans Tony Romo and Dez Bryant makes it all the more impressive. What Jerry Jones has created, in spite of the criticism of his trades, spending for "overrated" players, etc., is an overwhelming offensive line that currently is paving roads for Ezekiel Elliott to trot down and giving Dak Prescott all the time in the world to find open receivers or punish defenses with his feet.
While many pundits are rightfully questioning if Romo or Prescott should be under center once Romo's cleared, the real question, or, rather, conversation should be about this amazing offensive production that Prescott and especially Elliot are delivering. Take a look at 'Zeke's game-by-game rushing efforts six weeks into his career: 
Zeke's numbers are numbing to spectators (and death sentences to whomever is playing against his owner in FFB), but what's shocking is that this has all come with defenses knowing what's coming. Dallas' offense is largely predicated off Elliott, and that vicious Big-D offensive line, creating space for Dak Prescott to find the open receiver. Elliott's efforts are setting the table for Dak to feast and so far these two rookies are delivering far beyond even Jerry Jones' wildest dreams. If you haven't heard by now, Prescott just set a new NFL record for completions to start an NFL career without tossing an interception. Maybe even more impressive than that feat, is the consistency with which Prescott has delivered such stats. Dak, since the Week 1 loss to the New York Giants, has been robotic in delivering gobsmacking numbers. He's averaging a hair under 248 yards/game on a mere 30 attempts/game. That's good for about 8.2 yards per pass, folks. That's nuts. Whether or not Tony Romo and Dez Bryant make an impact upon their returns, it's safe to say that the future has arrived for Dallas and it's bright indeed.
Tune into SiriusXM NFL Radio for all the highlights and analysis of every NFL game, every week. (AP Photo/Mike Roemer)
---
---