Stream exclusive video content from 'The Jason Ellis Show' on the SiriusXM app
Since May 2005, Jason Ellis has been interviewing exciting celebrity guests, reviewing new music, and answering audience questions about life and relationships on "The Jason Ellis Show," and now you can stream exclusive show content on the SiriusXM app.
Jason Ellis with his co-hosts Michael Tully (left) and Kevin Kraft (right).
Across a crowded media landscape, Jason Ellis is a host unlike any other.
Making his SiriusXM debut more than a decade ago on close friend Tony Hawk's Demolition Radio, Ellis quickly exploded into a standalone phenomenon. Drawing on his experiences as a pro skater (and later a pro MMA fighter), his colorful and sometimes troubled past, and, above all else, his inimitable and unique take on life, Ellis has made lifelong fans out of countless self-described members of "EllisFam," many of whom convene annually from across America and Canada at the long-running comedy boxing extravaganza, Ellismania.

The Jason Ellis Show debuted on SiriusXM's Faction Talk (Ch. 103) almost 15 years ago in May 2005, and since then has continued to deliver music reviews, exciting interviews with celebrity guests, and hilarious commentary on current events. On air, Ellis takes full advantage of the uncensored nature of Faction Talk, amplifying the show's shock value and inviting listeners to call in with questions about life and relationships alongside his co-hosts Michael Tully and Kevin Kraft.
In conjunction with his radio success, Ellis has also acted in hit comedies like CHiPS and Paul Blart: Mall Cop, starred in the Wild World of Spike TV series, cracked the Billboard charts with his comedy metal band Death! Death! Die!, and wrote three books, including his most recently released book Still Awesome.
Remarkably candid about his history of childhood abuse, past substance issues, and, more recently, coming to grips with his identity as a bisexual man, Ellis has helped countless listeners with their own struggles. It's no wonder that Howard Stern has said that he would "be happy for Jason to take the torch" as the face of uncensored talk on SiriusXM.
Tune in to The Jason Ellis Show weekdays from 5pm to 8pm EST on SiriusXM Faction Talk (Ch. 103).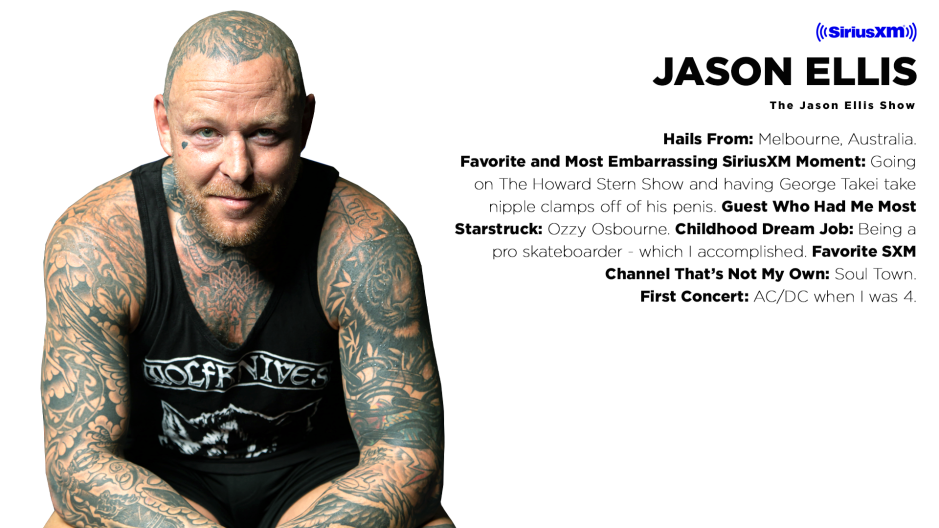 ---
---
---