Ewan McGregor shares his favorite part of filming 'Beauty and the Beast'
The actor also discussed his directorial debut during a special SiriusXM Town Hall with the cast of American Pastoral.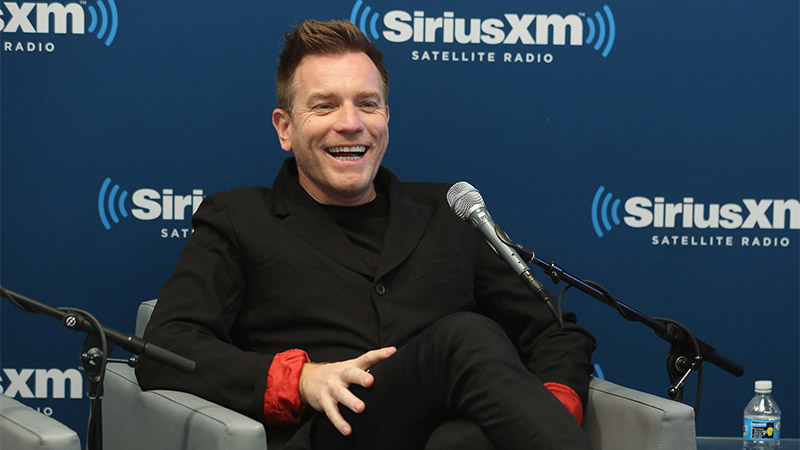 NEW YORK, NY – OCTOBER 19: Actor Ewan McGregor takes part in SiriusXM's Town Hall with the cast of 'American Pastoral' hosted by EW's Sara Vilkomerson (R) at the SiriusXM Studio on October 19, 2016 in New York City. (Photo by Cindy Ord/Getty Images for SiriusXM) *** Local Caption *** Ewan McGregor
It's a tale as old as time: Disney's been keeping its latest live-action version of an animated classic magically mysterious.
But Beauty and the Beast — with Harry Potter's Emma Watson and Downton Abbey's Dan Stevens in the titular roles — will enchant a whole new generation when it premieres in March, star Ewan McGregor promised during a SiriusXM Town Hall.
"I've seen a rough cut. It's very, very good," the actor told Entertainment Weekly's Sara Vilkomerson. McGregor voices the candelabra, Lumiere, in the live-action feature and was participating in a Town Hall discussion to promote his latest flick, American Pastoral, which also features Dakoka Fanning.
Though set in France, in a "poor provincial town" (as the song Bonjour goes), Beauty and the Beast boasts a mostly British cast, something special for the Scotsman.
"One of the great things about shooting it was the backstage banter. Stanley Tucci was there and Sir Ian McKellen, Emma Thompson. And we would be out the back of the set and it was just a lot of British actor-iness. It was so funny. It was just funny. Good gossipy chats and everyone was smoking roll-ups. It was fun," he said. "I realized I missed it a little bit. I think of Stanley as being a Brit. Of course, he's not, he's American, but somehow he's very much involved in the British banteriness of it all."
It's no wonder that McGregor sees Tucci as a Brit; the American actor lives in England with his British wife Felicity Blunt, the sister of actress Emily Blunt.)
As for American Pastoral, McGregor is making his directorial debut with this adaptation of Philip Roth's novel about the rise and fall of a family.
As McGregor also stars as protagonist Seymour "the Swede" Levov, he sought advice from another actor who has pulled double duty as director and actor: Ben Affleck.
"He said, 'Be careful not to undercover yourself,'" McGregor explained. "He said the temptation'll be you're losing the light, the time's ticking away and you're out of time, your first thing you'll be tempted to do is to just ignore your own stuff. You'll be like, 'Oh, that's fine on me, let's turn around, let's move on.' And he said, 'If you're gonna play the part, don't end up in the edit room without enough footage of yourself.'"
Hear more about American Pastoral and Fanning's own directorial aspirations when the Town Hall premieres Friday at 1 p.m. ET on SiriusXM EW Radio (Ch. 105).
For a free 30-day trial, check out http://www.siriusxm.com/freetrial/blog. 
---
---
---