Emo Through the Years: Explore the Sounds of the Ever-Evolving Genre
Celebrate National Emo Day with a timeline of the genre — from its hardcore punk origins to its pop- and rap-infused subgenres.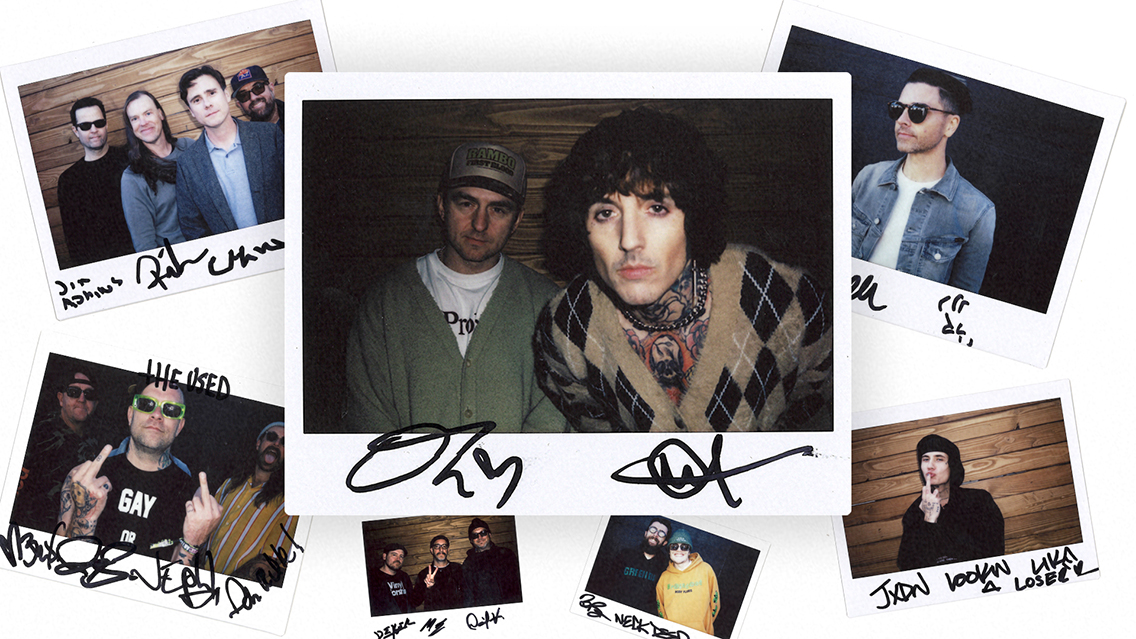 In celebration of National Emo Day (December 19), SiriusXM Blog contributor Quinn Villarreal digs into the past, present, and future of the popular genre.
My friends and I were adamant that we were not emo in the 2010s. We all had purple hair, beanies, knee-high pinstripe socks, Doc Martens, etc. — but we were not emo, we were "scene," or "post-hardcore," or "punk." 
But let's be honest: we were all pumping Fall Out Boy in our headphones. And we were emo as f***.
Having "feelings" in the 2000s and 2010s wasn't "cool." So, the term "emo" became a pejorative, which is why it's oftentimes rejected by bands and fans.
In truth, we were all emo then, and we all are emo now. Emo is the essence of musical emotion. Any genre can be emo, and so can anyone.
---
Related: 15 Progressive Guitarists Pushing Boundaries
---
Emo Origins
Emo can be traced back to the UK group The Mods in the 1960s. A rebellious post-war band, they boasted Italian motorcycles, Parkas, and long-hair, and were heavy drug and alcohol users. Between their counterculture characteristics and affinity for The Yardbirds and The Who, The Mods were an easy target for political criticism and public outrage.
Punk then originated in 70s with The Sex Pistols fronting the London movement. Fast drumming using a style called D-beat led to the classic heart-pound beats you know. Lyrics protesting the British government were blatant and key subjects for The Sex Pistols and other punk bands in the U.K. scene.
Around the same time, hardcore was forming in the U.S. incorporating new influences like heavy metal and hip-hop. The same disdain for authority. The same fast tempo. Slightly different cadences and rhythms. With localized movements created their own variations of hardcore. Bands like Pixies (Boston) and The Dead Kennedy's (LA) created their own localized styles of hardcore based on their own life perspectives.
These adaptations led to he creation of Post-Hardcore and Post-Punksubgenres, which incorporate progressive chord structures and pairings. Tempos could be slow, or as fast as metal, and singing was allowed to be inventive.
Seminal post-hardcore singer and guitarist Guy Picciotto formed one of the first D.C. emo bands — Rites of Spring.
Songwriting focus shifted from disdain and rage, to themes like relationships issues, trauma, and other hard to discuss topics. Picciotto later connected with vocalist Ian McKay to form Fugazi, who fled the drug-free straight-edge movement.
The formation of these early bands, along with thousands of underground acts, paved the way for emo's entry into the mainstream.
Alternative Emo
Jimmy Eat World is arguably the most prominent alternative emo band, influencing pop, rock, and alternative subjects for decades. 
"The Middle" was a near-final call anthem, while "Pain" was a track you listened to during a breakup. Bands like Weezer, Alkaline Trio, and Dashboard Confessional emerged alongside, creating a moody, yet poppy alternative scene in the late '90s/'00s. AFI paved way for heavier alternative acts, all of which you can hear on Alt Nation Ch. 36.
Two decades later, Paramore says Jimmy Eat World mentored them and were their "guiding light" during their early days.
Later alternative offshoots like Underground and Midwest Emo were created, leading to bands like Modern Baseball, American Football, Real Estate, and La Dispute.
Pop-Punk Emo
Early influences by The Ramones and The Beatles gave rise to '90s pop-punk chart-toppers Sum 41, The Offspring, and Green Day and more. The pop elements of this subgenre opened up emo culture to your everyday parent picking up their kid from school. But the real niche exploded with the rise of communal gathering spots across the US like Warped Tour, skate parks, and Hot Topic.
Reunited in 2022, blink-182 paved the way for the pop punk genre in the '90s, while also leading the resurgence of the 2020s revival with thanks to drummer Travis Barker for collaborating with dozens of new pop punk artists.
New bands like Belmont have fused emo lyricism, pop punk writing, and metalcore rhythms to create a new distinctly powerful, heavy sound. And rapper-gone-rockstar Machine Gun Kelly has brought a resurgence of pop punk stars like Avril Lavigne.
Current Pop Punk leaders Neck Deep recount stories with Mark Hoppus, Travis Barker, and Matt Skiba (Alkaline Trio) from their tour with blink-182 in 2019:
Bert McCracken of The Used talked to SiriusXM about recording tracks with blink-182 on 'Heartwork' (2021):
"Mark [Hoppus] is a very cool guy, He's very creative. Very laid back. Travis [Barker] just comes in, and plays whatever you want him to play. He's an actual wizard. We wrote 11 songs in 11 days….It's a banger. It's really negative. It's really heavy, there's a lot of screaming on it."
Screamo
If a song had singing AND screaming in it, your grandmother and/or school bully probably called it screamo.
As the heaviest of the emo subgenres, the name Screamo is shunned even more than emo. But pushing against the stigma, these bands have evolved to influence dozens of subgenres of modern rock, metal, and pop. 
Post-hardcore bands like Silverstein (above), Story of the Year, The Used, and Senses Fail made singing and screaming a staple niche. Darker than pop-punk, lighter than metal, these bands lean on progressive writing and storytelling. And of course, emotion.
Bring Me The Horizon quickly became one of the most talked about emo bands in the scene in the 2010s. Today, they are one of the biggest hard rock band, but have not forgotten their emo roots.
Ollie Sykes of Bring Me The Horizon says the new album being written has an "emo flavor," citing his favorite bands as Glassjaw, The Used, and more:
Pop Emo
If you were born between 1990 and 2000, this is the emo you know and heard feverishly across U.S. pop stations. 
Emo went pop, and that's okay. Dashboard Confessional first bridged alternative and pop emo seamlessly. Soon, bands like Paramore, Fall Out Boy, and Panic! At The Disco led this bright, emotional, and heavily singable movement with certified platinum albums topping the Billboard charts.
With a darker fashion style, My Chemical Romance brought gothic opera styles to pop. Even Panic! leaned into Steampunk styles, so fashion was expanding in this genre and throughout pop culture once again.
But this pop emo reign fell short with most of these bands pausing their emo roots to pursue other fusion genres in the late 2010s. MCR had broken up, and hiatuses came left-and-right. With the revival of many bands reuniting, we've seen Pamamore's recent songs "Hard Times" and "This Is Why" recreate the pop emo energy we've been missing.
Emo Rap
In terms of "rules" — emo rap is the most fluid, comprehensive, and expansive. Rap has always been a counter part to emo; both genres carrying an equal distrust for patriarchal systems and are an expression of the deepest inner dialogue.
In the mainstream we've seen Hayley Williams collaborated with B.O.B on "Airplanes." Gym Class Heroes had a long sprint with "Cupid's Chokehold / Breakfast in America." Arguably, Gorillaz tracks frequently feature rappers like Del the Funky Homosapien, Mos Def, and Bootie Brown. And even Linkin Park (nu metal) has a catalogue of tracks like "Bleed It Out" and "Numb / Encore" with Jay Z that would be considered a Screamo/Emo Rap hybrid.
However, the last decade, it was the late rappers Lil Peep and XXXTENTACION that led the resurgence of this subgenre. With heavy 808s and oftentimes guitars, these rappers used emo lyricism and included hard topics like death, pain, and raw feelings.
iann dior rose quickly to stardom on the pop charts and TikTok with his emotive track "emotions," leading to collabs with Machine Gun Kelly, Travis Barker, K-Pop superstars TXT. 
The Future of Emo
The evolution of emo has been bright, mysterious, and boundless.
JXDN lists Taking Back Sunday as one of his main influences. Talking about new music, JXDN says:
"My next single is so pop-oriented. But everything after that is heavier than I've ever — It's kind of like big, fat, 'f*** you' to everyone. I'm gonna sing really pretty, and then I'm gonna scream in your face."
Fusion artists like WILLOW have woven moody records, heart pounding guitars, and angelic melodies to create a new sound of emo. WILLOW is not afraid to share personal struggles and emotions in her lyricism. Instrumentally, WILLOW shares influences from R&B, alternative, emo, and hopes to expand more metal tracks in the future on 'Mixtape':
Classic emo songs have resurged on TikTok, in clubs, and across SiriusXM channels. The evolution of emo is moving fast and in different directions.
Emo is not over, it's only beginning.
So, now that you know emo's history, it's time to listen to songs all day long. Stream SiriusXM's The Emo Project (Ch. 713) on the SXM App now.
---
---
---