Emmys 2016: Amy Schumer's 5 funniest SiriusXM moments
Did you know Howard Stern had a hand in the making of Trainwreck?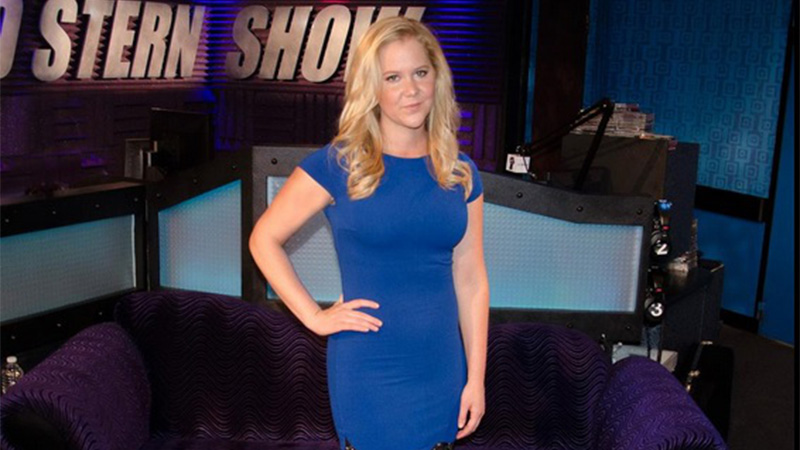 Amy Schumer won the Emmys red carpet by bringing a whole new meaning to "Who are you wearing?" (Shout-out to O.B. tampons.)
But long before she became an award show darling, she was a SiriusXM favorite — and The Howard Stern Show even helped the stars align for her runaway hit Trainwreck.
Why is she the celebrity we all want in our squad? We'll let her real friend, the hilarious Nikki Glaser, explain.
"She is an example of someone who, I go and hang out with her for a weekend, and I will walk away from it feeling so f**king good about myself, so happy in the skin I'm in. Because she's just so confident, and she doesn't give a f**k," she said recently on Wake Up with Taylor. "And she loves herself. She's the most hot person to me in the world because of how comfortable she is with herself."
Here are our favorite moments with the Girl with the Lower Back Tattoo author:
When her Howard Stern Show interview got her on Judd Apatow's radar.
In 2015, Apatow told Stern that hearing Schumer's dark humor on air three years earlier inspired him to reach out about collaborating. The line that killed? "He mostly just sh*ts himself," Schumer replied when asked what her dad does for a living. "He has MS. He lives in a hospital. But it's really somehow not sad because he still thinks he's like gorgeous. Like he's trying to get me to help him set up a Match.com profile."
When she was super humble about being named one of TIME's 100 Most Influential People.
"It's like these Ebola fighters and people who have made real change," she told Howard Stern last year. "And then it's like – me and Bradley Cooper."
When she considered becoming the next Bachelorette.
"I would choose Afghanistan. I actually heard that's a really cool place to hang, but I'll never know," she said on EW Morning Live of what exotic, romantic locale she'd choose for her season's getaway.  "And I'd want it to be only Asian guys who could apply, and I would want $1 million, and I would donate it to a charity that would keep that guy Tony from this season away from me. It's my own charity."
When she defended herself against joke-stealing accusations.
Schumer went to Jim Norton of Opie Radio to set the record straight about Tammy Pescatelli's allegations (which she's since rescinded).
"Like,  I didn't happen to catch her 2006 Comedy Central Special and sit on that bit until I got a movie," she said. "Like, I sat on that bit for nine years and then was like, 'Here's my chance to steal that famous Tammy P. bit.'"
When she became the patron saint of EW Radio's Women on Pop.
"Oh my God, I feel very blessed. I'd like to thank everybody except for Jesus," she cracked.
For a free trial, visit http://www.siriusxm.com/FreeTrial/Blog.
---
---
---