Eminem drops a politically charged freestyle on Shade 45's 'Sway in the Morning'
Eminem called into Sway In The Morning on Shade 45 (Ch. 45) Wednesday morning to drop a freestyle addressing the political and pop culture climates.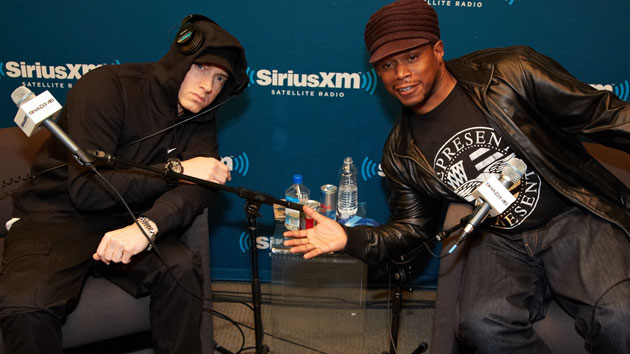 Eminem is readying new music but in the meantime, he dropped some new heat on Shade 45 (Ch. 45)'s Sway in the Morning. Wednesday, Sway world premiered a freestyle addressing the political and pop culture climates. Slim Shady's incredible wordplay and multisyllabic rhyme schemes were on full display throughout the seven-minute track as his wrath reached celebrities and presidential candidates alike.
Eminem took aim namely at Donald Trump and his supporters: "Run a faucet I'ma dunk a bunch of Trump supporters under water. Snuck up on 'em in Ray Bans in a gray van and a spray tan, it's a wrap like an ace bandage."
He continued by pointing out the hypocrisy in the criticism that has been levied on him throughout his career while Trump is being supported unwaveringly.
"Consider me a dangerous man, but you should be afraid of this damned candidate. You say Trump don't kiss ass like a puppet because he runs his campaign with his own cash for the funding, and that's what you wanted, a f***ing loose cannon who's blunt with his hand on the button who doesn't have to answer to no one? Great idea," he raps sarcastically.
Eminem also addresses police brutality and the wrongful killing of blacks, taking aim at Daniel Pantaleo, the officer who applied a deadly chokehold on Eric Garner and George Zimmerman, the man who shot and killed teenager Trayvon Martin.
"I'm giving Daniel Pantaleo a refresher course on excessive force and pressure points and dressing George Zimmerman in a florescent orange dress and four-inch heels to address the court with a bullseye on his back, his whole chest and torso are left on the doorsteps of Trayvon's dad as a present for him."
The freestyle, titled Eminem's 2016 Campaign Speech, saw Shady throw his hat into the election ring as he revealed the monumental things he'd do if he were elected president.
"If I was president getting off is, the first order of business when I get in office."
#ShadyForPresident? Listen to the full freestyle below:
For a free 30-day trial, check out http://www.siriusxm.com/freetrial/blog.
---
---
---