Elliott Wilson and T.I. discuss racial injustices in powerful debut episode of Rap Radar Report
Elliott Wilson tabbed multi-platinum selling rapper T.I. as his first guest for the debut episode of Rap Radar Report and they had a powerful conversation about the racial injustices in America.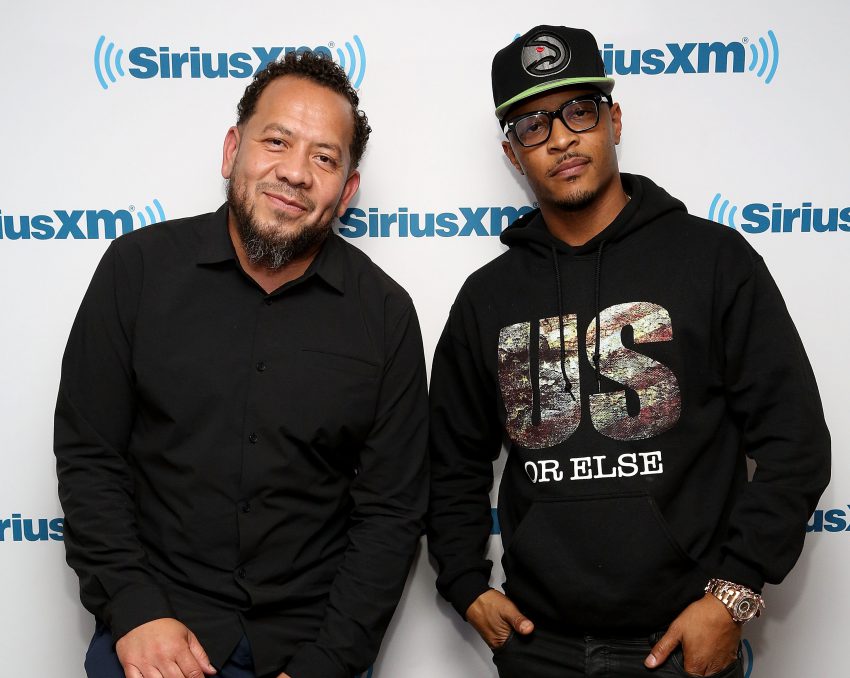 NEW YORK, NY – SEPTEMBER 27: T.I. (R) visits SiriusXM's "Rap Radar Report" Hosted By Elliott Wilson at SiriusXM Studios on September 27, 2016 in New York City. (Photo by Robin Marchant/Getty Images for SiriusXM)
SiriusXM's new talk music channel VOLUME launched on Monday and brought out some of the biggest names in music for interviews and guest appearances. Elliott Wilson tapped T.I. as his first guest for the debut episode of Rap Radar Report, and the two of them had a powerful, wide-ranging conversation addressing racial and social injustices.
Arguably one of the most influential hip-hop journalists as the former editor-in-chief of XXL Magazine and the founder of RapRadar.com, Wilson's plan is to make Rap Radar Report a one-stop shop for all things hip-hop that will dissect the culture's hottest topics.
T.I. is in the process of recording his tenth studio album, The Dime Trap, and in September he released a six-track EP inspired by the current state of race relations in America entitled Us or Else. Wilson could not contain his excitement for his first interview.
"He's been a widely successful rapper — platinum singles, multi-platinum albums — but he's really getting into the heart of these issues that we have going on right now like police brutality, his thoughts on the presidential election and he really goes all out in a very raw, captivating way," Wilson said. "I feel like not enough people are really supporting this project, so I felt like T.I. has a huge personality. He's a man of many words and I was like he would be the perfect guest to really launch this message of what I'm trying to create here at Rap Radar Report."
T.I. said he created Us or Else in support of the Black Lives Matter movement and in response to the tragic deaths of civilians at the hands of police brutality.
"It basically sheds light on the injustices and atrocities that continue to take place in our communities," T.I. said. "I was motivated, or urged, to begin making music about my position, simply because I think that a healthy dialogue needs to be created. I don't think we can continue to celebrate our successes and not shed some light on the negative things that we'd like to correct in our community."
In the wake of the deaths of Alton Sterling and Philando Castile, two black men who were killed by police officers within 24 hours of each other, T.I. said several radio stations called him to ask if they could start playing his song New National Anthem, a politically-charged song originally recorded in 2014. That made him realize there was a need for new music that describes the country's current climate.
"What it showed me was if we're reaching back to 2014 to grab a record, that means that today there needs to be a soundtrack to what we're going through, there has to be some narration. That's when I started working on [Us or Else]," he said. "The recording part, that was just the music part of it. Protests, organizing, mobilizing people, trying to wrap my mind around how to lead if the time ever came — in doing all that, if I'm at a protest during the day, when I go to the studio at night, quite naturally, my activities of the day would bleed into the music."
T.I. did not hold back when discussing the 2016 presidential election. He took aim at Donald Trump, whom he believes is using his platform as a public figure to spew a rhetoric that is harmful and divisive.
"I know I got people following me too, I know I got people who move on if I direct them to move a certain way," T.I. said. "So for me to use that platform to be divisive, to be hateful, to be everything that this country needs to get away from, no one should support that. It's irresponsible, and that's saying it lightly. It seemed like he tried to throw the election, but then not knowing how many dark, ugly personalities there were out there, he saw how much support he was gaining just from being negative and divisive and he was like, 'Yo, I can win.' I think that just hurt everyone."
T.I. said he will continue to use his platform to initiate change. He hopes to help people overcome the differences that divide them and come together in solidarity.
"Just allow us to be cool and peaceful about it. Just respect us and we should respect y'all, even if we have differences," he said. "You're not gonna be the same, you're not gonna look the same, you're not gonna have the same views, you're gonna have different religions, but everyone just respect what you do have in common, that you're a human being. Let's start there."
Listen to Elliott Wilson's Rap Radar Report on Mondays from 7 to 8 p.m. ET on VOLUME (Ch. 106). The show replays at 11 p.m. ET Mondays, 6 a.m. ET Wednesdays, 4 a.m. ET Saturdays, 12 p.m. and 8 p.m. Sundays. 
---
---
---