Jose Fernandez (born July 31, 1992): An inspiration to fellow Cubans everywhere, Jose Fernandez was a premiere pitcher in the MLB before tragically dying in a boating accident at the age of 24 on September 25. Related channel: MLB Network Radio, ch. 209 (AP Photo/Alex Gallardo)
An emotional Eduardo Perez held back tears as he talked about the moment he learned of Jose Fernandez's death on Sunday morning.
The 24-year-old Miami Marlins ace was killed when a boat he was in collided with rocks at a high rate of speed, according to Bleacher Report.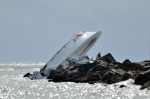 Perez served as the batting coach for the Marlins in 2011 and 2012, but he told MLB Network Radio that his relationship with Fernandez extended far beyond the workplace. As a young man Fernandez found a safe place to have fun and play dominos at Perez's parents' house, he said.
"The relationship that my dad had with Jose, it was like a grandfather-grandkid relationship," Perez said. "He took him under his wing when he first signed with the Marlins…so proud of him."
Fernandez defected from Cuba when he was just 15 years old, saving his mother in the process after she fell from the boat that would take them to Mexico.
"None of us have gone through what Jose Fernandez went through to find freedom," Perez said. "To be able to save his mom when she fell out of a boat, he not knowing it was his mom in the middle of the darkness…he jumped without even thinking about it and he risked his life to save another person."
Former Marlins pitcher Dontrelle Willis also joined MLB Network Radio shortly after the news broke to talk about what Fernandez meant to the entire Miami community. Not only was Fernandez fun to watch with his incredible slider and fastball, fans were drawn to his passion and exuberance for the game.
"We really truly lost a great personality in baseball that I don't think can be matched again," Willis said.
The Marlins released a statement on Twitter Sunday about the tragic event and cancelled their scheduled game against the Atlanta Braves.
Statement from the Miami Marlins organization: pic.twitter.com/6A4Rv6m2g9

— Miami Marlins (@Marlins) September 25, 2016
Dan Jennings, former Marlins manager and general manager, said he was "crushed" by the news.
"Such a vivacious, energetic, passionate, just a fun kid," Jennings said. "My heart breaks for his family, his fiancee, the organization and just anyone who has come in contact with Jose."
During his too-brief career, Fernandez accumulated an impressive 38-17 record and a 2.58 ERA. He was an All-Star twice and was named the NL Rookie of the Year in 2013. More than that, he served as an inspiration to his fellow Cubans in and out of the country.
ESPN reporter Pedro Gomez explained.
"He fully appreciated what it was to be here and to be able to pursue your dreams because he knew he left a place where that wasn't possible," Gomez said. "It's not often that you do see a humble superstar, but in this case, I think he qualified."
Listen to MLB Network Radio on Ch. 209 for more on the story.
Feature Photo Credit: AP Photo/Alex Gallardo; In-article photo: AP Photo/Gaston De Cardenas
---
---
---