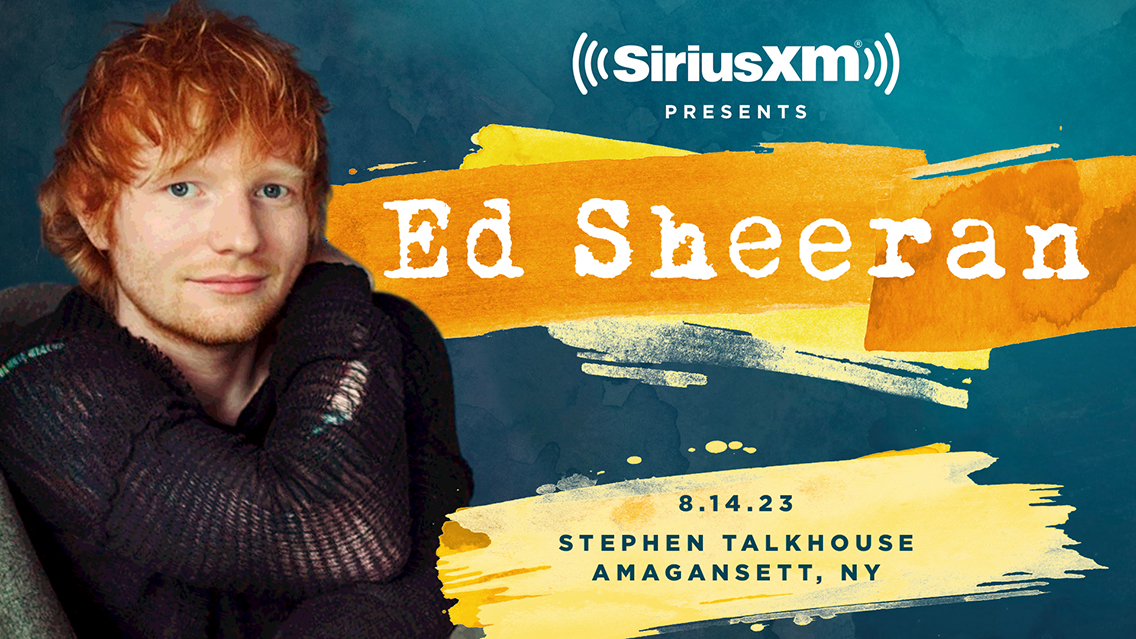 Ed Sheeran will perform a can't-miss concert at Stephen Talkhouse in Amagansett, NY, on Monday, August 14. The exclusive SiriusXM show will be available on the SiriusXM App and air across several channels (see listening info below).
---
Stream hits by Ed Sheeran and more on the SiriusXM App
---
News of Ed Sheeran's SiriusXM concert comes amid his wildly popular 2023 tour. Recently, Sheeran surprised his crowd by bringing out Eminem during his show in Detroit.
"I wondered if I could play you a cover of an Eminem song tonight?" Ed asked the 65,000+ fans in Ford Field on Saturday night before launching into an acoustic cover of Eminem's 2002 hit "Lose Yourself."
This was far from the first time Ed and Eminem have worked together. After they collaborated in 2018 on "River," Ed joined Eminem for his Rock & Roll Hall of Fame induction celebration just last year. Eminem also made an appearance on Ed's No. 6 Collaborations Project album in 2019, joining 50 Cent on the track "Remember the Name."
Ed Sheeran Concert Broadcast
The intimate show will air on SiriusXM Hits 1 (Ch. 2) on Friday, September 1 at 9pm ET and will be available on the SiriusXM App. The concert will also air across multiple SiriusXM music channels including The Pulse (Ch. 5) and The 10s Spot (Ch. 11), with select songs on TikTok Radio (Ch. 4).
This concert partially benefitted USA Warrior Stories. USA Warrior Stories Inc. is a Not-For-Profit organization designed to record, archive and share videos of Veteran stories online to help Veterans make a connection with one another and to help us all better understand their sacrifices for our freedom. For more information go to https://usawarriorstories.org/.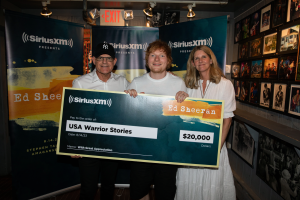 Get 3 Months of SiriusXM Free
Eligible customers can get their first three months of SiriusXM streaming for free.
Click here to sign up and experience all that SiriusXM has to offer. See Offer Details.
More Concert Info
During his special performance, Sheeran will play music from his latest album, – (pronounced "Subtract"), including the single "Eyes Closed," as well as many other fan favorites. The concert promises to marry the charm of the Hamptons, a legendary venue and iconic musician as only SiriusXM can.
"We couldn't be more excited that Ed Sheeran, one of the top artists in the world, will step away from his tour playing stadiums to present an intimate show for SiriusXM at Stephen Talkhouse, a truly iconic venue," said Scott Greenstein, President and Chief Content Officer, SiriusXM. "This will be a one-of-a-kind experience for the lucky fans in attendance and to our listeners nationwide."
Sheeran's latest album, –, was released in May to overwhelming acclaim and is the final installment in his mathematics album series. The multiple Diamond-selling, EMMY-nominated phenom is currently on the North American leg of his + – = ÷ x Tour (pronounced "The Mathematics Tour"), which has seen the renowned singer/songwriter breaking venue records in almost every city to date.
The opportunity to experience an artist of this magnitude in a setting more reminiscent of how he began his career, will undoubtedly treat those in the room to a show unlike anything they have seen before. Sheeran's show will be the latest in a series of special concerts SiriusXM has presented at Stephen Talkhouse. Artists who have previously performed for SiriusXM listeners at the famed Hamptons music venue include Brandi Carlile, Coldplay, Dave Matthews, The Killers, and Mumford & Sons.
---
---
---