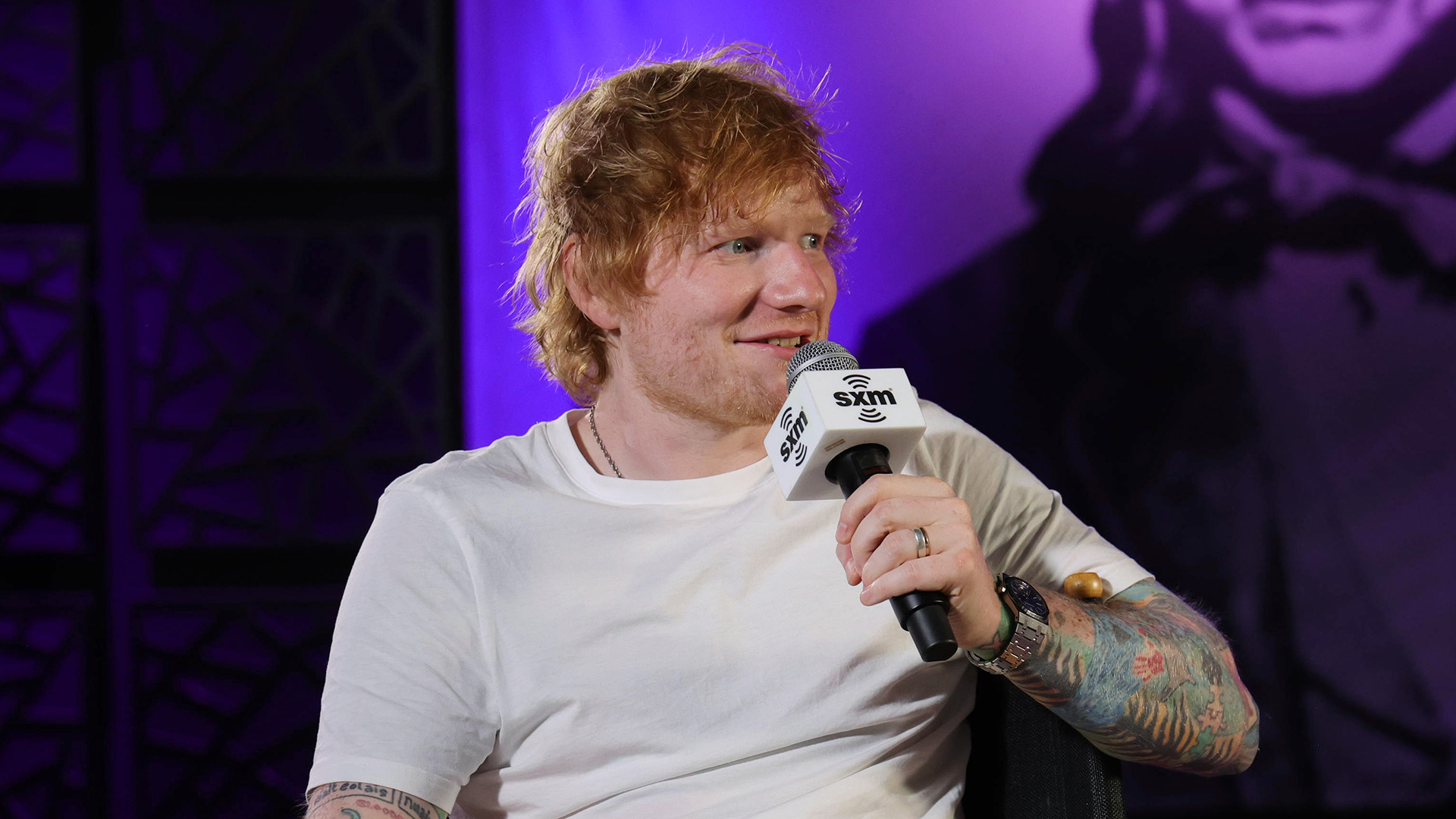 Photo by Kevin Mazur/Getty Images for SiriusXM
Autumn is coming.
Ahead of his performance at Stephen Talkhouse in the Hamptons for an intimate audience of SiriusXM listeners and A-list guests, Ed Sheeran spilled some major tea in an interview with Andy Cohen about his current musical projects, Taylor Swift, the Super Bowl, and more.
---
Listen to Ed Sheeran's full interview on Radio Andy (Ch. 102) 8/18 at 10am ET
---
Currently on his Mathematics Tour, Ed commended Beyoncé and Taylor Swift — who are also both on stadium runs — for their unique performing styles. "I would love to go and see Taylor's show, but we're all playing on the same dates every single weekend," Ed said. "I think there's a chance next year when she's in the UK that I'll be free."
He also confirmed that he hasn't yet re-recorded "End Game" with Taylor for the (highly anticipated but not yet announced) rerelease of her reputation album: "I haven't, no. No. But 1989 (Taylor's Version) is the next one coming out. That's the next one."
As for his own "next one," Ed has been teasing the phrase "autumn is coming" on his social media and his clothing recently, sparking all sorts of fan theories about new music. When asked if autumn references a release in October specifically, Ed replied, "Not in October, no, but there is new music coming."
"It's an album about autumn, and I kind of have no expectations for it," he elaborated. "Basically it was the album I was trying to make and then Subtract happened. So I kind of have, like, finished it over the last year. And, yeah, it's ready to come out, so I'm gonna put it out."
When it comes to playing the Super Bowl Halftime Show, Ed doesn't feel he has enough American "pizazz" to command the stage — despite headlining NFL stadiums around the country every week. "I'm not gonna have dancers on stage. I'm not gonna have fireworks … I just can't. That's not me. I don't think that anyone wants to see me do the Super Bowl," he said. But he did admit to having interest in performing as a guest and revealed that there had been talk of him performing "Thinking Out Loud" with Coldplay during their halftime show in 2016.
"Thinking Out Loud," Ed's GRAMMY-winning song now nearly a decade old, was also recently in the news due to a copyright lawsuit. The family of the late Ed Townsend, who co-wrote Marvin Gaye's "Let's Get It On," accused Ed Sheeran of copying the song's sheet music for "Thinking Out Loud." Ed won the lawsuit in May of this year after threatening to step away from music should he lose.
"People think I was lying when I said that. I actually would've stopped songwriting," Ed told Andy. "I wouldn't have stopped performing, and I probably would've started covering songs and stuff like that. But, yeah, I just can't go in a studio and be like, 'Well, I can't use this sequence because it might belong to someone.' And that's just a dangerous position to be in."
Following the lawsuit, Ed hopes that people are both credited fairly when their work is used and believed when they say they didn't take influence from something. "Any time I've taken influence, I've credited, and anytime that I haven't, I haven't," he said. "I think, just — honesty is the key in that."
---
---
---