Drew Barrymore explains why she isn't ready to date after divorce + talks new show 'Santa Clarita Diet'
"I'm still in shock from everything," Drew Barrymore told Andy Cohen.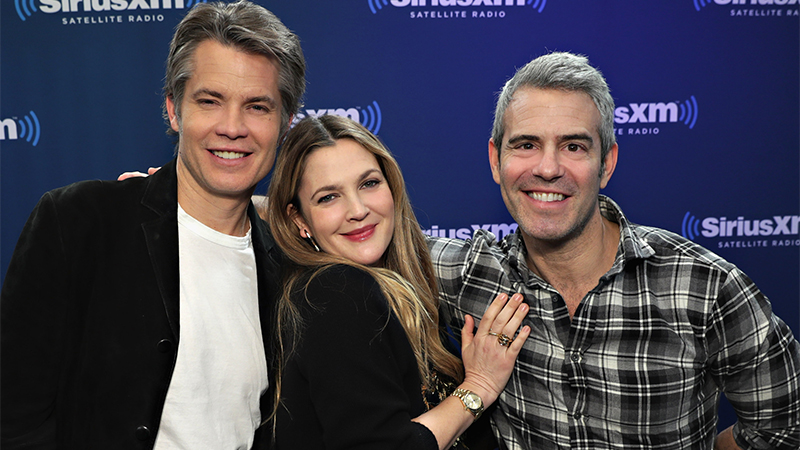 NEW YORK, NY – JANUARY 27: Tim Olyphant, Drew Barrymore and host Andy Cohen pose for a photo during SiriusXM's Town Hall with Drew Barrymore and Tim Olyphant to air on Andy Cohen's Exclusive SiriusXM Channel Radio Andy on January 27, 2017 in New York City. (Photo by Cindy Ord/Getty Images for SiriusXM)
Before joining Santa Clarita Diet costar Timohy Olyphant for a Town Hall hosted by Andy Cohen, Drew Barrymore stopped by sister-in-law Jill Kargman's own Radio Andy studio for a warm hello.
Barrymore married Kargman's brother Will Kopelman in 2012. But four years and two children later, the actress filed for divorce.
During the Town Hall, Barrymore said she's "not ready" for a new romance.
"I'm still in shock from everything," she said. "I'm going to take a while."
"Would you consider going on Raya or going on Tinder or something like that?" asked Cohen, referring to the exclusive service for celebrities.
"I've never been on a dating app, and I now know that's the current thing, and my girlfriends are on it and so it is fun for me to look over their shoulder while they're going through it," she said. "If you want to date an actor or musician, they're all on Raya. It's the craziest thing. I'm like, but he's so famous! What? It's like looking through a SAG portfolio, a Screen Actors Guild guide, and going, 'I want to date him.' It's crazy."
This was all news to Olyphant, who later quipped, "Like people are like, 'Oh, Chris Hemsworth, swipe left, swipe right?'"
Watch the videos below to learn about Barrymore's experience working with O.J. Simpson and the fake vomit used on Santa Clarita Diet, a comedy about zombies in suburban California. ("It made bile smell like roses," Barrymore joked.)
Hear the full interview on Demand.
For a free 30-day trial, check out http://www.siriusxm.com/freetrial/blog
---
---
---