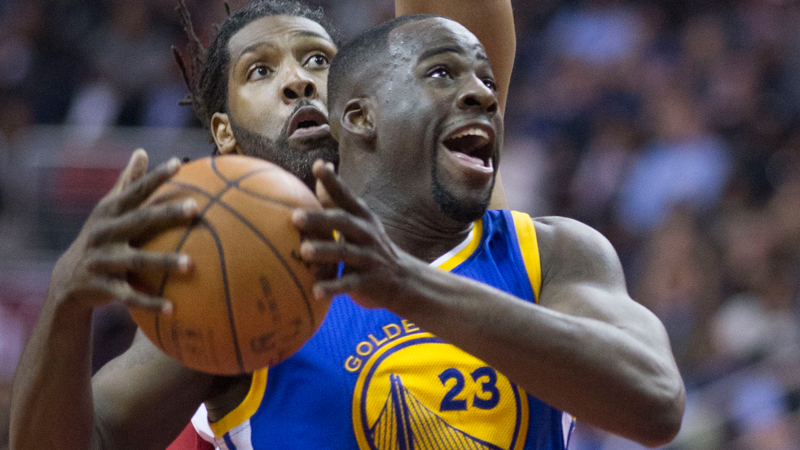 Photo: Keith Allison/Wikiepdia Commons
Draymond Green's NSFW Snapchat fail this weekend may be a little cause for concern, former Olympic gold medalist and NBA player Spencer Haywood tells SiriusXM NBA Radio.
"I want to keep an eye on him, I think there could be some trouble in the future," Haywood said. Haywood, who was inducted into the Pro Basketball Hall of Fame last year, said he would like to mentor Green.
But for now, as Green heads to Rio with Team U.S.A. Basketball, he's hoping the team's veterans and coaches will keep him focused on winning a gold medal.
"I think it's going to be alright because you've got Coach K, you've got Jerry Colangelo, and you've got Carmelo Anthony, you've got Kevin Durant," Haywood said. "You've got a number of players there that will keep him in check."
For those unfamiliar with what happened, Green posted a photo of his penis on Snapchat Sunday afternoon, where it remained public for about 10 minutes. Initially, Green tweeted that he had been hacked.
Hacked….. Can't win right now

— Draymond Green (@Money23Green) July 31, 2016
When asked about the situation by reporters at the Team U.S.A. practice facility later that day, Green 'fessed up and said the photo was meant to be private but he pushed the wrong button when publishing.
The latest slip-up comes less than a month after Green was charged with assault after getting into a fight in Michigan.
For NBA Today co-host Eddie Johnson, the latest misstep has him thinking that Green shouldn't be allowed to play in the Olympics.
"I'm disappointed that Coach K didn't kick him off the team," Johnson said.
If Green's listening, Haywood is serious about offering guidance through the ups and downs of an NBA career.
"Draymond Green is a great person and a great player, I love this guy," Haywood said. "Don't fall into that hole, step around it."
Listen to SiriusXM NBA Radio for all the latest basketball news on Channel 207. Photo: Keith Allison/ Wikipedia.
---
---
---