Drake Talks 'For All the Dogs,' Life on Tour, and Taking a Health Break
Listen to his show only on SiriusXM.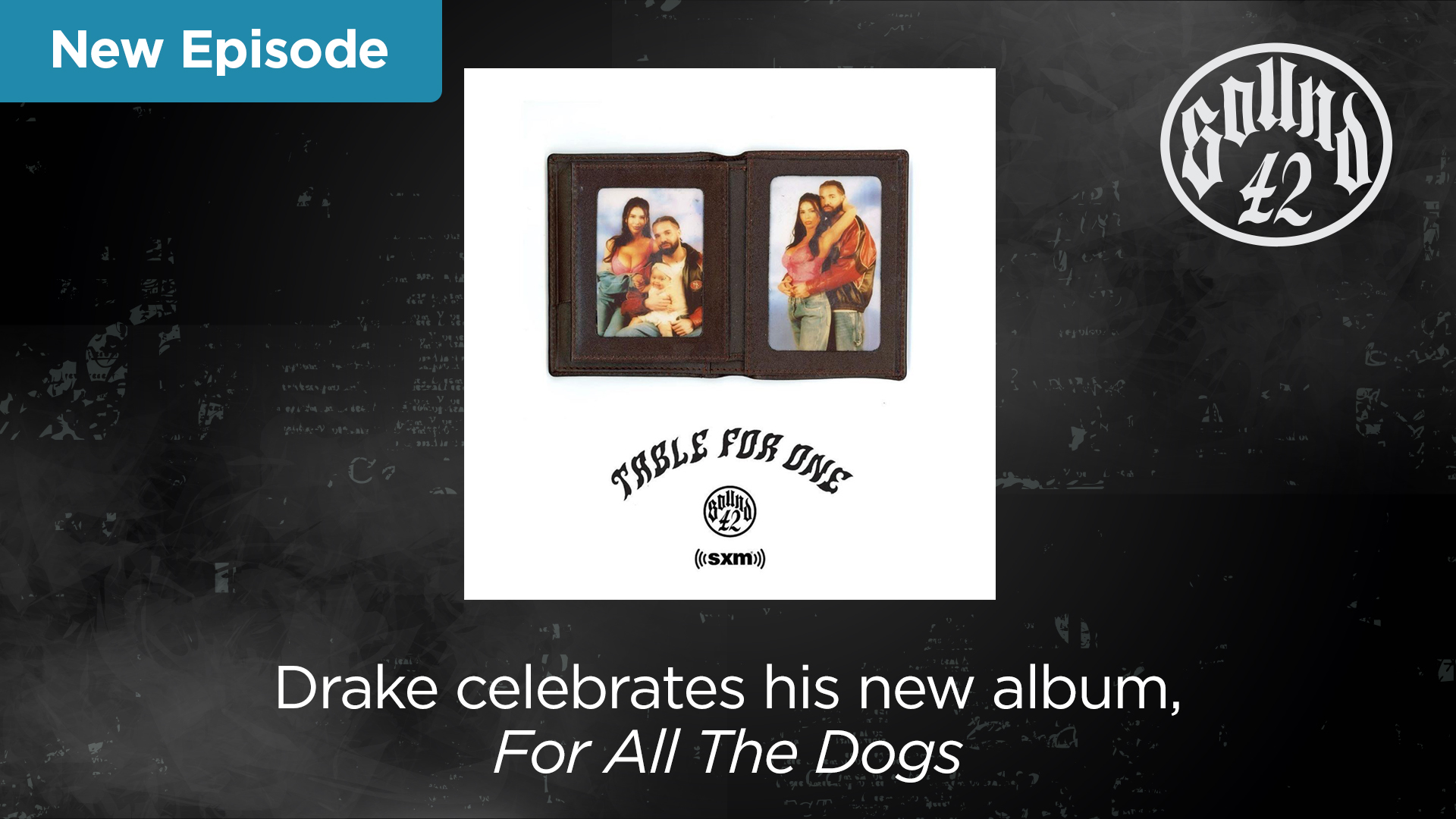 "How can I describe this album [For All the Dogs] to you?" Drake said last night during a new episode of his exclusive SiriusXM Sound 42 show, Table for One. "I'll keep it short and sweet: Please don't ask me what I feel if you can't handle the real … That's probably the alternate album title, too."
---
Listen to Drake's new episode of Table for One exclusively on the SiriusXM App
---
"I just got out of the studio. Fourth quarter magic, me and [J.] Cole going crazy," Drake said as he began his live broadcast from Ristorante Sotto Sotto in Toronto.
"I'm very, very proud. I'm very, very grateful that any of you are still interested in even listening to what the boy's got to say," he continued. "And I hope that we'll find common ground once again. I do think you're going to really enjoy this. I think I did my f****** job, if I do say so myself."
For All the Dogs, Drake's eighth studio album following 2022's Honestly, Nevermind, dropped today (October 6). The album's 23 tracks include the two previously-released singles "Slime You Out" and "8AM in Charlotte."
"I hope that these songs are songs that you can enjoy, and you can tell people that they're about somebody else," Drake told listeners.
Drake Gives a Health Update
Now that For All the Dogs is out, Drake slipped in a warning for fans that he "probably won't make music for a little bit" — but for an important reason.
He explained, "I got some other things I need to do for some other people that I made promises to. I'm going to be real with you, I need to focus on my health, first and foremost … I've been having the craziest problems for years with my stomach."
Therefore, he's planning to "lock the door on the studio for a little bit" so he can take the time "get right."
"I don't even know what a little bit is. Maybe a year or something, maybe a little longer," Drake added.
How the It's All a Blur Tour Affected Drake
Drake and 21 Savage wrap up their co-headlining tour this month, which started back in July and consisted of over 50 dates across North America.
"I have a tough time understanding it. I think I'm overwhelmed by the love from tour," Drake continued on Table for One. "I have a tough time understanding why my mind, when it's overworking itself, why my mind is something that's intriguing to any of you. But damn, I'm so happy that it is."
The tour featured guests like J. Cole and Travis Scott, with support acts including Skillibeng, Sleepy Hallow, Central Cee, Sexyy Red, Zack Bia, and Lil Yachty — the last of whom even called in to Drake's show last night.
"I'm nothing without all of your opinions, all of your critiques, and all of your feelings and emotions," Drake told his fans. "When I'm right or when I'm wrong, or when you're right or when you're wrong, it doesn't really matter. It's just, we're a merger."
Lil Yachty Thinks Drake's Drunk
Lil Yachty, one of the support acts on Drake's It's All a Blur Tour, called in to Table for One to congratulate Drake on For All the Dogs, citing how important it is for brothers to support each other.
"I'm proud of you always, For All the Dogs, man," Lil Yachty said.
He was hilariously surprised at how Drake sounded over the phone and assumed his struggles to form a sentence were due to alcohol, not emotions.
"I won't lie, I've never heard you this drunk, ever," Lil Yachty told Drake.
"I'm really not drunk, I'm just in a great mood," Drake insisted.
---
Sound 42 (Ch. 42) is the vision of multi-platinum recording artist and OVO Sound Co-founder Drake. A radio experience reflecting his interests in music and culture from all walks of life. Expect boundary-pushing hip hop and R&B alongside global vibes from the Caribbean, Latin America, The U.K. and beyond. The channel's flagship show is OVO Sound Radio a weekly, "musical art gallery" hosted and curated by OVO Co-Founder Oliver El-Khatib.
---
---
---