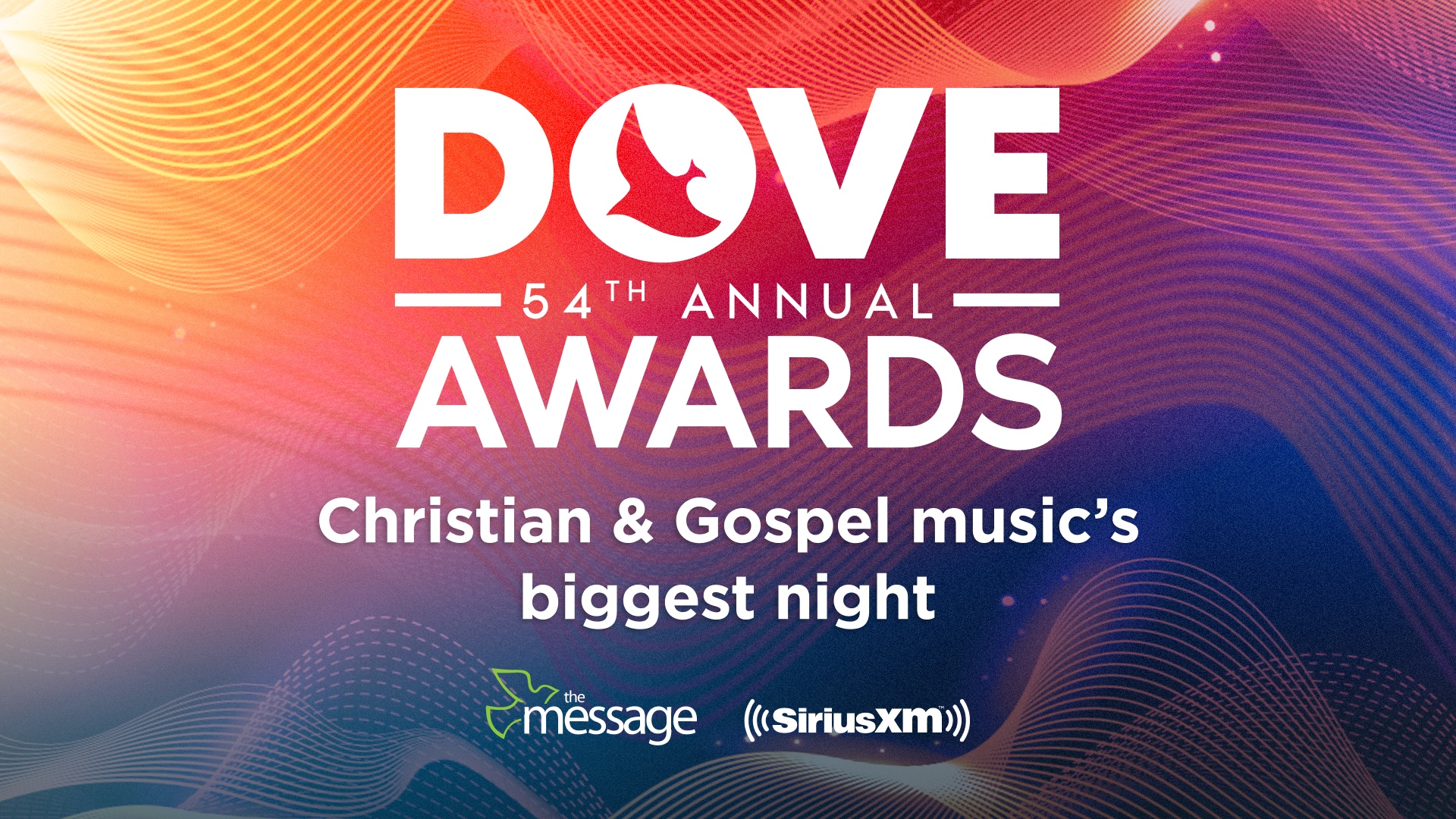 The Gospel Music Association's 54th Annual Dove Awards were an unforgettable show — and included this year's big winner: Brandon Lake. If you missed the event, relive it anytime on SiriusXM's The Message.
---
Stream The Dove Awards on the SiriusXM app & web player now
---
Hear pre-show coverage from the red carpet, then head to the stage of the Allen Arena at Lipscomb University for every award and performance — plus exclusive backstage interviews with winners throughout the night!
This year's Dove Awards was hosted by celebrated platinum-selling musician, preacher, and public speaker Tauren Wells, who announced the lineup of performers exclusively on The Message's The Olivia Lane Show.
Performers included Brandon Lake, for KING + COUNTRY, Katy Nichole, Miel San Marcos, Pastor Mike Jr., Phil Wickham, Tasha Cobbs Leonard, Zach Williams with Walker Hayes, Blanca and Jekalyn Carr, Elevation Worship, Ernie Haase & Signature Sound and Take 6, and Jason Crabb and Dylan Scott.
There will also be a special performance from TobyMac, GRITS, Hulvey, and Social Club Misfits to celebrate both the history and future of Christian hip-hop.
In addition to streaming the show anytime on the SiriusXM app and web player now, listen to rebroadcasts on The Message during the times below.
Dove Awards Broadcast Schedule on The Message
October 21 at 3pm ET
October 22 at 8pm ET
Dove Awards Winners' List
Artist of the year
WINNER: Brandon Lake
CeCe Winans
for KING + COUNTRY
Lauren Daigle
Phil Wickham
New artist of the year
Ben Fuller
Hulvey
Jon Reddick
WINNER: Katy Nichole
Naomi Raine
Song of the year
"Build A Boat," writers: Colton Dixon, Seth Mosley, Johan Lindbrandt, Sandro
Cavazza, Mikey Gormley
"Fear Is Not My Future," writers: Kirk Franklin, Brandon Lake, Jonathan Jay,
Hannah Shackleford, Nicole Hannel
"God Really Loves Us," writers: David Crowder, Ben Glover, Jeff Sojka, Dante
Bowe
WINNER: "Goodness of God," writers: Ben Fielding, Ed Cash, Jason Ingram, Jenn
Johnson, Brian Johnson
"Gratitude," writers: Brandon Lake, Ben Hastings, Dante Bowe
"In Jesus Name (God of Possible)," writers: Ethan Hulse, Katy Nichole, David
Andrew Spencer, Jeff Pardo
"Love Me Like I Am," writers: Joel Smallbone, Luke Smallbone, Michael
Pollack, Josh Kerr
"Perfectly Loved," writers: Rachael Lampa, Andrew Ripp,
Ethan Hulse
"Same God," writers: Brandon Lake, Steven Furtick, Chris Brown, Pat Barrett
"Then Christ Came," writers: Bart Millard, Phil Wickham, Jason Ingram, David
Leonard
Songwriter of the year – artist
WINNER: Brandon Lake
Chris Brown
Dante Bowe
Kirk Franklin
Phil Wickham
Songwriter of the year – non-artist
Ben Glover
Ethan Hulse
Jason Ingram
WINNER: Jeff Pardo
Jonathan Jay
Producer of the year
WINNER: Jeff Pardo
Kenneth Leonard
Samuel ASH
Wayne Haun
Ben Glover and Jeff Sojka
Pop/contemporary recorded song of the year
WINNER: "Brighter Days" – Blessing Offor
"I'm So Blessed (Best Day Remix)" – CAIN
"Love Me Like I Am" – for KING + COUNTRY ft. Jordin Sparks
"God Is in This Story" – Katy Nichole ft. Big Daddy Weave
"Thank God I Do" – Lauren Daigle
Worship recorded song of the year
WINNER: "Gratitude (Radio Version)" – Brandon Lake
"Honey in the Rock" – Brooke Ligertwood, Brandon Lake
"Holy Forever" – Chris Tomlin
"Fear Is Not My Future (Radio Version)" – Maverick City Music ft. Brandon
Lake, Chandler Moore
"This Is Our God" – Phil Wickham
Bluegrass/country/roots recorded song of the year
"Jordan" – Darin & Brooke Aldridge, ft. Ricky Skaggs, Mo Pitney, Mark Fain
WINNER: "Good Morning Mercy" – Jason Crabb, Dylan Scott
"Matchless" – Tiffany Coburn, ft. Point of Grace
"Way of the Triune God (Hallelujah Version)" – Tyler Childers
"Jesus' Fault" – Zach Williams, ft. Walker Hayes
Spanish language recorded song of the year
"Guarda Tu Corazón" – Alex Zurdo
"So Good (Cuán Bueno)" – DOE, ft. Lilly Goodman
"Nubes" – Indiomar, ft. Blanca
WINNER: "Coritos (En Vivo)" – Miel San Marcos, Daniel Calveti, Marcos Witt, Ingrid
Rosario
"Suelto" – Sarai Rivera
Gospel worship recorded song of the year
"One Name (Jesus) [Live]" – Naomi Raine
WINNER: "Impossible" – Pastor Mike Jr., ft. Jame Fortune
"I Still Have You" – Smokie Norful
"The Moment (Live)" – Tasha Cobbs Leonard
"You've Been Good to Me" – Zacardi Cortez
Contemporary gospel recorded song of the year
"New Day" – Blanca, ft. Jekalyn Carr
WINNER: "Your World" – Jonathan McReynolds
"Miracles" – Kierra Sheard, ft. Pastor Mike Jr.
"Bless Me" – Maverick City Music, Kirk Franklin
"Get Up" – Tye Tribbett
Pop/contemporary album of the year
My Tribe – Blessing Offor
Jesus Changed My Life – Katy Nichole
Always Only Jesus – MercyMe
WINNER: Life After Death – TobyMac
A Hundred Highways – Zach Williams
Worship album of the year
Come Up Here – Bethel Music
Honest Offering (Live) – CAIN
God Is Good! (Live) – Cody Carnes
WINNER: LION: Live From the Loft – Elevation Worship
Lamb of God – Matt Redman
Southern gospel album of the year
Think About There – Greater Vision
Come on In – Guardians Quartet
John 3:16 – Perrys
WINNER: Believe – The Hoppers
Hymns & Worship – Triumphant Quartet
Contemporary gospel album of the year
My Truth – Jonathan McReynolds
WINNER: Kingdom Book One (Deluxe) – Maverick City Music, Kirk Franklin
Impossible – Pastor Mike Jr.
Overcomer (Deluxe) – Tamela Mann
All Things New – Tye Tribbett
Rap/hip hop album of the year
WINNER: Church Clothes 4 – Lecrae
Sunday in Lagos – Limoblaze
Everyone Loves a Comeback Story – Social Club Misfits
Tree – Steven Malcolm
NEW HOLLYWOOD – WHATUPRG
Gospel Worship Album of the Year
Tent Revival – Forward City/Travis Greene
Closer Than You Think – Jonathan Traylor
Encounter – Todd Galberth
Imprint -Zacardi Cortez?
WINNER: Hymns (Live) – Tasha Cobbs Leonard
Feature film of the year
Big George Foreman
Family Camp
I Heard the Bells
WINNER: Jesus Revolution (Directors) Jon Erwin, Brent McCorkle, (Producers) Kevin Downes, Andrew Erwin, Daryl Lefever, Josh Walsh
Remember Me: The Mahalia Jackson Story
---
---
---