Don't miss Browns legend Bernie Kosar & Jim Donovan's new show, 'Dawg Pound Radio'
'Dawg Pound Radio,' hosted by Browns legend Bernie Kosar and broadcaster Jim Donovan, will air Wednesdays between 7pm-8pm ET all season on SiriusXM NFL Radio (Ch. 88).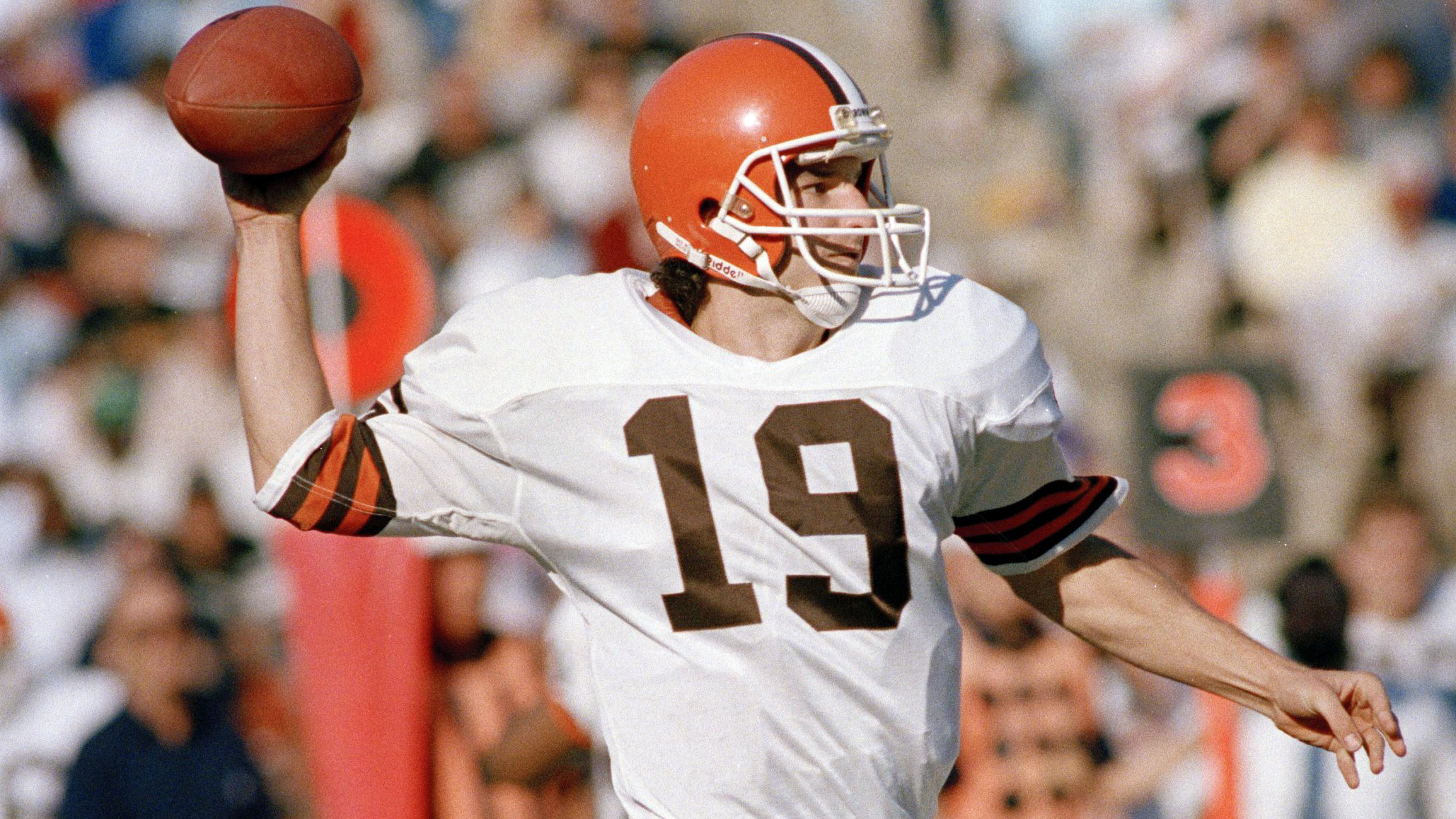 Undated phot of Bernie Kosar of the Cleveland Browns. Location unknown. (AP Photo)
SiriusXM announced the launch of a new weekly show dedicated to the Cleveland Browns that will cover the present-day team, as well as the storied history of the franchise. Dawg Pound Radio will debut September 4 and air every Wednesday (7pm to 8pm ET) through the end of the 2019 season on SiriusXM NFL Radio (Ch. 88).
The show will be hosted each week by Browns legend Bernie Kosar, who quarterbacked the franchise to three AFC Championship games, alongside longtime Browns radio broadcaster Jim Donovan. Kosar and Donovan will discuss a 2019 Browns team – led by second-year quarterback Baker Mayfield and featuring several young standout players, as well as the offseason addition of All-Pro receiver Odell Beckham Jr. – that is looking to continue the resurgence of the franchise. The show will also look back at the storied history of the Browns, who have won eight league titles, including four NFL Championships, and boast 16 members in the Pro Football Hall of Fame.
If you're an All Access subscriber, click below to listen to SiriusXM NFL Radio now.
"My association with the Cleveland Browns started long before I wore that uniform. I've watched this team since I was a kid growing up in Northeast Ohio," said Kosar. "I'm so proud to have been a part of this franchise's great history and I'm excited about its future. Baker Mayfield, Odell Beckham Jr., Jarvis Landry, Nick Chubb, Myles Garrett… This is an incredibly exciting group of young Cleveland Browns players. I'm excited for the opportunity to team up with Jim, tell stories about my time with the Browns, talk with some of the team's all-time greats, and cover everything happening with the current team. We've got a lot to talk about, and to be able to do it on SiriusXM for a nationwide audience is a thrill!"
"To be sure, the Browns are one of the NFL's most exciting and talked about teams heading into this season. They also have one of the richest histories in professional football and a dedicated fan base that has seen greatness and heartbreak through the years," said Steve Cohen, SiriusXM's SVP of Sports Programming. "This show will focus on both the Browns' great past and its promising future, and will be something that anyone who loves football will enjoy. To have it hosted by Bernie Kosar, one of the franchise's iconic players, and Jim Donovan, the voice of the Browns for two decades, is really special and means listeners are getting a true insider's perspective week to week."
Bernie Kosar was born in Youngstown, Ohio, and starred for nearby Boardman High School prior to a record-setting career at the University of Miami. When it came time to embark on his professional football career, Kosar made it known that he wanted to return to his native Ohio to play for the Browns and the team selected him in the NFL's 1985 supplemental draft. In 1986, his first full season as the Browns starter, he led the team to a 12-4 record. The Browns would advance to three AFC Championship games in four years with Kosar under center.  Over eight-and-a-half seasons with the team Kosar threw for nearly 22,000 yards and ranks as one of the best players in franchise history.
Jim Donovan has been the radio voice of the Cleveland Browns Radio Network since 1999. He is a member of the Cleveland Association of Broadcasters Hall of Fame and received the Lifetime Achievement Award from the Greater Cleveland Sports Commission in 2015.
---
---