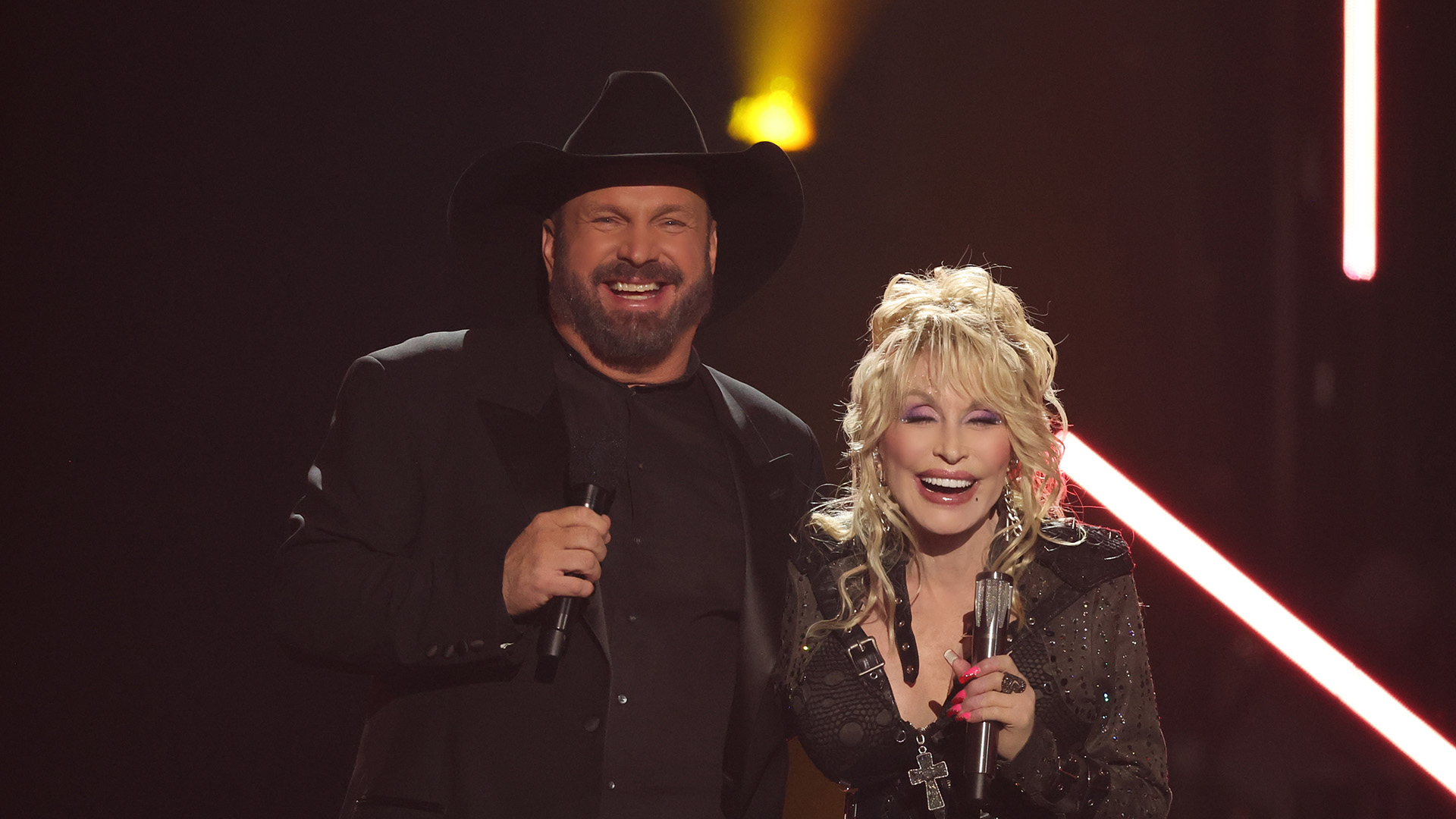 Lainey Wilson might've been the ceremony's top honoree, but Dolly Parton was the star of the show at the 2023 Academy of Country Music Awards last night.
Co-hosting with Garth Brooks, Dolly sang an impromptu, a capella version of "Precious Memories" in honor of the late Naomi Judd and Loretta Lynn, as well as the show-closing performance of her new single "World On Fire."
"World On Fire" is the lead single from Dolly's new album, Rockstar.
But it wasn't just her music that got people talking. Dolly made headlines for her hilarious and racy threesome joke with Garth. After Garth called her country music's "G.O.A.T." (greatest of all time), she wheeled a real goat on stage in a wagon.
Remembering the rumor that she's Garth and his wife Trisha Yearwood's "hall pass," Dolly exclaimed, "I just had a thought! I know why you're doing that 'G.O.A.T.' thing! I think it stands for 'Garth Organized A Threesome.'"
Brooks blushed, speechless, and the audience roared with laughter.
Overall, the 2023 ACM Awards were a night to remember, with Dolly shining as the host and a performer. Her timeless music, quick wit, and kind heart were on full display, reminding everyone why she's a beloved icon in the country music world.
---
Listen to Dolly Parton and more country greats on Prime Country (Ch. 58).
---
"World On Fire" Lyrics
Liar, liar the world's on fire
Whatcha gonna do when it all burns down
Fire, fire burning higher
Still got time to turn it all around
Now I ain't one for speaking out much
But that don't mean I don't stay in touch
Everybody's trippin' over this or that
What we gonna do when we all fall flat
Liar, liar the world's on fire
What we gonna do when it all burns down
I don't know what to think about us
When did we lose in God we trust
God Almighty, what we gonna do
If God ain't listenin' and we're deaf too
Liar, liar the world's on fire
Whatcha gonna do when it all burns down
Fire, fire burning higher
Still got time to turn it all around
Don't get me started on politics
Now how are we to live in a world like this
Greedy politicians, present and past
They wouldn't know the truth if it bit 'em in the ass
Now tell me what is truth
Have we all lost sight
Of common decency
Of the wrong and right
How do we heal this great divide
Do we care enough to try
Liar, liar the world's on fire
What we gonna do when it all burns down
Billy got a gun, Joey got a knife
Janey got a sign to carry in the fight
Marching in the streets with sticks and stones
Don't you ever believe words don't break bones
Oh, can we rise above
Can't we show some love
Do we just give up
Or make a change
We know all too well
We've all been through hell
Time to break the spell
In heaven's name
Liar, liar the world's on fire
Whatcha gonna do when it all burns down
Fire, fire burning higher
Still got time to turn it all around
Liar, liar the world's on fire
Whatcha gonna do when it all burns down
Fire, fire burning higher
Still got time to turn it all around
(Liar, liar, the world's on fire
Whatcha gonna do when it all burns down
Liar, liar, the world's on fire
Whatcha gonna do when it all burns down)
Show some love
(Liar, liar, the world's on fire,
Still got time to turn it all around)
Let's rise above
(Liar, liar, the world's on fire
Whatcha gonna do when it all burns down)
Let's make a stand
(Liar, liar, the world's on fire
Whatcha gonna do when it all burns down)
Let's lend a hand
(Liar, liar, the world's on fire
Still got time to turn it all around)
Let's heal the hurt
(Liar, Liar, the world's on fire
Whatcha gonna do when it all burns down)
Let kindness work
(Liar, liar, the world's on fire
Whatcha gonna do when it all burns down)
Let's be a friend
(Liar, liar, the world's on fire
Whatcha gonna do when it all burns down)
Let hatred end
(Liar, liar, the world's on fire
Whatcha gonna do)
Liar, liar, the world's on fire
Whatcha gonna do when it all burns down
Liar, liar, the world's on fire
Whatcha gonna do when it all burns down
---
---
---