Dolly Parton talks keeping the marriage spark alive, whether she'd toke with Willie Nelson and more on Radio Andy
At 70 years old, Dolly Parton shows no signs of slowing down. This year alone she's added the fastest wooden rollercoaster, named Lightning Rod, to her Dollywood amusement park in Pigeon Forge, TN, released the DVD for her NBC TV movie … Continued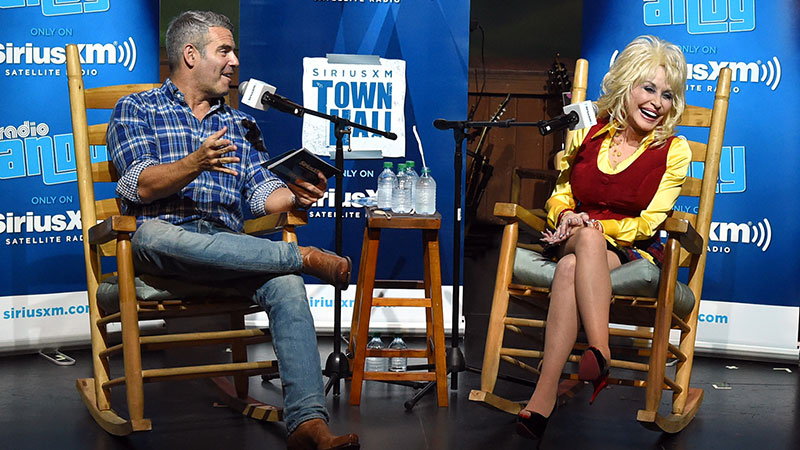 At 70 years old, Dolly Parton shows no signs of slowing down. This year alone she's added the fastest wooden rollercoaster, named Lightning Rod, to her Dollywood amusement park in Pigeon Forge, TN, released the DVD for her NBC TV movie Coat of Many Colors, created a holiday-themed sequel to the film (Dolly Parton's Christmas of Many Colors: Circle of Love), finished a double album (Pure & Simple With Dolly's Biggest Hits), and launched her first extensive North American tour in 20 years. A woman of boundless energy, Parton is as jovial and witty as ever.
In celebration of her iconic career and busy year ahead, Parton sat down with Andy Cohen for a Town Hall airing on Radio Andy (Ch. 102).
During the interview, which included a Q&A with fans, Parton recalled hearing Whitney Houston's cover of I Will Always Love You for the first time.
"It just about killed me," she said. "And it's still one of the proudest moments of my life."
She also disclosed her secret for keeping the spark alive in her 50-year marriage to Carl Dean, gave her thoughts on North Carolina's HB2 law, and played a game of "Dollywood or Dollywoodn't," where she revealed whether she'd record a song with Kanye West, sell the rights to her music for a billion dollars, go to the store without a wig and makeup, smoke a joint with Willie Nelson, star in her own reality show and more!
The Dolly Parton Town Hall premieres on Radio Andy (Ch. 102) Friday 5/13 at 4 pm ET with rebroadcasts Saturday 5/14 at 12 pm and 6 pm ET; Sunday 5/15 at 6 am and 10 am ET; and Monday 5/16 at 10 am and 1 pm ET.
In the meantime, watch Andy Cohen go on a Dollywood shopping spree!
For a free 30-day trial, check out http://www.siriusxm.com/freeTrial
---
---
---