1st Wave artists defined 'alternative' by experimenting with new wave & punk music before it was cool
If you like The Cure, Depeche Mode, U2, R.E.M., The Smiths, The Police, New Order, Pretenders, The Clash and Blondie then you're going to love 1st Wave — nonstop classic alternative hits from the '80s era.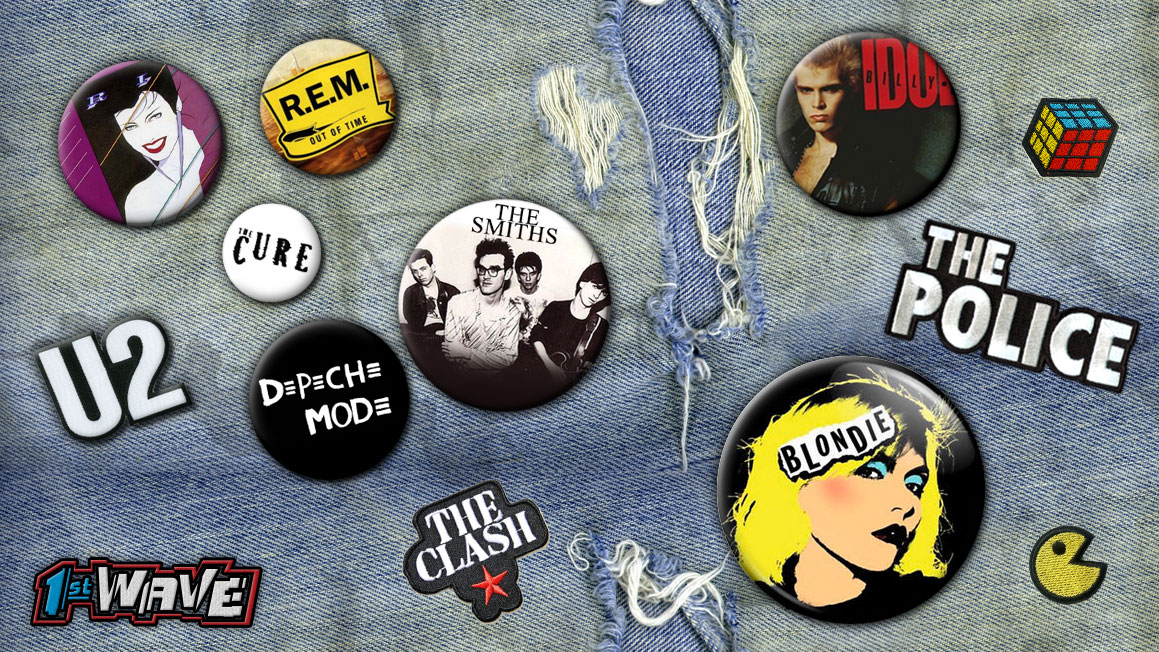 If you like The Cure, Depeche Mode, U2, R.E.M., The Smiths, The Police, New Order, Pretenders, The Clash and Blondie then you're going to love 1st Wave — nonstop classic alternative hits from the '80s era.
Sift through a decade's worth of synth, punk and new wave, that'll make you want to tease your bangs, throw on your checkerboard Vans, lift your boombox into the air and dance like Molly Ringwald.
Get to know one of your new favorite channels with our primer below!
---
What does 1st Wave sound like? 
Sometimes synths, sometimes guitar, always clever lyrics and infectious upbeat tempos
Who were the most important artists of the era?
Depeche Mode, U2, The Cure, The Smiths, New Order, The Police, Pretenders, The Clash, Ramones
Which artists influenced 1st Wave music?
David Bowie, Kraftwerk, Velvet Underground
How did 1st Wave artists change music?
They were experimental, wrote lyrics with meaning and were crucial to the development of indie rock and grunge/alternative rock.
Who did this music later influence?
No Doubt, Coldplay, The Strokes, The Killers, Franz Ferdinand
What was its musical legacy?
New Wave was diverse and inclusive, spanning several styles
What were some of the important albums of the genre?
Depeche Mode's Music For The Masses, U2's Joshua Tree, The Cure's Kiss Me Kiss Me Kiss Me, The Clash's London Calling, Joy Division's Substance
What were some of the biggest events that defined the genre?
The music scene at CBGB's, the launch of MTV, Depeche Mode at the Rosebowl 1988
Who are the hosts on the channel?

Marky Ramone: After playing with Brooklyn proto-metal band Dust and seminal CBGB's mainstays Richard Hell and The Voidoids, Ramone joined the Ramones in time for their monumental fourth album, Road To Ruin. He stayed on for all of their heyday success and become their longest serving drummer. Ramone brings his bi-weekly Blitzkrieg to 1st Wave!! Hear hours of classic punk & new wave with music from The Ramones, Richard Hell & The Voidoids, Sex Pistols and more.
Every other Tuesday at 8 pm and Thursday at 11 pm ET

Billy Idol: Get ready for a dose of classic alternative and punk music as punk pioneer and rock & roll icon Billy Idol takes over with his bi-weekly show, Billy Idol's Live Transmission. Join Idol as he digs deep into the recesses of his '80s memories and plays music he loves from the era that you might have missed back in the day.
Every other Tuesday at 8 pm and Thursday at 11 pm ET

Richard Blade: Google Richard Blade and you'll find several sites about the best of the '80s. He was instrumental in breaking many new wave bands, including Duran Duran, Depeche Mode and Tears For Fears. More recently, he co-produced VH1's Bands Reunited and he still holds out for the impossible: a Smiths reunion.
Weekdays 3 pm – 9 pm ET Saturdays 11 am – 5 pm ET Sundays 4 pm – 10 pm ET

Larry The Duck: He's been a DJ since alternative rock's 1st Wave. He's interviewed Duran Duran, Erasure, The Psychedelic Furs, John Lydon and P.I.L., The Ramones, Patti Smith, Siouxsie & The Banshees, Robert Smith and more, but his favorite interview? "Jim Henson!"
Weekdays 6 am – 9 am ET Saturdays 5 pm – 8 pm ET Sundays 1 pm – 4 pm ET

Sluggo: Also known as The SlugMonstrosity and/or Baron Von Slug, he spent the early 80's sitting in front of MTV (just like you), started playing music on the radio in 1984, lost his concert virginity to Adam AND the Ants, did the blue hair, Rocky Horror and tacky buttons thing!
Weekdays 9 am – 3 pm ET

Swedish Egil: Yes, he really is Swedish. He's collected more than 50,000 recordings and is known for his incomparable music knowledge. In Sweden he pumped gas, but he moved to the U.S. in the '70s, becoming a booking agent to major nightclubs and starting his radio career. And his favorite interview? "Moby."
Mondays – Thursdays 9 pm – 3 am ET Sundays 11 am – 1 pm ET

Lori Majewski: At age 11, Majewski fell in love with Duran Duran. Now, she's their go-to interviewer. Along the way, she founded Teen People, edited weekly entertainment magazines and authored Mad World: An Oral History of New Wave Artists and Songs That Defined the 1980s. She hosts "Lust For Lists" every Friday night.
Fridays 8 pm ET Saturday 11 am and 7pm ET Sunday 9am and 4 pm ET

Matt Sebastian: A veteran journalist and former music critic, Sebastian launched SlicingUpEyeballs.com in 2009 to celebrate the legacy of '80s college, modern and indie rock – music that paved the way for the alt-rock revolution. With a collection of thousands of records, CDs and cassettes, he publishes news items daily about album releases, reissues, box sets, tours, reunions and other activity by '80s college-rock bands. Sebastian brings his knowledge of the classic alternative scene each week to Dark Wave, a three-hour show dedicated to the darker side of alternative rock.
Sundays at 10 pm ET

Dave Kendall: The creator, producer, and host of MTV's 120 Minutes, Kendall helped bring Midnight Oil, Sinead O'Connor, The Cure and more to a mainstream audience. He's hung with Depeche Mode and U2, but his favorite memory is of traipsing around Tijuana with Johnny Rotten, trying on dresses in the pouring rain. Kendall hosts, Party 360 on 1st Wave, 360 minutes of classic alternative party music to jump start your weekend!
Fridays at 9 pm ET
What's happening this month?
GRAMMY Award-winning, new wave and synthpop icons Duran Duran will perform a special invitation-only show for SiriusXM at the Faena Theater in Miami Beach. The performance will air live on Saturday, Dec. 9
---
---
---