Denzel Washington on why 'Fences' needed a Black director: 'It's not color, it's culture'
The cast of Fences sat down for a chat with Urban View's Karen Hunter.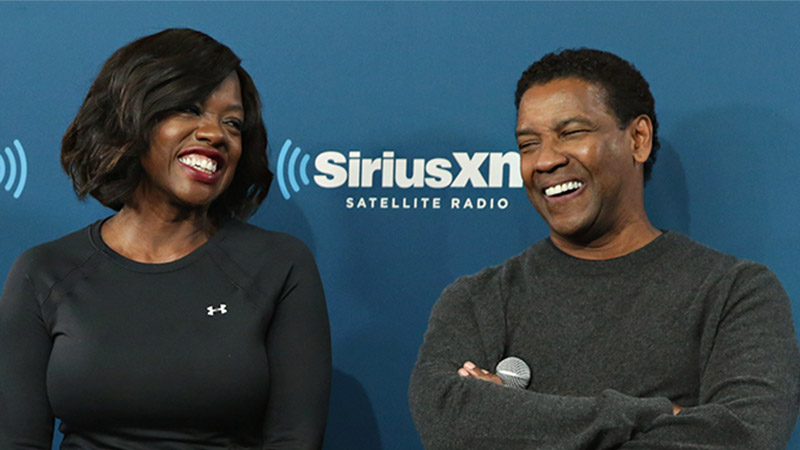 NEW YORK, NY – DECEMBER 19: Actors Viola Davis, Denzel Washington and Saniyya Sidney (front) take part in SiriusXM's Town Hall With the cast of 'Fences' hosted by Karen Hunter on December 19, 2016 in New York City. (Photo by Cindy Ord/Getty Images for SiriusXM) *** Local Caption *** Viola Davis; Denzel Washington; Saniyya Sidney
In a 1990 essay, August Wilson made it clear he'd only allow a Black director to helm an on-screen adaptation of his Tony-winning Fences.
More than two decades later, Denzel Washington is fulfilling that wish, directing and starring in the film about an African-American family in 1950s Pittsburgh. During a Town Hall with the cast, SiriusXM Urban View's Karen Hunter asked why this was so important to the late playwright.
"It's not color, it's culture," Washington said. "Steven Spielberg did Schindler's List. Martin Scorsese did Goodfellas, right? Steven Spielberg could direct Goodfellas. Martin Scorsese probably could have done a good job with Schindler's List. But there are cultural differences. I know, you know, we all know what it is when a hot comb hits your head on a Sunday morning, what it smells like. That's a cultural difference, not just color difference."
The A-lister also discussed how the parts available for bBlack men in Hollywood have changed since he entered the business.
"It's much better now. There were no roles like this," he said. "I've been in the game whatever it is, 35, 40 years. Obviously it wasn't like that when I started, if you got a role at all, which is why I thought I'd just be doing theater the rest of my life. I really didn't aspire to be a quote unquote 'movie star' because I didn't see anybody that looked like me anyway. So I didn't tell jokes, and I wasn't going to be that third what's-his-name from the back I got too much ego for that, so I said, 'Well, I'll do theater.' But it is much better."
"If it ain't on the page, it ain't on the stage, so you got to write it," he added, to applause. "August Wilson is writing how we feel. That's why I'm producing all 10 of [his plays]. Because of all those people who laid the groundwork for me to be in the position I'm in, I'm going to make sure that there's hundreds of roles for the next generation and utilize the power that I have at this moment in order to do that, and nobody's going to get in my way."
Viola Davis is doing the same for Black women with her Emmy-winning turn as defense attorney Annalise Keating on How to Get Away with Murder. Hunter remarked how powerful the scenes invoking Annalise's culture, like her experience in a hair salon, were to her.
Still, "the only reason you're seeing that is I demanded that," Davis said. "I demanded the weave scene, I demanded the taking off the makeup, because as an artist you always have to ask the reason why a character is the way they are, and a lot of times what happens when you get a role, people are more into image and message and not execution. Especially us. We always want to see the images that are going to uplift us, uphold us, make us look good, make us look strong, but not make us messy, flawed, joyful, beautifully human, and that's what August does. He takes the average everyman — my dad, born in 1936, groomed horses, didn't know how to read and write until he was 14, someone who was a janitor at McDonald's, okay? Who would be invisible. August takes them and he honors their life."
The Fences Town Hall airs Thursday at  5 pm ET, Friday at 2 am ET, Saturday at 2 am and 9 pm ET and Sunday at 9 am and 4 pm ET on SiriusXM Urban View (Ch. 126). It also airs Thursday at 8 pm ET on SiriusXM Insight (Ch. 121).
For a free 30-day trial, check out http://www.siriusxm.com/freetrial/blog
---
---
---