Debbie Wasserman Schultz defends superdelegates
Democratic National Committee chair Debbie Wasserman Schultz defended the superdelegate system during an interview on The Morning Briefing with Tim Farley Wednesday. Wasserman Schultz argued that well-known "grassroots activists" could beat Democrats who have "paid their dues" in low turnout elections if … Continued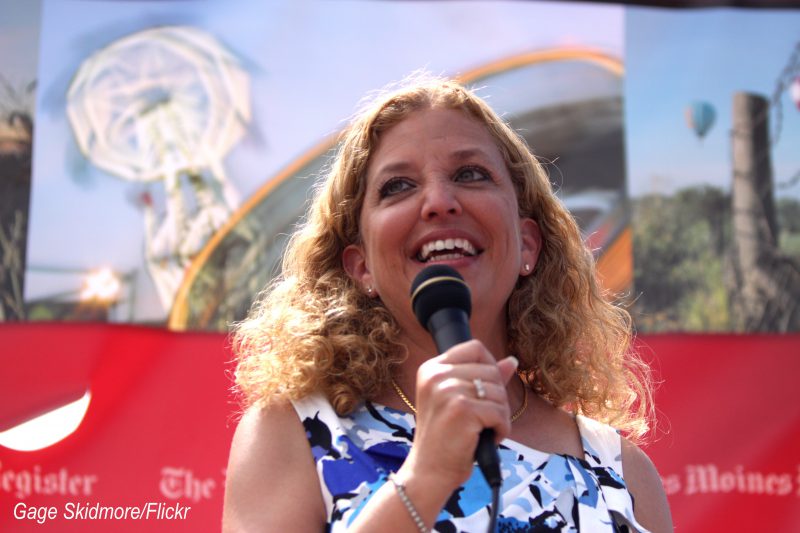 photo via Gage Skidmore/Flickr
Democratic National Committee chair Debbie Wasserman Schultz defended the superdelegate system during an interview on The Morning Briefing with Tim Farley Wednesday.
Wasserman Schultz argued that well-known "grassroots activists" could beat Democrats who have "paid their dues" in low turnout elections if it weren't for the superdelegate system.
"What we have in place is a system that allows for people who have been involved in building up our party and have made sure that we could have an infrastructure in place that elects Democrats up and down the ballot–that they have a role in nominating our presidential candidate," Wasserman Schultz said.
The superdelegate system was developed in the early 1980s as a way for party leaders to influence the nomination process. According to the Associated Press, Hillary Clinton has received the backing of 524 superdelegates to Bernie Sanders' 40. In the closely contested race for the Democratic nomination, these unpledged delegates, mainly consisting of elected officials and notable members of the Democratic Party, have become a hot button issue in the race to win the 2,383 delegates needed to clinch the nomination.
Wasserman Schultz also responded to the recent protests by Bernie Sanders' supporters at the Nevada Democratic convention.
The Morning Briefing with Tim Farley airs weekdays at 6amET on SiriusXM POTUS (Ch. 124).
For a free 30-day trial, check out siriusxm.com/freetrial
---
---
---