Hear Debbie Gibson's favorite pop hits & exclusive stories on her new SiriusXM show
Debbie Gibson shares her love of all things music in her new show 'Debbie Gibson's Mixtape' on SiriusXM's The Blend (Ch. 16).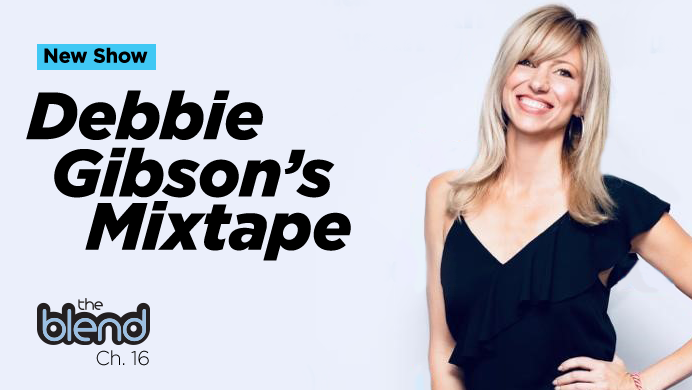 Debbie Gibson, the famed singer-songwriter, record producer and actress, brings listeners into her world on her new SiriusXM show, Debbie Gibson's Mixtape.
The show will launch on Friday, April 26, on SiriusXM's The Blend (Ch. 16). Listeners will hear music from Debbie herself, as well as from her favorite artists.
Debbie Gibson's Mixtape will air bi-weekly on Fridays at 6pm ET and PT on The Blend and on the SiriusXM app.
Watch Debbie Gibson announce the launch of her new show
Debbie Gibson burst onto the music scene at age 16 and quickly became the youngest artist in history to write, produce and perform a number one hit, "Foolish Beat." She is still the youngest female artists to achieve that and holds the Guinness Book of World Records title three decades later. With a string of additional hits, including "Out of the Blue," "Only In My Dreams," "Shake Your Love," "Electric Youth," and "Lost In Your Eyes," Gibson has sold more than 16 million albums worldwide and starred in 17 musicals in 17 years, from Broadway to the West End. She kicks off a 53-city North American Tour on May 2 with New Kids on the Block, Salt-N-Pepa, Tiffany and Naughty by Nature. From No. 1 hits and platinum albums to starring roles on stage and screen, including a No. 1 movie on the Hallmark Channel, Gibson is a true entertainer with timeless talent and charisma. Get more information at DebbieGibsonOfficial.com.
SiriusXM's The Blend features a bright mix of pop hits by artists such as Fleetwood Mac, Kelly Clarkson, Elton John, Billy Joel, Bruno Mars, Phil Collins, Train and Lady Gaga.
SiriusXM subscribers will be able to listen to Debbie Gibson's Mixtape on The Blend on SiriusXM radios, and those with streaming access can listen online, on-the-go with the SiriusXM mobile app and at home on a wide variety of connected devices including smart TVs, Amazon Alexa devices, Apple TV, PlayStation, Roku, Sonos speakers and more. Go to www.SiriusXM.com/streaming to learn more.
---
---
---