'Dear Evan Hansen' Stars share their favorite songs from the Tony-nominated musical
On Broadway's Julie James hosted a discussion with the musical's cast and creators.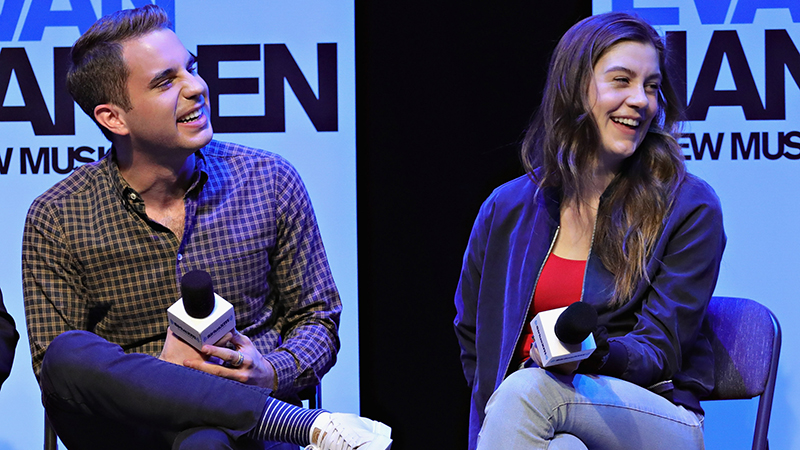 NEW YORK, NY – APRIL 14: Actors Ben Platt and Laura Dreyfuss take part in SiriusXM's 'Town Hall' with the original broadway cast & creative team of 'Dear Evan Hansen' on April 14, 2017 in New York City. (Photo by Cindy Ord/Getty Images for SiriusXM)
You probably recognize him as the scene-stealing, magic-trick-obsessed Benji from the blockbuster Pitch Perfect franchise. But Ben Platt is also a celebrated stage actor who originated the titular role in the Broadway musical critics are calling the next Hamilton: Dear Evan Hansen.
Without spoiling too much, the show (which just scored nine Tony nominations, including best musical) is a raw take on being a teen today, from the way social media rules high school and the aftershocks of a student's suicide. It's about how one white lie can spiral out of control. Plus, it boasts a sensational musical score, with Atlantic Records' original cast album debuting at No. 8 on the Billboard 200 — a rare honor for a Broadway recording.
SiriusXM hosted a Town Hall at the Music Box Theatre with the cast and creators of Dear Evan Hansen, and Platt shared his favorite songs after host Julie James jokes he has "practically every song in the show."
"I'll say without fail it's exciting to sing Waving Through a Window, because everybody has come to know and love that song so much, and I think everybody comes into the theater really excited to hear it, and I feel a great responsibility to deliver that song to them," Platt said. "It also just sets up the character of Evan in such an incredible way in that you are so fully and completely on his side when you hear what he's really feeling, and you relate to him so immediately."
And then there's If I Could Tell Her, a ballad of (at the time) unrequited love sung by Platt and Laura Dreyfuss, who plays his crush Zoe, the dead teen's struggling sister.
"I think this character that I play has such a traumatic past, and this is kind of the first time she's ever had an opportunity to forgive her brother, and at face value it's a beautiful song about this boy basically confessing his love to her without her knowing, but this is the first time that she's kind of able to crack open the guard that she's had this whole time, and so it's really beautiful for me to get to go on that journey," Dreyfuss said.
Hear the full interview on demand here.
The Town Hall will replay on SiriusXM On Broadway (Ch. 72) 4/27 at 6 pm ET, 4/28 at 8 am and 8 pm ET, 4/29 at 5 pm ET, 4/30 at 2 pm ET, and 5/1 at 10 am and 9 pm ET.
For a free 30-day trial, check out http://www.siriusxm.com/freetrial/blog
---
---
---